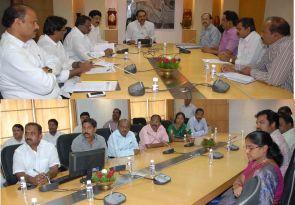 Two thermal power stations at Vijayawada and Kadapa went into steam on Friday as power employees in coastal Andhra and Rayalaseema regions of Andhra Pradesh resumed work after calling off their indefinite strike "temporarily" in view of cyclonic storm Phailan.
The power employees were on indefinite strike for the last five days against the Union Cabinet's decision to create a separate Telangana state out of AP. They have been demanding that the Centre withdraw the move to bifurcate the state.
The Narla Tata Rao Thermal Power Station at Vijayawada and Rayalaseema Thermal Power Station at Kadapa, which have a combined generation capacity of 2,810 MW, resumed operations on Friday.
The Srisailam right bank hydro power house also resumed generation, adding 770 MW to the capacity and relieving the state of the electricity crisis that affected even emergency services in the last five days.
"Power generation is back to normal since Friday morning as the employees resumed work," Power Generation Corporation of Andhra Pradesh Limited Chairman and Managing Director K Vijayanand told PTI.
Official sources, however, said only 9,691 MW of power was being generated currently across the state as against the previous 11,000 MW.
"Generation is slowly picking up. It takes time for thermal (power) to come back fully," a top official of a power utility said.
The gap in generation was expected to be filled in the next few hours when thermal stations get into full steam, he said. Power cuts have almost been lifted, including in Hyderabad city, as distribution has also been restored in Seemandhra districts, the official added.
The strike had pushed 13 coastal Andhra and Rayalaseema districts into darkness, affecting movement of trains and emergency services in hospitals, besides hampering power supply to Hyderabad city.
Efforts of Andhra Pradesh Chief Minister N Kiran Kumar Reddy to end the indefinite strike by the government employees in Seemandhra regions did not succeed fully. While the Seemandhra employees at the State Secretariat in Hyderabad withdrew their 38 day strike, the AP Non Gazetted Officers Association refused to follow suit.
APNGOs Association President Ashok Babu said that the indefinite strike will continue as the chief minister had failed to give a categorical assurance that the state will remain united.
"Without ending the strike we will cooperate with the government in facing the cyclone threat," he said while referring to the chief minister's appeal that the employees should return to work as the state was facing the threat of cyclone Phailin.
The indefinite strike by nearly 6,00,000 employees has already completed two months.
Earlier, a press note of the state government said that the Seemandhra Teachers struggle committee had also agreed to call off their strike.
With inputs from Mohammed Siddique
Image: A combination photo shows Andhra Pradesh secretariat employees union and Seemandhra Rythu Sangam members meeting Chief Minister N Kiran Kumar Reddy.
Photograph: SnapsIndia