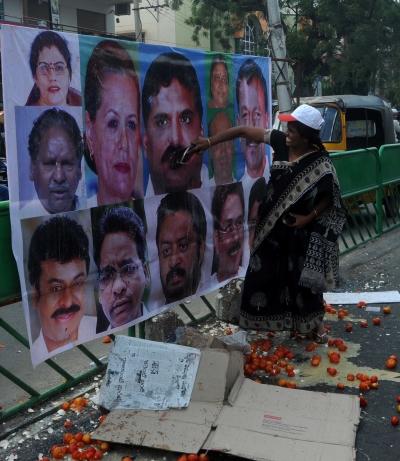 Home Minister Sushilkumar Shinde on Tuesday ruled out the possibility of imposing President's Rule in Andhra Pradesh in the wake of widespread protests in Seemandhra region against the decision to create Telangana.
"There is no plan under consideration to impose President's Rule in Andhra Pradesh. There was no such discussion in today's Cabinet (meeting)," he told reporters.
He was replying to a question on whether the central government was considering the option of imposing central rule in the southern state, which has been witnessing protests after the Union Cabinet's decision to bifurcate Andhra Pradesh.
The home minister said the widespread agitation in Seemandhra was a matter of grave concern to the central government.
He said the government fully respects the sentiments of the people of the region on this sensitive issue.
"I would like to assure the people of Seemandhra that the government of India remains fully committed to address all their concerns, particularly with respect to safeguarding the interests of people living in Telangana," he said.
Shinde said the concerns of Seemandhra people with regard to education and employment opportunities in Hyderabad for the youth, the sharing of river waters and issue of government employees would be taken care of.
"The Group of Ministers will address all these and other issues in a comprehensive manner and will hold detailed consultations with all stake holders," he said.
Referring to the prevailing situation in Seemandhra region, the home minister said the government was trying to restore normalcy, especially in the power sector.
Shinde indicated that the Essential Services Maintenance Act may be imposed to restore the power situation in Seemandhra region and said the state government was talking to the stake holders on how to bring normalcy.
"State government is in talks with stake holders over ESMA," he said.
The home minister also ruled out the possibility of southern grid failure due to the strike by the Andhra Pradesh government employees.
Shinde criticised YSR Congress chief YS Jaganmohan Reddy and Telugu Desam Party President N Chandrababu Naidu for going on an indefinite hunger strike, saying both the leaders had given a written consent for the creation of Telanagana.
"I don't understand why they are on fast now," he said.
Image: Supporters of United Andhra target posters of senior Congress leaders ' Photograph: SnapsIndia