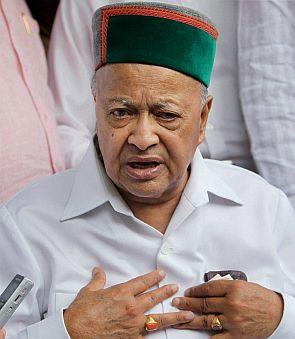 Himachal Pradesh Chief Minister Virbhadra Singh, who has accused the Modi dispensation of trying to "destabilise and topple" his government by using central agencies, on Monday met Congress President Sonia Gandhi in the backdrop of President's Rule being imposed in party-ruled Uttarakhand.
On its part, the Bharatiya Janata Party refuted Singh's allegations, saying this was to get "cheap sympathy". Singh has been so far avoiding going to jail but he can "go there any time", it said.
Singh, who is facing a probe by the Enforcement Directorate in a disproportionate assets case, is believed to have apprised the Congress chief on "sustained efforts" by the centre to dislodge his government.
Sources close to Singh said the meeting with Gandhi came through as the Congress president had not met him earlier when he had sought time.
Singh spent a few minutes with Gandhi at her 10, Janpath residence and is learnt to have discussed the cases against him as well. He later left for Shimla.
He alleged the central government has been destabilising Congress-ruled states one by one and cited examples of Arunachal Pradesh and Uttarakhand where President's Rule was imposed.
He also accused the BJP-led central government of "misusing" government agencies to embroil him in different cases.
The 81-year-old chief minister has been booked by the ED in the disproportionate assets case and last week his properties worth Rs 8 crore were attached by the agency.
Dismissing Singh's claim that it was trying to topple his government, the BJP said there was discontent in Congress against him due to corruption charges against him.
"The ED has attached his property in Delhi. There is discontent in the Congress against him. So far he has been making efforts to avoid going to jail. He can go there anytime. So he is making such baseless allegations to garner cheap sympathy," party National Secretary Shrikant Sharma said.
Sharma, who is also Himachal in-charge, said the Congress suffered from internal crisis in states like Arunachal Pradesh, Uttarakhand and Himachal. Lack of party action against Singh has fueled discontent in Congress, he claimed.
He said that Singh should quit as the state government had become paralysed due to criminal cases against him.
"He is accused of massive corruption. He had to quit as a minister from the UPA government due to corruption charge against him," he alleged, adding that the CBI had begun its probe during the UPA rule.
"The BJP should not be blamed for the investigation. The probe was slow earlier for political reasons and it is now heading in the right direction," he said.