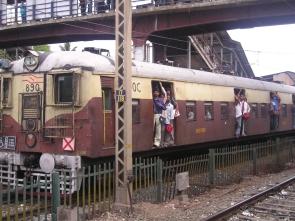 An American national was attacked and robbed of her mobile phone in the ladies' compartment of a local train in Mumbai on Sunday.
The incident took place between Marine Lines and Charni Road stations of the Western Railway when an unidentified man boarded the ladies compartment and tried to snatch the bag of Michelle Mark, a United States national, police said. When she resisted, he attacked her and after snatching her i-phone he fled.
Other passengers in the compartment took the woman to authorities at Mumbai Central station. Meanwhile, a senior officer of the Government Railway Police alleged that a Railway Protection Force constable as well as the stationmaster refused to help the woman, who had received minor injuries on hand and face, and asked her to go to the GRP office instead.
Under the law, both RPF personnel as well as the stationmaster are responsible for offering medical help, the GRP official said, adding that he would be reporting the matter to higher authorities.
A case has been registered against the unidentified man and the woman was discharged from hospital after treatment. The attacker was suspected to be a drug addict, police said adding, CCTV footage will be checked to ascertain his identity.
On July 26 this year, another woman was attacked inside the ladies compartment near Mahalaxmi station when she resisted a molestation attempt by a man.