The main base camp for Amarnath pilgrims in Jammu is getting a major facelift with the authorities setting a deadline of June 15 for completion of the works, officials said on Tuesday.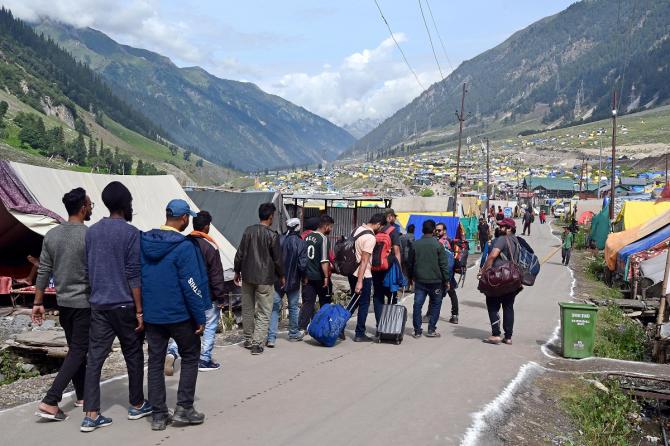 The Yatri Niwas Bhagwati Nagar in Jammu serves as the main base camp for the pilgrims from across the country before they leave for Kashmir to pay obeisance at the 3,880-metre-high holy cave shrine of Amarnath.
The two-month pilgrimage is scheduled to commence on July 1 from the twin tracks -- the traditional 48-kilometre Nunwan-Pahalgam route in the Anantnag district and 14-kilometre shorter but steeper Baltal route in the Ganderbal district.
The first batch of pilgrims is expected to leave the Jammu base camp one day prior to the start of the yatra.
"The renovation of the Yatri Niwas is going on smoothly. Divisional commissioner (Jammu) Ramesh Kumar has instructed the engineers concerned to expedite the pace of renovation and ensure the completion of all works by June 15," an official said.
Kumar visited the Yatri Niwas on Monday and inspected the works before chairing a high-level meeting to review in detail the arrangements being put in place for the comfortable stay of the pilgrims and their safety.
The meeting was attended by Central Reserve Police Force inspector general Mahesh Laddha, deputy inspector general of police (Jammu-Kathua Range) Shakti Pathak, deputy commissioner (Jammu) Avny Lavasa, tourism director Vivekanand Rai and other senior officers of various departments, the official said.
For foolproof security, Kumar passed directions for the deployment of sufficient personnel and the installation of additional CCTV cameras.
Emphasis was laid on making adequate provision for basic amenities well in advance by working in close coordination, the official said, adding that directions were issued to improve sanitation, drinking water and other logistics.
The divisional commissioner also instructed the Jammu Municipal Corporation to start the city's beautification by illuminating the chowks and major rotaries.
The tourism department was asked to install hoardings and banners at prominent locations, beginning from Lakhanpur -- the gateway to Jammu and Kashmir -- to showcase the region's tourist destinations, the official said.
The provision for transportation of the pilgrims, disaster management, setting up of langars (community kitchens), communication centres and medical facilities, deployment of medical teams, sanitation, uninterrupted supply of electricity, adequate water supply and traffic arrangements were also discussed.
The Public Works department was asked to start blacktopping of roads from Bhagwati Nagar to the Yatri Niwas Road and erecting barricades.
The Fire Services department was directed to keep water tenders ready for deployment at identified places well in time, besides provisioning for safety measures at the langar sites, the official said.