'When it comes to national security, when comes to securing Punjab and people of Punjab then we are beyond any party in this. I have been making these statements for many years now'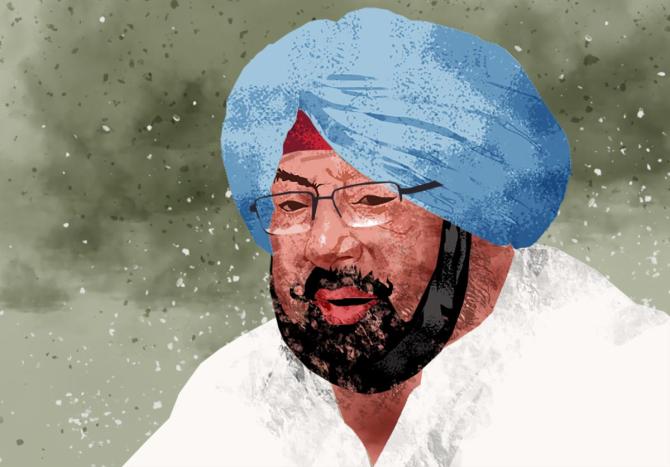 Speaking with Shekhar Gupta, editor-in-chief and chairman of The Print, on his Off The Cuff show, Captain Amarinder Singh (retd) expressed "personal" hurt over the way the Gandhis had treated him and asked for his resignation as Punjab's chief minister.
Captain Amarinder Singh spoke at length with Gupta about the "ignoble" way in which his resignation was sought, his future plans and alliance with the Bharatiya Janata Party, the brutal lynching of a Dalit by Nihangs at the Singhu border, the serious consequences of not solving the issues that farmers are agitating over for more than a year now and its implications for India's national security, especially in the wake of Pakistan using drone technology to slip in AK-47s, imported pistols and RDX in the border areas of Punjab.
On fighting his political battle
I have done everything in power for my country and my people while in the army and public life. I do not want to go out as failure; I was pushed out in an ignoble way.
I am not going to quit. I will fight this battle out. I will quit only after winning the battle.
Otherwise (if I lose the 2022 election) doesn't matter. You know the motto of the Gorkha Regiment? Their motto is it is better to die than be a coward. And I go by that. I am not from the Gorkha Regiment; I was from the Sikh Regiment. Nevertheless, that is a very good motto to have.
On national security and Punjab
I am concerned about this from the last three years, particularly about Punjab's weaponisation. This had been happening in the past. They keep funding and sending weapons to ISI and Khalistani sleeper cells, but now the quantum of weapons being sent into Punjab is certainly disturbing.
I took this up with the Government of India and gave a copy to Mrs Sonia Gandhi, the Congress president.
Earlier these weapons were smuggled using underground tunnels. but now it's being done increasingly, intensively, using drones. Technology has helped reduce distance and increase payload.
They have been sending AK-47s, RDX, heroin, and somebody is planning something by sending tiffin boxes, whereby each tiffin box contains 6 kilograms of RDX and we have found six such tiffin boxes. There are triple switches inside these tiffin boxes making these bombs virtually foolproof. What we don't know yet, and that is my biggest worry.
On collaborating with the BJP
When it comes to national security, when comes to securing Punjab and people of Punjab, then we are beyond any party in this. I have been making these statements for many years now.
India comes first, national security comes first.
On overstating threat to national security, terror threat to Punjab
Let's know who is right when the time comes. This impression, or I am right. Do you think the ISI is sending these weapons for the sake of fun?
I fear that young people could again get attracted towards arms and that is why I want the farmers' agitation to stop.
People like you and I and senior farmers in the agitation can talk, but there are youngsters there who have seen 407 people of Punjab dying. I have seen that. I have given Rs 5 lakh each to their dependents. I have given each one of them jobs. (Despite these measures) There is bitterness left in some of them.
They (the ISI) are not getting recruits at the moment, but these could become recruits. That is why I want normalcy to return.
On how the farm agitation could end
They are having meeting with the government, whoever they (the government) nominate. Eventually, any complication has to come to the negotiating table. And they are negotiating and hopefully that negotiation will reach conclusion.
Farmers have made it absolutely clear that they don't want any politician to get involved.
Let me tell you. these farm leaders are doing it for future generations. They are not doing it for themselves.
On what he plans to do for Punjab
I hope there is some usefulness left in me. I always wanted to be in Punjab from the day I was elected. Whatever productive years I have left with me I want to give them to my state.
On the Dalit's killing by Nihangs
Terrible tragedy. Absolutely awful. I don't believe the fellow (who was lynched) was doing any be-adbi (sacrilege) as they say. These things were done earlier when nobody was watching them. I don't think anybody can do this when thousands of people are watching you.
Therefore, the person who did it (killed the Dalit) was in a frame of mind that he couldn't control (his rage) and went and did that.
It could be due to some intoxication because the Nihangs are known to be consumers of Sukha, as they call it, everyday, so it's possible.
But that's not the way to do it. The fellow who did this (lynching) didn't get his facts right.
The worst part was despite such brutality nobody took him for treatment. Two policemen were standing and watching the fun too. These are absurd things happening in our country.
On Sharad Pawar's that you made Punjabis angry and you paid the price
He is right in saying so. Why shouldn't he say so? I am myself saying the same thing.
Don't provoke the farmers too much. Anger is something that takes over the younger generation very fast. What he (Pawar) is saying is right.
I have given Rs 2 lakh to farmers with less than five acres of land. How many people do you think these are? 72 per cent of Punjab! It's not the big farmer with more than 10 acres of landholding who is there (in the agitation).
Why?
Because he wants to ensure the future of his family. He is 80 today; he won't be here after another two years. But he has sons, other dependents and he wants to ensure their stable future.
Therefore, I think it is time that the conclusion should come to this matter (farm laws).
Ultimately, you will have to come to the negotiating table.
I think there is some talk going on that they (the Modi government) are thinking about some checks and balances. These checks and balances could be withdrawal of some sections of the Act or postponing some for eight to 10 years and in the meantime a committee could discuss the issues.
I think they (the Modi government) have also realised the dangers of all this (prolonged farmers' agitation). They know if this carries on it can lead to complications.
They also know what Pakistan is up to. Nobody has got a closed mind on that; they see weapons coming in everyday. They (the weapons) are in the villages.
A senior villager from Batala (in BJP MP Sunny Deol's Gurdaspur Lok Sabha constituency) told me that some 500 pistols have come into the town.
On floating his own party and an alliance with the BJP
Possible. And it is not because I want to do something in my last years. Everyone has a sense of being one's pride being let down.
I have done everything in my powers for 52 years for my country and my state. I have served 10 years in uniform, and served 52 years in public life.
I do not want to go out as a failure. And pushing me out in this ignoble way, thinking that this old man can be put out to pasture and if I am not ready to go to pasture then I have got to make something out of it.
You will see my own party coming up hopefully soon. I am looking to fight it one way or the other. That doesn't matter.
On his sense of hurt
You know what I told Mrs Gandhi. I wrote to her that I was going to hang up my sword.. enough is enough.. I would be 80 in March (March 11, 2022). I wrote I would like to quit after that (the results of Punjab assembly election in 2022) and the party can put somebody else as the chief minister. I want to bow out with a bang. I don't want to go out as failure.
What did I ask for?
She was quite appreciative of my letter and then suddenly I was asked to resign. She called me and (Congress Seneral Secretary Harish) Rawat. As soon I met her I told her I want to resign.
I told her I could not function with (Navjot Singh) Sidhu; he is pulling right, I am pulling left. That way we will destroy the party, we will pull it apart.
Every day he is tweeting against me and my government. In a month he must have sent 40-50 tweets against me and I told her I don't believe in the business of retaliation.
She asked Rawat to get him (Sidhu) under control and after that there was all good for a week.
Then later she called me at 10.15 am and told me that I should resign. I said I offered you my resignation three weeks ago. She apologised to me. She said, 'I am sorry', but I said she shouldn't be sorry.