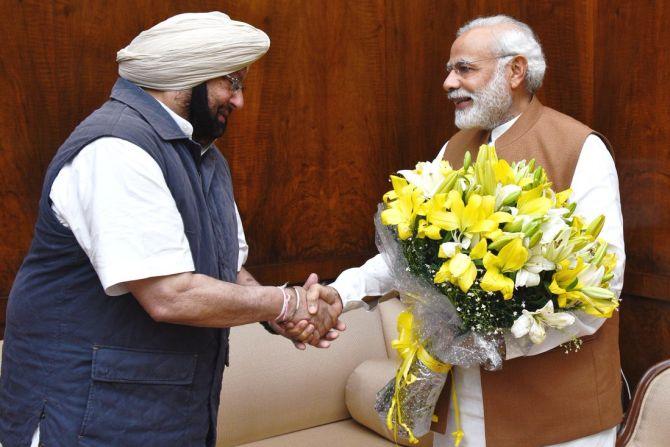 Punjab Chief Minister Amarinder Singh on Thursday met Prime Minister Narendra Modi and sought his support in allowing the state to sell its surplus power to Pakistan or Nepal.
The chief minister also demanded a package for farmers, especially those living along the international border, and concessions for the industry on the lines of those granted to hill states like Himachal Pradesh and Jammu and Kashmir.
During the meeting with the PM that lasted around an hour, Amarinder expressed concern over problems faced by farmers living in border areas and called for an increase in central compensation to them to ensure effective and stronger border management.
The chief minister also sought Modi's intervention to prevent the possible revival of package of concessions to neighbouring states as he felt it would negate Punjab's efforts to bring in investment and create jobs in a bid to revive the state's economy.
Pointing to the 1000 MW surplus power in Punjab after meeting internal demands, the chief minister noted that the sale of power to neighbouring Pakistan or Nepal would help the state's coffers, his media adviser Raveen Thukral said.
He said Amarinder apprised the prime minister that Punjab's Goindwal Sahib thermal power plant is situated close to the international border and it would not be difficult to supply power to Pakistan.
He also said Punjab would be happy to supply electricity to Nepal, which intends to meet its power shortfall by purchasing it from India, if the government of India agreed, and sought the prime minister's support.
'Had a very cordial meeting with Hon'ble Prime Minister Narendra Modi, discussed many issues of Punjab's interest,' Amarinder tweeted after the meeting with the PM.
Amarinder later met Union IT Minister Ravi Shankar Prasad who invited Punjab to be a part of Digital India revolution of the Narendra Modi government.
Prasad suggested that Punjab government should pitch for central government funded and aided projects in the field of Business Process Outsourcing and electronic manufacturing to fast-track its growth.
The possibility of setting up a BPO centre in Patiala, the chief minister's constituency, was discussed during the meeting.
Amarinder also met Congress vice president Rahul Gandhi and discussed with him the new initiatives being undertaken by the Congress government in Punjab.
This is Amarinder's first meeting after taking over as chief minister of Punjab. Rahul Gandhi had attended Amarinder's swearing-in in Chandigarh last month.