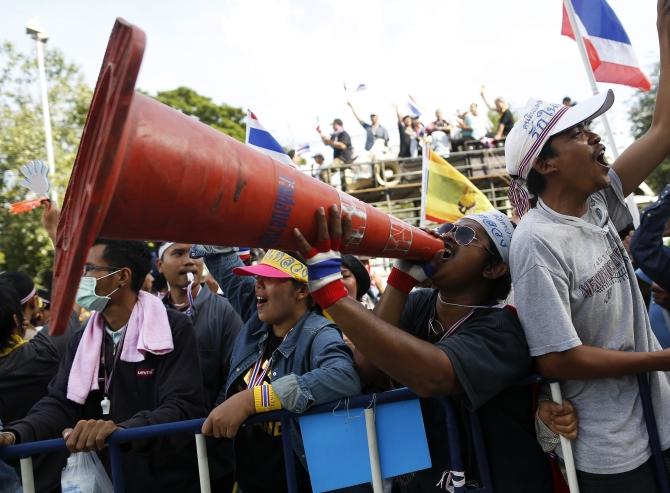 India on Tuesday said all its nationals are safe in Thailand, rocked by massive anti-government protests that have claimed four lives, and supported efforts to restore normalcy in the country through consultations.
"All the Indians in Bangkok and other parts of Thailand are safe. We have not received reports of any untoward incident so far. We advise people to continue to watch the situation continuously," Indian Ambassador to Thailand Anil Wadhwa said.
"I am personally in touch with high ranking officials in the Thai government for their assessment of the situation," Wadhwa told PTI.
The envoy said all hotels and major tourist spots are open, but Indians should avoid areas such as Metropolitan Police Headquarters and Government House, where the protests are concentrated.

Indians facing any difficulty can contact the embassy in Bangkok via phone or e-mail, Wadhwa said. Indians should also regularly check the embassy's website for latest developments.

The protests, which began on November 24, were largely peaceful until Saturday, when they turned violent.
The protesters, led by former deputy premier Suthep Thaugsuban, are demanding that Prime Minister Yingluck Shinawatra should quit and hand over power to a "People's Council".
They accuse Yingluck of being a proxy for her elder brother, former Prime Minister Thaksin Shinawatra, who was outed in a 2006 by the military and is currently in self-exile.
Bangkok is witnessing traffic disruptions during protest marches. Travellers coming from or going to the airport have been advised by local authorities to factor in an additional hour for travel to or from Bangkok, a statement from the Indian embassy in Bangkok said.
In New Delhi, the Ministry of External Affairs said India was "supportive of all measures and efforts to address the situation through consultations in order to uphold the rule of law, preserve democracy and restore normalcy".
"We are following developments taking place in Thailand and are in constant contact with our Embassy in Bangkok, which is also providing updated information on current situation to Indian travellers and residents, including through its website," the ministry said.