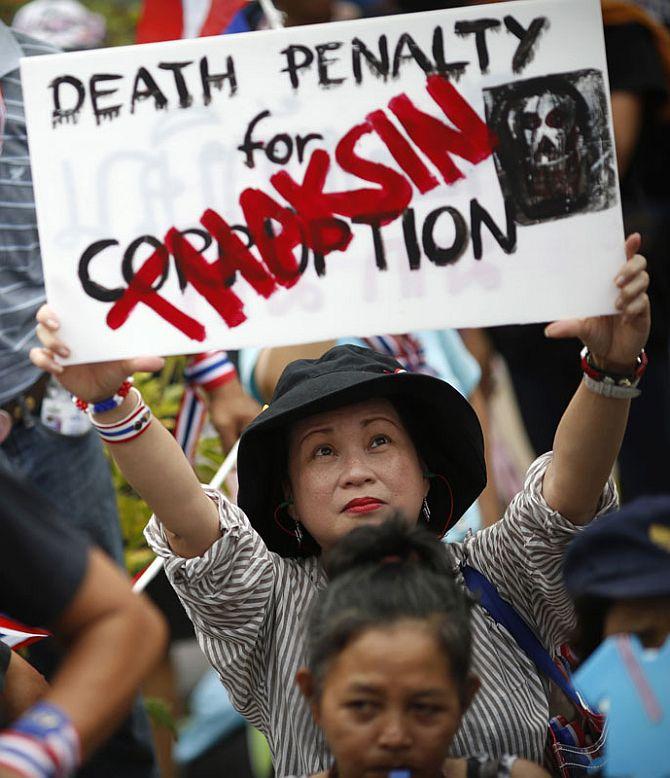 Protesters demanding the resignation of Thailand's premier Yingluck Shinawatra on Tuesday claimed a "partial victory" after police allowed them to storm the government headquarters, easing tensions after three days of clashes that claimed at least four lives.
Hundreds of protesters poured into the lawns of the premier's office after police removed barricades, saying that they would no longer use force against activists trying to storm the Government House and police headquarters.
The mood in the capital Bangkok appeared considerably calmer after the surprise move ahead of King Bhumibol Adulyadej's 86th birthday on Thursday.
The king is highly revered by all Thais and is seen as the sole uniting figure in the country. The protesters are unlikely to continue their campaign on his birthday, which is traditionally a day of prayer and celebration.
Protest leader Suthep Thaugsuban, however, said the fight to unseat the government was not over.
"It's a partial victory but it's not final because the Thaksin regime is still in place. You cannot go back home yet. We have to continue our struggle," Suthep said.
The protesters accuse Yingluck of being a proxy for her elder brother, former Prime Minister Thaksin Shinawatra, who was outed in a 2006 by the military and is currently in self-exile.
Army Commander-in-Chief Gen Prayuth Chan-ocha urged protesters to leave the Government House after staging a symbolic protest.
Army spokesman Col Winthai Suwaree said Prayuth was worried about the situation and has urged everybody to respect the rule of law. Prayuth said government buildings are property of the country and protesters should not damage them.
Deputy Police Commissioner Worapong Chiewpreecha said police stopped blocking protesters due to fears of attacks by third-party assailants. Worapong claimed that some live bullets were fired at police during yesterday's clashes.

Yingluck rejected the demand for her resignation on Monday after the opposition gave her two days to step down. She told a nationally televised news conference that she cannot constitutionally implement the opposition demand to hand over power to an unelected "People's Council".

Meanwhile, a Thai court has issued an arrest warrant for protest leader Suthep, a former deputy premier, for "insurrection" over his attempt to topple the government.
The protests, which began on November 24, had been largely peaceful until Saturday, when they turned violent.