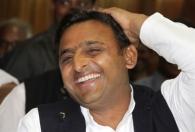 Uttar Pradesh Chief Minister Akhilesh Yadav on Thursday defended the suspension of IAS officer Durga Shakti Nagpal, claiming that action was taken against her for demolishing the wall of a mosque without consulting seniors and not for preventing illegal sand mining.
"The issue was not mining, even we are against illegal mining. The demolition of the wall of a mosque had vitiated communal harmony. If an officer takes such an action, the government is bound to take action," Yadav told reporters after a meeting of the state Cabinet.
He said officers posted in various departments have to act responsibly.
"The action (against Nagpal) was valid," he said.
In reply to questions over the opposition's allegations that Nagpal was suspended for preventing illegal mining, Yadav said such charges are often levelled against the party which is in power.
He said the media should check the details, including local intelligence unit reports, before accusing government of shielding people indulging in illegal mining.
"You look into the record of the past two-three months, we ourselves do not want anything wrong to happen to any officer," he said.
When asked why the UP IAS Association was defending Nagpal if she was guilty of demolishing the mosque wall without consulting others, Yadav said his government was open to listening to the views of others.
"It is our government which encouraged the IAS association, which had become defunct in the recent past," he said.
Nagpal, a 2010 batch IAS officer of Uttar Pradesh cadre, was suspended on July 27, ostensibly for ordering the demolition of the wall of a mosque without following the due process.
Her suspension has evoked sharp reactions from opposition parties, including the Bharatiya Janata Party and the Bahujan Samaj Party, who alleged that she was removed over her action on sand mafia operating in Gautam Budh Nagar area of the state.