Amid rising concerns over subsidence-hit Joshimath, authorities are worried about where to keep the riches of Badrinath safeguarded at Narsingh temple.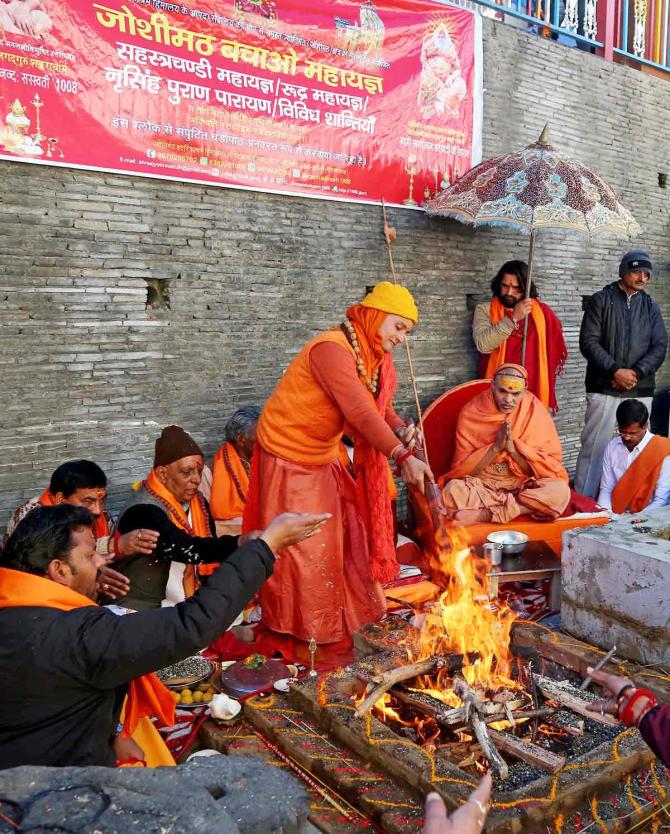 Though authorities claim the temple is secure as of now, they have begun looking for alternative locations nearby where the riches containing a huge quantity gold and silver besides other offerings can be kept in case the situation in the town worsens further.
The worst-hit Singdhar ward and JP colony are located at an aerial distance of just half a kilometre from Narsingh temple adding to the worries of authorities.
Lord Vishnu, the presiding deity of Badrinath is worshipped at Narsingh temple in Joshimath after the portals of the Himalayan temple are closed for winter.
The riches of Badrinath are also brought down to the Narsingh temple during winter.
"There are no cracks yet in the Narsingh temple and its premises. But as a precautionary step we have made an alternative plan as to where to shift the riches if it becomes inevitable," Badrinath-Kedarnath Temple Committee chairman Ajendra Ajay told PTI.
"We have explored the alternative locations and found a guest house in Pipalkoti most appropriate for the purpose," Ajay said.
"Some people have also suggested a location in Pandukeshwar," he said.
"However, there is no need as yet to shift the riches anywhere. We pray to the lord that such an eventuality does not arise," he said.
The riches contain 30-35 kg silver and 40-45 kg gold amid other offerings, he said.