Aam Aadmi Party calls Bhagwant Mann its people's choice for CM candidate in Punjab.
Syed Firdaus Ashraf/Rediff.com traces what makes Mann so indispensable for his party.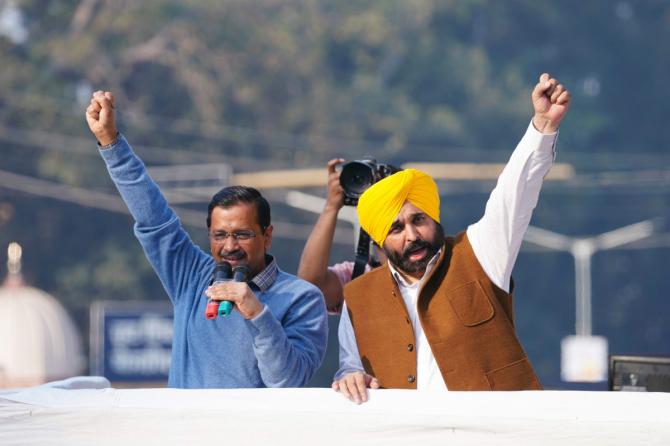 Can Bhagwant Mann do what comedian Jimmy Morales did in Guatemala?
For those who came in late, comedian Morales stood against the established party candidates of Guatemala in 2015 and won.
He won the elections on one simple slogan: Ni corrupto, ni ladron (neither corrupt nor a thief).
Bhagwant Mann, like Morales, has an advantage because so far the Aam Aadmi Party is known for its clean politics and its image has not taken a beating over any major corruption issue in its seven-year rule in New Delhi.
Unlike other parties where the chief ministerial candidate is chosen by the high command, AAP National Convenor Arvind Kejriwal chose a unique way of selecting the party's chief ministerial candidate in Punjab, where many polls suggest that AAP could pull off a coup in next month's elections.
Kejriwal opened up a public phone line to the people of Punjab and asked them to vote for whom they wanted as their CM candidate by either dialling, or sending an SMS or WhatsApp message to the phone number 7074870748.
Some 93 percent of those who responded preferred Mann as their choice for Punjab CM, Kejriwal declared on Tuesday.
Before joining politics, Mann was widely known in Punjab for singing songs, making music and acting as a comedian in Punjabi films.
His shot at national fame came in 2008 when he got a chance to perform in The Great Indian Laughter Challenge on Star Plus.
Post the India Against Corruption movement, when Kejriwal launched his Aam Aadmi Party, Mann joined him.
When the nation was swept by the Modi wave in the 2014 election, Punjab elected four AAP candidates to the Lok Sabha; the party won an impressive 24.40 percent of the popular votes from the state.
Mann won from the Sangrur Lok Sabha seat by a margin of 211,721 votes.
But politics is as much about the lows as it is about the highs.
Three years later, when AAP was confident it would sweep the 2017 Punjab assembly elections based on the Lok Sabha election results three years earlier, it got the shock of its life from voters who rejected the party.
AAP won only 20 of 117 assembly seats.
Opinion polls had predicted a neck and neck contest between the Congress and AAP, but the Congress won an easy victory, bagging 77 seats.
The incumbent Shiromani Akali Dal came a poor third, winning only 18 seats.
Mann was trounced by the Akali Dal's then deputy chief minister Sukhbir Singh Badal from the Jalalabad assembly constituency.
In 2017, unlike now, Mann was not named the AAP's CM candidate for Punjab.
Post the 2017 Punjab electoral debacle, there was tremendous infighting within AAP that led to its weakening, and it went into complete disarray.
All the gains made by the party went kaput by the 2019 general elections in Punjab, despite Mann's gallant efforts to keep the party afloat.
He proved his mettle by winning the Sangrur seat once again, defeating Kewal Singh Dhillon of the Congress, with a reduced margin of 110,211 votes.
Mann was the lone AAP candidate to win from Punjab in the 2019 parliamentary elections.
Though his political success over seven years was no doubt heady, he also got tagged for allegedly being an alcoholic. Journalists in Punjab dubbed him 'Pegwant Mann'.
Expelled AAP leader Yogendra Yadav had warned Kejriwal about Mann's weakness for liquor. Prime Minister Narendra Modi no less took a dig at Mann in the Lok Sabha over his drinking habits, to which a furious Mann retorted that the PM was lowering the dignity of the House.
Finally, on January 1, 2019, Mann swore on his mother at a public meeting that he would never touch alcohol again.
For AAP, which like in 2017 is gung-ho about winning the Punjab assembly election, it won't be easy as it is a four-cornered contest this time.
The fight is among the Congress (headed by Mann's colleague from The Great Indian Laughter Challenge, Navjot Singh Sidhu), versus AAP, versus the Shiromani Akali Dal-Bahujan Samaj Party alliance, and the BJP with former chief minister Captain Amarinder Singh's party the Punjab Lok Congress, and Sukhdev Singh Dhindsa's Akali Dal faction.
Mann will hope that with the BJP facing the voters's wrath over the three (repealed) three farm, the Akali Dal not being in the race and the Congress weakened by sniping among its leadership, this is his best chance to win Punjab for his party.
Will the voters buy into it? We will know on March 10, when the votes are counted.