After the Delhi municipal House was adjourned for the third time in a month without electing a mayor, the Aam Aadmi Party on Monday said it will move the Supreme Court so that the polls can be held in a 'court-monitored manner'.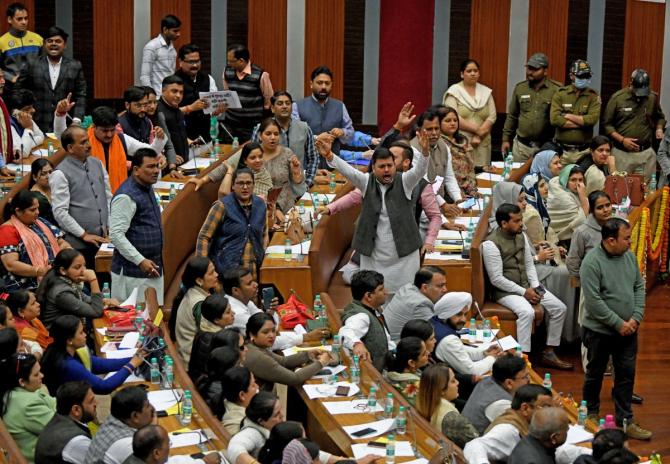 The municipal House failed to elect a mayor on Monday after a ruckus erupted over the nominated members being allowed to vote in the election to the post.
Soon after the Municipal Corporation of Delhi (MCD) House assembled around 11.30 am, after a delay of half an hour, Presiding Officer Satya Sharma announced that aldermen will be allowed to vote in elections to the posts of mayor, deputy mayor and Standing Committee members which will be held simultaneously.
This drew protests from AAP councillors. Party leader Mukesh Goel said aldermen can't vote.
After emerging from the House, AAP leader Atishi told reporters, "We will go to the Supreme Court, and we will go today itself so that the mayoral elections can be held in a court-monitored manner."
"Our demands are that the mayoral election be held in a time-bound manner in the next two weeks and the aldermen be not allowed to vote," she said.
Atishi claimed the Bharatiya Janata Party had planned to disrupt the proceedings so that the House could be adjourned.
Addressing a press conference, AAP leader Sanjay Singh said: "We will go to the Supreme Court now to have the mayoral election conducted."
"The BJP is strangulating democracy and the Constitution of India. The presiding officer allowed the aldermen to vote in mayoral polls, which is wrong as per the Constitution and is against democracy," he said.
The presiding officer also said the polls to elect mayor, deputy mayor and six members of the Standing Committee will be held simultaneously, which is also wrong as the agenda stated that the mayoral elections will be held first, the AAP leader pointed out.
The first two sessions of the municipal House -- held on January 6 and January 24 -- were adjourned by the presiding officer without electing a mayor following a ruckus and acrimonious exchanges between the members of the BJP and the AAP.
According to the Delhi Municipal Corporation (DMC) Act, 1957, the mayor and the deputy mayor are to be elected in the very first session of the House after the civic polls.
However, it's been two months since the municipal elections were held on December 4 and Delhi is yet to get a mayor.