Aam Aadmi Party's mayoral candidate Shelly Oberoi moved the Supreme Court on Thursday demanding the mayoral election be conducted in a time-bound manner, party officials said.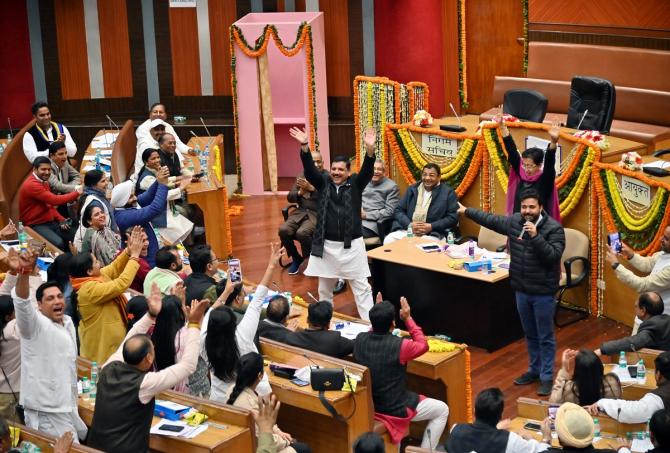 The Delhi mayor election was stalled on Tuesday for the second time this month as the House was adjourned indefinitely by the LG-appointed presiding officer following a ruckus by some councillors.
Accusing the Bharatiya Janata Party of hooliganism and halting Municipal Corporation of Delhi House proceedings, AAP National spokesperson Saurabh Bharadwaj said that the leader of the house Mukesh Goel and mayor candidate Shelly Oberoi approached the top court to allow the mayoral elections be conducted in a time-bound manner.
The case is likely to be taken up on Friday, AAP leaders said.
Bharadwaj said that the party has also sought prohibition on voting by aldermen as per law.
"We have placed two major demands in the Supreme Court, the first is to elect the mayor in a time-bound manner and form the government in the MCD. Second, as aldermen do not have the right to vote under Article 243R of the Constitution and Section 3 of the DMC Act, they should be prohibited from casting votes," he said.
"They have no moral right to capture and illegally control the MCD for so long. The MCD was put under the central government on the pretext of unification and delimitation works. People of Delhi gave the AAP the mandate in the MCD and despite that, the BJP resorted to dirty politics. They (BJP) have been creating ruckus and not allowing the mayoral elections to be conducted in the House," he alleged.
Lashing out at the AAP for approaching court, BJP state working president Virendra Sachdeva alleged that Chief Minister Arvind Kejriwal and the AAP have been misleading the public and that they have no faith in the Constitution.
"Whenever they have to divert people's attention from their mistakes, they move the court. Later when the court decision doesn't favour them, they refuse to accept it. The AAP should also tell the court how it resorted to hooliganism in the House, who threw the mic and which party's councillors climbed the chair of the presiding officer," Sachdeva said.
He further claimed that there are photographs and videos in the House which "prove" that the AAP councilors "deliberately obstructed" the mayoral election.
Earlier, the AAP had accused the BJP of pre-planning the ruckus in the House and claimed that the BJP councillors gheraoed the well.
The first meeting of the newly elected House of the MCD was also adjourned on January 6 amid a ruckus by AAP and BJP members.
The AAP won 134 of the 250 wards in the MCD polls held in December last year. The BJP managed to win 104 wards.