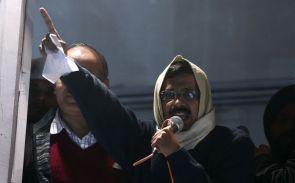 As Delhi Chief Minister Arvind Kejriwal announced his resignation late on Friday evening, the party office at the Hanuman Road at Connaught Place was all geared for it well in advance.
The party had already sent messages to its volunteers to gather at the Hanuman Road office even when the assembly was on.
"We had just been told to gather at the party office at Hanuman Road. This was a clear brief to us," said one of the volunteers who came to the party office after he received the message.
Security at the party office was beefed by its volunteers soon after the SMSes were sent and volunteers started pouring in.
The party had also set up a small screen so that they could see and hear Kejriwal giving his speech on the floor of the assembly.
As AAP workers started pouring in, they started distributing party caps to its volunteers who had rushed to party office.
It was even planned from where Kejriwal would address the supporters. Sources said, to make it more symbolic, he also delivered his 15-minute speech attacking Congress and BJP from the same window from which he had delivered his victory speech after Delhi assembly elections.