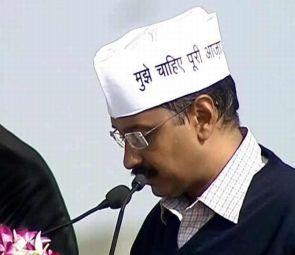 Congress on Friday night accused Arvind Kejriwal, who resigned as Delhi chief minister, of being a "negative person, glib-talker and a smooth-liar who was looking at an excuse to run away."
He was never serious to govern and his resignation was well-anticipated, Congress said.
Charging that Kejriwal tried to subvert the Constitution, party spokesperson Sandip Dikshit said he was "basically a negative person" who never did anything serious in his whole life and from beginning to end was a "big drama".
"He (Kejriwal) was looking at an excuse to run away. He tried to subvert the Constitution and was a smooth lier. He lied through his teeth while attacking Congress", he alleged.
"He was never serious to govern and the exit of his government marks the end of a big drama. He will find any excuse to run away, to act like a martyr," Dikshit told PTI.
Hitting back at Kejriwal soon after the Delhi chief minister announced his resignation attacking both BJP and Congress, Dikshit said "those who tweak established processes of law were also dishonest."
Another Congress spokesman Abhishek Singhvi said "inevitably what happened was known to the nation since inception. Those who want to become martyrs for votes have no interest in governance or delivery or grappling with harsh realities of real problem-solving."
Kejriwal became Chief Minister about two months back with outside support of eight MLAs of Congress after assembly elections in Delhi threw up a hung verdict with no party being in a position to form government.
Kejriwal's Aam Aadmi Party came out with a stunning debut winning 28 of 70 assembly seats in Delhi and was given support by Congress to form a government without his demanding it.