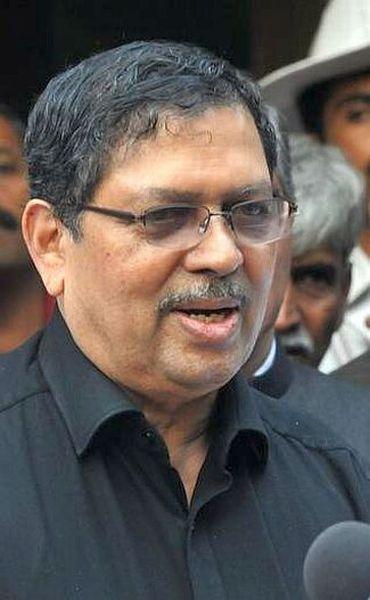 A wasted exercise, a total flop show and not to mention a total failure: This is how Karnataka Lokayukta Justice Santhosh Hegde, a member of the Lokpal Bill drafting panel, described the final outcome following the last meeting of the committee with the government on Tuesday.
Justice Hegde, who sounded extremely dejected at the end of the meeting, said, "Yes we had a meeting and exchanged a few talks. The meeting lasted 45 minutes. At the end of it all that the government has given us is a Lokpal Bill. Don't even bother finding out the contents in it because it has got nothing in it. Watered down to the fullest I would say."
"This Lokpal Bill which will come out will be handicapped and the government has not agreed to any of the suggestions of the civil society members. They want to overload the Lokpal with bureaucrats and politicians. I had told you this morning they would do this. This means the government has complete control over the Lokpal," Justice Hegde told rediff.com.
"I am aware you are dying to know about the inclusion of the prime minister (under Lokpal's purview). It is ridiculous. Kapil Sibal (Union minister and government representative in the joint drafting committee) makes it clear that the prime minister can be probed under the provisions of the Indian Penal Code and the Code of Criminal Procedure. But he also adds that the PM is being kept out of the purview of the Lokpal," Justice Hegde added.
"The government has further rejected our suggestion to empower a citizen of the country to seek removal of a corrupt official or politician. Further they have also decided not to provide the Lokpal with the assistance of the anti-corruption wing of the Central Bureau of Investigation. The government will now pick and chose the officials who would be part of the investigating wing of the Lokpal. Do I need to say more about the fate of this wing now? They would have complete control over this wing now," Hegde said.
"The destroyer of the entire excercise was when the government said that a notice should be issued before starting a probe. I really do not know how that is to be done when we are trying to trap a person accepting bribe. This indicates the entire attitude," he went to on say.
"We, the members of the civil society, did put in our best and at the end of it all we got was a Lokpal bill which is nothing but handicapped. The ultimate objective has failed though," Justice Hegde also pointed out.
Image: Karnataka Lokayukta Justice Santosh Hegde