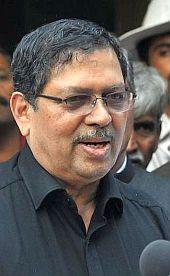 Meetings of the joint drafting committee on Lokpal bill slated for June 20 and 21 would be a mere formality with little scope for discussion, Karnataka Lokayukta and a member of the panel Santosh Hegde said on Thursday.
"The next two meetings will be a mere formality of exchanging the two drafts of the bill," Hegde told reporters a day after talks on various issues between the government representatives and civil society members on the committee failed to make headway.
"Therefore, I think the main part of the discussion is over. Everyone felt the decision has been taken and there is nothing more to be discussed. At least that is the feeling of the Jan Lokpal committee," he said.
Hegde said there were no roles left for Anna Hazare to play in this decision making process. Emphasising that the fight against corruption must go on, he said not only the party currently in power at the Centre but practically every party that has ruled the country after independence had not made a serious effort towards creating an effective Lokpal.
Accusing successive governments post-independence of not being serious about creating the ombudsman, he referred to eight bills prepared by the government to fight corruption.
"That itself is an indication that no government has the intention of creating a stringent anti-corruption law or create a strong institution to fight corruption," he said.
On the future of the Jan Lokpal bill, Hegde said, "Next two meetings are only formalities for exchanging the Bill. That's what I feel. I don't think there's any room for any discussion or room for give and take. They had a bill and they want that to go through."
Hegde said he would support Hazare's fast, but hastened to add that he would not go to the fasting place or take to the streets as he continued to occupy the post of Lokayukta in the state till August 2.
"It won't be proper for me to do that," he said. On Union Minister Kapil Sibal's comment asking for two versions of the bill, Hegde said, "They asked for our version of the bill and they said they have their version of the bill and it'll be sent to the government. Now it does not require a lot of intelligent work to be done to find out which bill will be preferred. A bill prepared by their own team will be preferred".
Image: Karnataka Lokayukta Justice Santosh Hegde