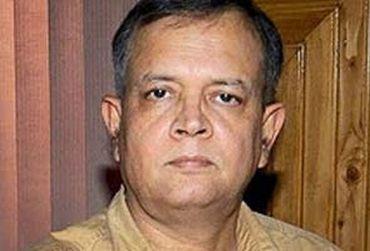 An exceptional officer, a soft spoken human being, a devout Hindu and not to mention his love for singing Malayalam songs -- that is how friends and colleagues of Radha Vinod Raju, founding director of the National Investigation Agency , would remember him.


Despite holding many high profile positions in an extremely illustrious career, Radha Vinod Raju, who passed away at the age of 62 at Kochi on Thursday, is remembered more for the lead role that he played in cracking the case pertaining to Rajiv Gandhi's assassination. In fact it was he who signed the document which sought the extradition of Liberation Tigers of Tamil Eelam Prabhakaran.
R Shrikumar, retired police chief of Karnataka, and Padma Bhushan award winner Prof Chandrashekar, forensics expert, who worked very closely alongside Radha Vinod Raju during the high profile Rajiv Gandhi assassination case, tell
Rediff.com'
s Vicky Nanjappa about this quintessential man who has made India proud.
Raju was born on July 27, 1949, and started his career as a bank official before he was selected to the Indian Police Services in the 1975. He was assigned to the Jammu and Kashmir cadre and it was clear that his job since day one was fighting terror.
Colleagues of this meritorious officer would remember him as one who went out of his way to try and eradicate the menace of terrorism. However, for him terrorism was a problem that needed to be fought-not on the basis of caste or religion.
Loved and revered by his juniors, they fondly recall him always saying, "hit the terrorist before he strikes and do not wait for him to come in."

His work earned him many laurels and medals which include the Police Medal for Meritorious Service in 1992, the President's Police Medal for Distinguished Service in 1999, a Director-General's Commendation Certificate in January 2000 and the Sher-e-Kashmir Medal for Meritorious Services in 2003.

R Shrikumar says that it is difficult to imagine that he is no longer there.
"I have worked with him for three decades and have not seen a finer officer and gentleman like him. It is difficult to withstand the los of a person whom you have known for the past 30 years. I worked with him in the CBI and the quality that struck me the most about him was that he was a gentleman to the core and a thorough investigator," Shrikumar says.

"I would call him a role model for every police officer and the manner in which he investigated the cases is something that every policeman should follow. His love for the job, his commitment and the manner in which he conducted himself are all worth mentioning. He studied each and every document so thoroughly. Each dot was connected and each blank was filled up, and he would not go to sleep until the hunch he had was proven.

"What struck me the most about Raju was that he was meticulous and was extremely sure about what he did. He handled such great assignments, which were anything but easy, with such ease. I really do not have the words to describe as to what a great loss this is, but I shall always remember with pleasure the years that I have shared working alongside him. It was always a pleasure," he adds.

Professor Chandrasekar recalls the days when he was called to Kashmir on a secret mission.
"I had to give him a forensic report and I spent two months at his home over there. The first time that I met Raju was during the Rajiv Gandhi assassination probe and since then I have been professionally very deeply involved with him," Chandrasekar says.

"I would say that he is the only person that I liked in the CBI at that point of time. Some officers of the CBI had their own reservations about forensics and it was he who acted as the bridge between my department and the CBI. In the midst of such a high profile case it was natural for anyone to lose their nerve and let tempers flay. Raju was the calming factor and I admire the manner in which he encouraged me to do my work.

"When he was posted at Jammu and Kashmir, I was invited over for two months for a secret mission. It was very scary at one point of time. There were explosions everywhere and I often wondered whether I would even return home. Raju stayed with me all the time. When we used to return home late at night, he would ensure that I forget my fears.
"He used to cook Mangalorean and Kerala style food for me and I was very surprised when he used to cheer me up by singing Malayalam songs. This was a very different side to him that I had never seen.

"When it came to work there was no looking beyond. At that time none could be trusted in the Valley. The mammoth report that I had prepared had impressed him. He had told me that none should see this report and, can you believe it, he sat down and typed the entire report by himself. He said there was a good chance of it leaking had it gone even to his stenographer. After the report was typed out we took it directly and handed it over to the chief minister.

"I really mourn the death of this great friend and police officer. I wish he had lived longer," Chandrasekar adds.

Raju's job was only about challenges. After handling such high pressure cases, he was handed over charge of the NIA after the 26/11 attacks in Mumbai.
During his various interactions with Rediff.com he spoke a great deal about the NIA and manner in which it should function. His stint at the NIA was very short and he believed that he had set the foundation and hoped that the agency would function well.
He, however, was very clear that the NIA would need some time for it to take shape completely and often said, "Don't be too critical, it takes sometime for things to take shape. Moreover it cannot be the only agency probing terror related cases and there is the joint cooperation of all wings of the police in order to solve this problem."

Even after his retirement he remained busy. He served in a task force on security reforms and spent most of his time shuttling between Kerala and New Delhi.
Despite being so extremely busy, what struck me the most was that every call used to be picked up in less than three rings, an email replied to in less than 15 minutes and text responded in less than a minute.
The sentence that struck me the most was this remark which he made in one of the interviews, "No officer worth his salt will ever be swayed by political pressure during an investigation."
Image: R V Raju