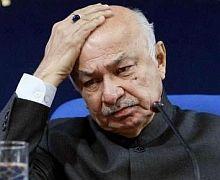 Most chief ministers chose to miss a high-level conference, convened to thrash out challenging issues on public order and policing, in New Delhi with only seven state leaders attending it.
The conference of chief ministers, convened by the home ministry, saw attendance of only Chief Ministers of Odisha (Naveen Patnaik), Assam (Tarun Gogoi), Uttarakhand (Vijay Bahuguna), Tripura (Manik Sarkar), Arunachal Pradesh (Nabam Tuki), Meghalaya (Mukul Sangma) and Nagaland (Neiphiu Rio).
Non-Congress Chief Ministers Mamata Banerjee (West Bengal), J Jayalalithaa (Tamil Nadu), Akhilesh Yadav (Uttar Pradesh), Narendra Modi (Gujarat), Nitish Kumar (Bihar),
Shivraj Singh Chouhan (Madhya Pradesh) and Raman Singh (Chhattisgarh) did not attend the meeting, which was convened for the first time during the tenure of Home Minister Sushilkumar Shinde.
Even Congress Chief Ministers of Maharashtra (Prithviraj Chavan), Andhra Pradesh (N Kiran Kumar Reddy), Rajasthan (Ashok Gehlot), Kerala (Oommen Chandy), Haryana (Bhupinder Singh Hooda), Manipur (O Ibobi Singh) and Himachal Pradesh (Virbhadra Singh) did not participate in it.

The Bihar chief minister was in Delhi on Sunday but still did not attend the meeting, while Himachal Pradesh and Manipur chief ministers had given their confirmation but did not turn up.
Jammu and Kashmir Chief Minister Omar Abdullah had initially given his consent, but did not attend.

Prime Minister Manmohan Singh, who usually attends the Chief Ministers' conference as a chief guest, also skipped it this time.

Jharkhand, which is under President's Rule, was represented by Governor Syed Ahmed, while Delhi was represented by Lt Governor Tejinder Khanna.

Several Union Ministers attended the meeting by virtue of being the members of the GoM on Administrative Reforms as the meeting discussed the Fifth Report on "Public Order" of 2nd Administrative Reforms Commission.

Petroleum Minister M Verappa Moily, Telecom Minister Kapil Sibal, Road Transport and Highway Minister C P Joshi, Rural Development Minister Jairam Ramesh, Minister of State for Personnel V Narayanswami, Ministers of State for Home R P N Singh and Mullappally Ramachandran, and the Home Minister attended the conference.
Law Minister Ashwani Kumar, who was supposed to attend the meeting, did not come.
The issue of setting up anti-terror hub NCTC, which is strongly opposed by the non-Congress Chief Ministers, was not discussed in the day-long conference.
Internal security issues were also not brought up.