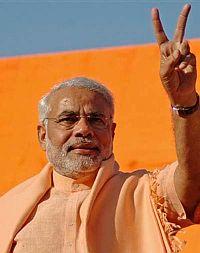 The Bharatiya Janata Party on Monday dismissed Congress barbs on the appointment of Gujarat Chief Minister Narendra Modi and his associate Amit Shah in the new team announced by party President Rajnath Singh and claimed it is all set to overthrow UPA government in the next general elections.
BJP spokesperson Prakash Javadekar rubbished Union Minister Kapil Sibal's comments that Modi's induction in the parliamentary board poses a challenge to the main opposition.
"Congress is finding it difficult to come to terms with these appointments. Sibal is a disappointed man. He knows he is going to lose the Chandni Chowk Lok Sabha seat in the next elections. His remarks are not worth reacting to," he said.

Sibal had said on Sunday that Modi is seeking to take over BJP and once he succeeds, the party will be finished as the Gujarat Chief Minister's "brand of politics has nothing to do with ideology".
Javadekar also made light of Information and Broadcasting Minister Manish Tewari's comment that BJP is not a national party, saying it too is not worthy of a reaction.
BJP also defended Amit Shah's appointment as general secretary of the party. Shah, who was Minister of State for Home in Modi's government, is facing charges of involvement in two fake encounter cases.

"Shah has been in Delhi for the last three years and has been actively working for the party. We are confident that he will come out clean in the cases against him. We hope the judicial process is completed soon and he gets a clean chit," Javadekar said.
BJP claimed the new team has a fair representation of all sections of society and regions and will bring about the change in government that people want in the next polls.
"Everybody, including the farmers and labourers, is fed up with the Congress-led government. Due to the loot by this regime, people want to throw it out... We will fight this battle and the new team will come out victorious," he claimed.

BJP also insisted that its former President Nitin Gadkari has not been given a cold shoulder.

"He is a member of the BJP Parliamentary Board which is our highest decision making body," Javadekar said.


Gadkari was not given a second term as party chief in January as charges of financial irregularities in his Purti Group had surfaced at the time. Singh was then elected president of the BJP.

Javadekar claimed the new team of office-bearers has got a good response from across the country and has been welcomed all over.
"We have already jumped into the fray for the forthcoming elections. Party President Rajnath Singh is in Aurangabad, Maharashtra, to meet farmers affected by drought. He will be addressing our Maharashtra MLAs later," Javadekar said.