From calling Delhi Chief Minister Arvind Kejriwal a terrorist to demonising the Shaheen Bagh protestors, the BJP is leaving no stone unturned in the Delhi assembly election campaign.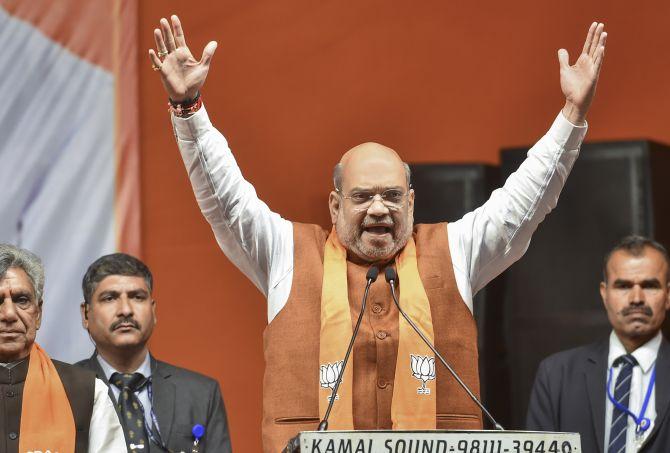 The hot money may be on the Aam Aadmi Party winning the Delhi assembly election, but the Bharatiya Janata Party is not giving up the battle without a fight.
From rolling out its big guns on the campaign trail to letting loose a barrage at Chief Minister Arvind Kejriwal who, in 2015, at the height of the first Narendra Damodardas Modi wave, won 67 out of 70 Delhi assembly seats, the BJP has gone flat out to ensure that the results, to be declared on February 11, go in its favour, and that another state does not remain out of its grasp.
Syed Firdaus Ashraf/Rediff.com lists the BJP's electoral fusillades.
Biryani, by Yogi Adityanath
Uttar Pradesh Chief Minister Yogi Adityanath came calling in the final leg of the election campaign and as expected did what he does best. Polarise voters.
At a public meeting Yogi said, 'Kejriwal is feeding biryani to Shaheen Bagh protestors,' leaving no one in doubt as to what he meant by it.
At a rally in Karawal Nagar on February 1, Yogi thundered: 'Earlier, it was the Congress that used to feed biryani in Kashmir, now it is Kejriwal who is doing the same in Shaheen Bagh. Everyone today has a new fetish for feeding biryani.'
Yogi's statement was objected to by the Election Commission of India which has sought a clarification from the chief minister.
'Goli maaro saalon ko'
This was the last thing you expected from a Union minister.
Therefore, when Anurag Thakur shouted at an election rally, 'Desh ke gaddaron ko... (what should be done to the traitors of this country...)' and the crowd roared back, 'Goli maro saalon ko (shoot them down)', it shocked many.
Not just once, Thakur, Union minister of state for finance, kept raising this slogan with the crowd ratcheting up the noisy response at every repeat.
His rabble-rousing was directed at the protestors who have been vocal against the Citizenship (Amendment) Act, and so far there has been no regret from the MoS who was seen soon after beside his boss, Finance Minister Nirmala Sitharaman, as she rushed about to present the Union Budget 2020.
The Congress party objected to Thakur's statement, and the ECI suspended the minister from addressing any public rally for three days.
'Kill them'
If you think Anurag Thakur and Yogi Adityanath were bad, then Parvesh Verma, member of Parliament from West Delhi, took it to another depth altogether.
In an interview to a media organisation, Verma said, 'They (Shaheen Bagh protestors) will enter your houses, rape your sisters and daughters, kill them.'
In another statement, he said, 'If the BJP comes to power in Delhi, Shaheen Bagh will be cleared in one hour.'
The ECI suspended Verma for campaigning for four days for his remark, but how seriously the BJP took this censure can be seen from the fact that the very next day he was chosen to move the motion of thanks to the President's address to Parliament.
'Modi or Shaheen Bagh?'
Nobody loves to lose a battle, and certainly not Amit Anilchandra Shah who is credited for the string of electoral victories the BJP has enjoyed, including two Lok Sabha elections.
His presence in the election campaign has not only electrified the BJP's foot soldiers, but enthused voters who found the Union home minister on a padyatra in their midst or knocking on their door to seek their votes.
But, then, he too is a man of controversies, and the presence of a juicy topic like Shaheen Bagh must have seemed irresistible.
'On the one side it's Narendra Modi, who conducted airstrikes on Pakistan's soil to kill terrorists, and on the other there are these people who back Shaheen Bagh. You have to decide,' said Shah at a rally.
He also said in his speeches that if the BJP wins Delhi then there will be no Shaheen Bagh.
'They will enter your homes'
Sambit Patra, the BJP's spokesperson can often be seen on news television trying to defend the indefensible, and it was no different during the Delhi election.
In a statement he said, 'These people (the Shaheen Bagh protestors) will enter your homes and hit you, the same people who were responsible for the exodus of Kashmiri Pandits. Who are these people? That day is not far away when these people will enter your homes and hit you.'
The ECI promptly sent Dr Patra a notice for his exertions.
'Kejri a terrorist'
The nadir in the Delhi election campaign was reached when the Union minister for information and broadcasting, environment and forest and climate change, called Chief Minister Kejriwal a terrorist.
'The people of Delhi, who once stood behind him, have turned against him,' Prakash Javadekar said, 'Kejriwal now makes an innocent face as he asks whether he is a terrorist. You are a terrorist and there is plenty of proof of it. Kejriwal himself had said he is an anarchist. There is not much difference between an anarchist and a terrorist.'
Responding to Javadekar's attack, the AAP's Rajya Sabha member Sanjay Singh asked, 'How can a central minister be permitted to use such language? If Arvind Kejriwal is a terrorist, I challenge the BJP to arrest him.'
Ram mandir trust
One will never know if the prime minister timed the announcement to set up the Ram temple trust just three days ahead of the Delhi election -- with four more days to go for the Supreme Court mandated deadline -- or not.
But it did raise eyebrows. Especially since Modi chose to read out a written statement at the head of Question Hour, possibly the first time he has done so.
Not only that, the home ministry had a dedicated desk to deal with Ayodhya. And the previous big bang announcement involving the ministry -- scrapping Aricle 370 -- was made by Home Minister Amit Anilchandra Shah.
So, the conclusion is inescapable, that the BJP was once again seeking Ram Lalla's aid in the electoral arena.