'Mr Kejriwal has played it cool in distancing himself from Delhi's hotspots, adroitly pandering to the BJP's Hindu vote.'
'He neither visited the scene of JNU violence nor has he dropped by at Shaheen Bagh,' notes Sunil Sethi.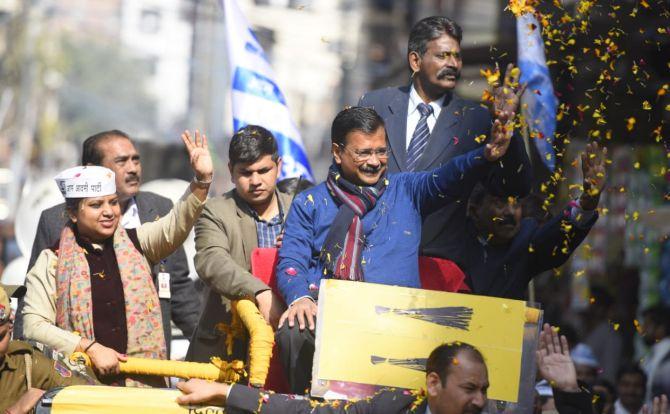 Wherever you go in Delhi two weeks before voting day, one figure looms above all -- that of the familiar topi-clad Chief Minister Arvind Kejriwal in his comfy jersey and muffler seeking a second term.
It's an image of accessible middle-class cosiness in contrast to the air-brushed spiffiness of Prime Minister Narendra Damodardas Modi, who is, as always, the BJP's lead campaigner.
This David versus Goliath battle, of a little, local leader cocking a snook at a larger-than-life national heavyweight, is crucial for several reasons: Other than a fight for the same geographical turf its importance is magnified by a series of regional reverses for the ruling party, most recently in Jharkhand.
It is also perceived by some as a referendum on the anti-citizenship law protests, longer and more vociferous in Delhi than anywhere else. The extended Shaheen Bagh sit-in by women and children with their candles and talismans is virtually a tourist attraction, with the city's hoi polloi braving the traffic jams to check it out.
Curiously, many of the campaign tropes and totems employed by the two leaders are similar.
On bus stops, autorickshaws, and municipal school walls, the Aam Aadmi Party's slogan 'Acche Beete Paanch Saal -- Lage Raho Kejriwal' echoes Mr Modi's 'Acche Din' promise of 2014, followed by 'Fir Ek Baar Modi Sarkar' in 2019.
Mr Modi trumped all political predictions in last year's general election, detonating conventional notions of anti-incumbency.
Might the same be possible for Mr Kejriwal's second coming?
A repeat of 67 out of the 70 seats in 2015 may be hard for the AAP to achieve today.
But the race to take power in the city-state is also an endorsement of deliverables in Mr Kejriwal's clearly defined development agenda.
His housekeeping record in five years has worked, not just in slashing electricity rates and free water but in the vital business of ramping up basic education and health care.
Radical improvement in Delhi's municipal schools has shown successively better exam results (90.64 pass percentage) than private establishments (88.35 per cent).
Our electrician, who lives in a rented tenement with his family of two children in a basti adjoining a government school, now regularly attends PTA meetings.
He is so pleased by his interaction with teachers that he supplies his services free to the school.
Mr Kejriwal is busy gilding the lily with 'guarantee cards' of more election goodies -- cutting pollution by one-third, clearing overhead electricity cables, free bus rides for students in addition to women, clean drinking water in all households, and so on.
If this is said to be party-hopping marketing strategist Prashant Kishor's gift to hard sell Brand Kejriwal, then the message is not lost on Mr Modi.
Hoardings with the prime minister's image have sprouted carrying the lure of 'Har Ghar Mein Nal' (A tap in every household).
In what seems a straight out AAP-BJP contest, the Congress is missing in action.
Since burning their bridges with AAP over seat sharing before the general election, the Gandhis have frittered their political capital in the city they inhabit; post Sheila Dikshit's 15-year raj the second line of Congress leaders -- Ajay Maken, Sandeep Dikshit, and Krishna Tirath -- are invisible.
The BJP, on the other hand, has issued a yard-long list of campaigners that include nearly all the Cabinet, chief ministers like Yogi Adityanath and Manoharlal Khattar, Bhojpuri singer-turned-MP Manoj Tiwari, and actors Hema Malini and Sunny Deol.
It has given the ticket to troll-turned-spokesperson Tajinder Singh Bagga, formerly of the Bhagat Singh Kranti Sena, who once assaulted lawyer Prashant Bhushan in his chambers and tweeted, 'He try to break my nation, I try to break his head' (sic).
AAP's candidates, on the other hand, are names the public recognises for introducing professionalism in improving services: Deputy Chief Minister and Education Minister Manish Sisodia and Atishi Marlena in schooling; Satyendra Jain for spearheading mohalla clinics; and chartered accountant Raghav Chaddha, archetype of the boy next door, who lost in the general election to the BJP but points out: 'I didn't lose the election to (BJP's) Ramesh Bidhuri. Modi won against me.'
In the assembly election's narrative, the question is 'Kejriwal vs Who?'
Mr Kejriwal has also played it cool in distancing himself from Delhi's hotspots, adroitly pandering to the BJP's Hindu vote.
He neither visited the scene of JNU violence nor has he dropped by at Shaheen Bagh.
On the contrary he has busied himself with subsidising tirath yatras for senior citizens to pilgrimage centres around the country.
And it took the chief minister two days to file his nomination -- he was delayed not only by a rousing roadshow, but by stopovers at some of the city's more popular temples.
The Delhi election is exciting for AAP's effort at turning the BJP's nationalist, disruptive policies -- abrogation of Article 370, implementing the CAA/NPR, attacks on the 'tukde tukde gang' -- on its head.
If Mr Kejriwal stages a comeback as chief minister on February 11, he will reaffirm his position as a disruptive political force in his own right.