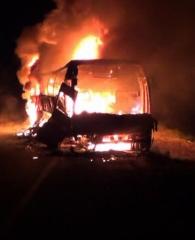 Seven people were burnt to death and 40 others got injured, six critically, when a Mumbai-bound bus from Bangalore went up in flames after hitting a road median near Haveri in the early hours of Thursday.
The air conditioned multi-axle Volvo bus, with 51 passengers on board, had left Bangalore on Wednesday night. It met with the tragedy around 2.30 am near Kunimeli bridge. Most of the bus passengers escaped by jumping out through the emergency exit, police said.
The driver at the wheel escaped and was reported absconding while his assistant died in the mishap, Haveri district Superintendent of Police Shashi Kumar said.
All the bodies were charred beyond recognition and might require DNA tests for identification, police said.
A Pune-bound passenger broke open the emergency window, which helped several people escape the burning bus.
A passenger travelling in the bus said the mishap occurred when the vehicle hit the median and caught fire, due to a leak in the diesel tank, before it was engulfed in flames within minutes.
Police said the seriously injured victims, including the cleaner, were being treated at a hospital in Hublil.
Twenty eight passengers, who were from Mumbai, were headed back home in the Karnataka State Road Transport Corporation bus, officials said.
Today's mishap comes days after the bus tragedy in Andhra Pradesh's Mahabubnagar nearly a fortnight ago, when 45 people perished after the Volvo bus from Bangalore to Hyderabad hit the median on the national highway and caught fire
Image used for representational purpose only