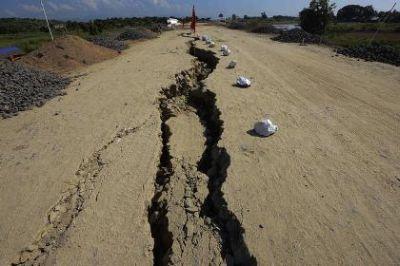 A moderate quake measuring 5.5 on the Richter scale on Friday hit Nepal's capital and its tourist hub Pokhra, injuring 15 people.
The epicentre of the quake was at Sindhupalchowk district, 55 km, northeast of Kathmandu, according to The National Seismological Centre.
As many as 15 people were injured in Kathmandu as people ran away from their houses in panic during the tremor, according to the home ministry spokesperson.
Two injured persons have been admitted to the hospital. The tremor was also felt in Pokhara, a tourist hub of western Nepal, 200 km, south-west of Kathmandu.
According to reports, tremors were also felt in parts of Bihar -- including Muzaffarpur, Sitamarhi, Bettiah, Darbhanga and Raxaul.
There have been, so far, 428 aftershocks with four or more magnitude recorded across Nepal after the devastating earthquake of April 25, 2015.
Nine days ago, another 4.4 magnitude tremor was recorded in the same area.
Friday's quake forced many people to come out of their house.
Sindhupalchowk is the epicenter of several strong tremors during April-May last year.
However, there was no report so far about any causality in the incident.