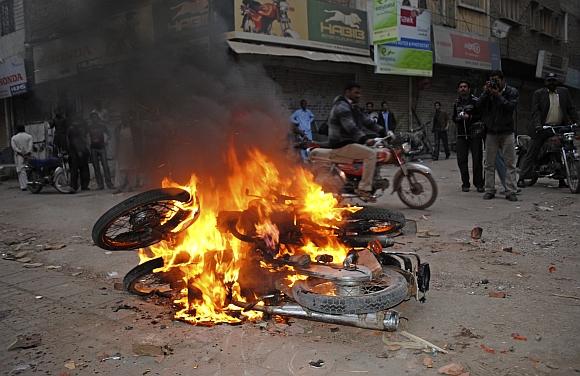 At least 25 Shia pilgrims returning from Iran were killed when militants attacked their buses in Pakistan's troubled Balochistan province, officials said on Monday.
The attack took place on Sunday when 10 buses carrying the Shia pilgrims stopped at a hotel in Taftan near the Iranian border. Six of the attackers were killed by security forces after heavy exchange of fire, said Pakistan Home Minister Mir Sarfaraz Bugti. "As soon as the pilgrims came out of the buses to go to the hotel first a group of militants first opened indiscriminate fire on them and also threw hand grenades before rushing into the hotel and taking refuge there," Bugti said.
The Commissioner of Quetta, Qambar Dashti, said that 25 people were killed in the attack and condition of some of the injured was critical. Sunni-militant group Jaish-ul-Islam has claimed responsibility for the deadly attack.
A purported spokesman for the group, Azam Tariq, called Quetta-based journalists from an undisclosed location to claim credit for the deadly attack. The home secretary of the province, Akbar Durrani confirmed that security forces were able to overpower the attackers after a few hours of heavy exchange of gunfire as the masked militants had come heavily armed and prepared for a siege. "The bodies of the pilgrims are being shifted to hospitals and the injured are also getting treatment," Durrani said.
"There were explosions after the buses were parked outside the hotels where the pilgrims were going to stay overnight before they commenced their journey back the following day," Durrani said.
Image is for representational purposes only.