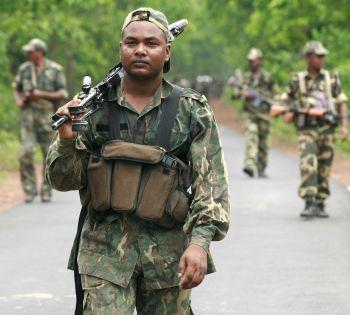 In a brazen daytime attack, Naxals on Tuesday ambushed a security team killing 15 personnel including 11 of the Central Reserve Police Force and also a civilian in a chilling reminder of the 2010 massacre of 76 securitymen in the same area in the worst-hit Sukma district of Chhattisgarh.
The attack at 10:15 am at 'Jeerum Nullah', 400 km from Raipur, came when a contingent of 44 joint security forces personnel was trapped and struck by heavy fire and landmine blasts while it was out for an operational task in the jungles of Tongapal, close to the Dantewada and 'Jeerum Ghati' axis, notorious for Naxal violence.
The location of the major ambush by a large group of Naxals is close to the 'Jeeram Ghati' area in Sukma district in the Bastar region where the top Congress leadership of the state was wiped out by Maoists in May last year when they killed 25 people.
"11 CRPF personnel and four state policemen were killed. Inspector Subhash of CRPF was leading the squad and he has also been killed," DIG (SIB) of Chhattisgarh police Dipanshu Kabra told reporters. A civilian was also killed in the attack, he said, adding three people have been injured.
An assistant commandant rank officer of CRPF is also believed to among the victims, sources said.
Chhattisgarh's Additional Director General of Police (Intelligence) Mukesh Gupta said the joint team was attacked by a large group of Naxals numbering close to 100.
A large manhunt has been launched to nab the attackers who escaped in the thick jungles. It was not immediately known if the Naxals had suffered any casualties.
Police sources said the deaths of the securitymen were caused due to bullet injuries.
Chhattisgarh Chief Minister Raman Singh has cancelled his scheduled programme and convened an emergency meeting of security officials in the state capital here.
"The area is heavily mined and hence reinforcements are treading cautiously," CRPF Inspector General (Operations) in Delhi Zulfiquar Hasan told PTI.
The incident took place in the same area where Naxals had killed 76 police personnel in April 2010, the biggest blow to security forces till this time in anti-Naxal operations.
In New Delhi, Home Minister Sushilkumar Shinde said details are still awaited.
The squad that included 30 CRPF and 14 state police personnel was conducting a road opening task when Naxals triggered landmine blasts and firing.
Sources said two IAF helicopters have been sent in from Jagdalpur and Raipur to the ambush area with reinforcements drawn from the CoBRA battalion and CRPF.
According to initial information, the joint security squad was deployed near the Takbada village for a route sanitising duty for smooth movement of a convoy of the security forces.
The jawans of CRPF belong to its 80th battalion which is deployed for anti-Naxal operations in the state.
The state police is suspecting that a group of Naxals who may have crossed into Chattisgarh from Odisha could be behind the deadly attack.
Image: Paramilitary soldiers patrol a Naxal-dominated area in Chhattisgarh (photograph for representation purpose)
Photograph: Reuters