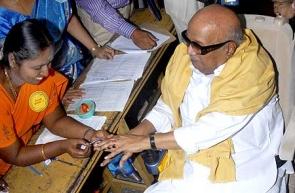 Promising to espouse the cause of Tamils living the world over, the Dravida Munnetra Kazhagam on Tuesday promised to press the Centre to take steps for conducting a referendum among Tamils in Lanka for their homeland and to appoint only Tamil envoys to nations which have a sizeable Diaspora.
In its election manifesto released by its chief Karunanidhi, the DMK promised to urge the Centre to find a permanent political solution for Tamils in Lanka and to press for the implementation of provisions of 13th Constitutional amendment in the island.
Sticking to its demand for implementation of the contentious Sethusamudram project, which it claimed would promote economic development in southern Tamil Nadu, the DMK said it would create a congenial atmosphere to again begin the work by expediting the disposal of cases pending before the apex court on the issue.
While vowing to redeem Katchatheevu, an islet off TN coast ceded to Lanka by India in 1976, the DMK also promised to work for the resettlement of Lankan refugees in India.
Citing the examples of Karnataka and Kerala, DMK promised to include the fishing community in the Scheduled Tribe list and to create a separate ministry at the Centre to protect their interests and threats from other countries.
As for the marginalised and minorities, the DMK said it was for 30 per cent reservation for women in central government jobs, proper implementation of reservation in PSUs for the differently-abled, recognition of transgenders as the third gender and expansion of self-respect (inter-caste) marriages and Periyar 'Samathuvapuram' (an all caste residential settlement) across the country.
The DMK also promised to press the Centre to make official languages of all states as Centre's official languages and further press for making Tamil as the court language in the Madras high court.
The Karunanidhi-led party also sought inter-linking of rivers across the country.
In tune with its chief Karunanidhi's stance, the party also vowed to abolish capital punishment.
The DMK, which is also contesting in the neighbouring Union Territory of Puducherry, said it would fight for full-fledged statehood to the erstwhile French colony.
In an attempt to reply to the oft orchestrated accusations by the ruling All India Anna Dravida Munnetra Kazhagam -- that the DMK had done nothing for the welfare of people of the state and for its development though it was part of central government for about 17 years -- the DMK has outlined its achievements in the manifesto.
AIADMK supremo and Chief Minister Jayalalithaa has been making the "failures" of DMK a major poll plank in her electioneering for Lok Sabha polls.
The DMK has rejected overtures by the Congress and attempts by the Bharatiya Janata Party to lure it.
Though Karunanidhi's party was keen on accommodating the Left Front after they parted company with the AIADMK, the Communist Party of India – Marxist and the Communist Party of India did not respond positively.
Image: DMK supremo Karunanidhi