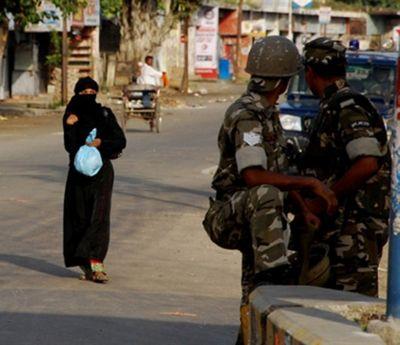 An uneasy calm prevailed on Sunday in violence-hit Saharanpur where 38 people were arrested as a political blame game erupted with BJP accusing Samajwadi Party of indulging in "vote-bank politics" and Congress blasting the UP government for "lapses".
Curfew and shoot-at-sight orders remained in force for the second day in the wake of clashes between two communities over a land dispute with some indulging in arson.
"38 persons have been arrested in connection with the incidents of violence," Saharanpur District Magistrate Sandhya Tiwari told reporters.
"The situation is moving towards normalcy," she said, adding, three persons were killed in the violence that also left 33 injured.
She said 22 shops were gutted or damaged and 15 four-wheelers torched in the incidents.
Uttar Pradesh Additional Director General of Police (Law and Order) Mukul Goel said in Lucknow, "No fresh incident has been reported since yesterday. Curfew is in force and is being enforced strictly."
He said steps were being taken to normalise the situation at the earliest. "It has been directed that action should be taken against whosoever is found guilty," he said.
The violence triggered a political blame game with BJP leader Shahnawaz Hussain saying, "The UP government has completely failed to run the administration in the state. The people ruling the state themselves want that there is communal tension so that they do vote-bank politics.
"BJP wants amity and peace. Every person has the right to worship and nobody has the right to interfere in that. But Akhilesh Yadav's government is weak on every front. A message has gone that there is nothing called government in the state. Whenever there are such tense situations, the government proves to be incompetent."
Blaming the local authorities for "administrative lapse", Congress leader Rita Bahuguna Joshi said that if it was a fact that there was a court judgement on the issue and police help was sought by one side, then it was the responsibility of the officials to find a solution by making both sides understand that the court order must be implemented.
Manoj Jha of RJD alleged that there has been a rise in such incidents since BJP has come to power at the Centre.
Reacting to the charges, Samajwadi Party said there was an effort to "disrupt peace in the state" and that there was "no place for communalism, anti-social elements".
SP leader Rajendra Chaudhary said that if the opposition tried to do politics on the issue, then the law will take its own course.
Prohibitory orders under section 144 of CrPC have been invoked in the district and curfew was clamped in six areas, according to Commissioner, Saharanpur, Tanveer Zafar Ali.
Officials in Lucknow said Chief Minister Akhilesh Yadav has sought a report from the district authorities regarding the incident in Saharanpur, which is nearly 170 km from Delhi and 560 km from Lucknow.
Yadav has termed the incidents as "unfortunate" and said that those responsible will not be spared.
Home Minister Rajnath Singh had on Saturday spoken to the chief minister on phone and asked him to ensure communal harmony in the state. He offered all help to contain the situation.
Trouble began when members of one community started construction work at the site in Kutubsher area in the wee hours on Saturday, which was objected to by the other group.
Both the sides indulged in heavy brick-batting, arson and opened fire, police said.
Police had fired rubber bullets to control the situation as mobs went on the rampage, setting several shops afire. Additional forces, including from PAC, CRPF, RAF and ITBP have been deployed in the troubled areas.
Five policemen and a city magistrate were among the injured. A constable was stated to be in serious condition in Chandigarh PGI after suffering a bullet injury.
Photograph: Sandeep Pal