'UCC should be across India and legally applicable to every Indian citizen.'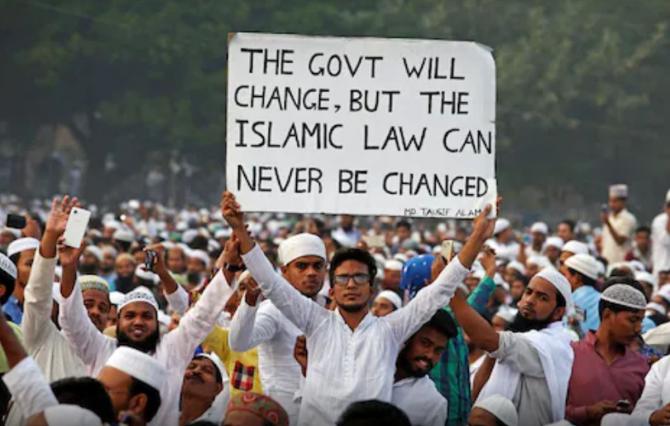 Prime Minister Narendra D Modi has made a strong push for the Uniform Civil Code, stating that the nation cannot have two sets of laws.
Nothing new about it, as the Uniform Civil Code is among the three core election agendas of the Bharatiya Janata Party.
While two of them -- abrogation of Article 370 and construction of a Ram mandir in Ayodhya -- have been accomplished, the Uniform Civil Code has so far remained on the BJP's backburner.
Not anymore, it seems.
Alongside the government's push for the Uniform Civil Code, the Law Commission has called for responses to a proposed UCC, even extending the deadline for the same. Interestingly so far no draft UCC has been issued.
It is a fact that 75 years since Independence, while India has one criminal law for all communities, civil law (governing marriage, divorce, inheritance, adoption, etc) remains different for different communities.
Modi's statement on the UCC has angered the minorities, especially the Muslim clergy who have in their submissions to the Law Commission denounced the proposal, stating that it is nothing more than a BJP ploy to polarise the electorate ahead of the 2024 general elections.
While the framers of the Constitution did mention that India needed a Uniform Civil Code, they chose to put it under the Directive Principles of State Policy, thus leaving the matter to future generations to implement it.
So is the time right for the UCC in India?
Syed Firdaus Ashraf/Rediff.com spoke to Zakia Soman, co-founder, Bharatiya Muslim Mahila Andolan, on whether India needs a UCC and what would be the implications if it is implemented.
For 75 years now India has had different civil laws for different communities and the country has been running smoothly, so in this scenario do you think we need a Uniform Civil Code?
We need gender justice and what we need is equality for all women. Every woman's right should be protected irrespective of personal laws.
The problem arises when in the name of personal laws women's rights are violated. Customs are fine and so are traditions, but in the name of customs and traditions we cannot deny gender equality to women.
For example, things like child marriages, having multiple wives, denying a share in property on account of gender -- all these things are discrimination and cannot go on in the name of personal laws. I think everybody will agree on this point for sure.
What will be the impact of the Uniform Civil Code on Muslim women in particular? How will their lives change?
There is a huge anomaly as laws are codified (for Hindus) while Muslim laws are not codified. This has resulted to an extent that rights are available to Hindu women but not to Muslim women.
But critics feel that the timing of the UCC is to provoke the Muslim community, especially the clergy.
The Muslim clergy is refusing to reform the personal law. If they had paid attention to the injustice to Muslim women in the name of nikah halala or unilateral divorce or polygamy in the line of Quranic justice to gender, then this problem would not have come up.
Are these issues of nikah halala or polygamy mentioned in the Holy Quran?
No, these practices are not mentioned in the Holy Quran.
Polygamy is not permitted in the Holy Quran in today's context. It was permitted under very strict conditions and at a particular time. It is not permitted in today's context as there is no war going on.
There is no need for protection for girls and women as they can empower themselves by getting education and becoming economically independent.
Are there any Muslim countries who have banned practices like nikah halala and polygamy?
There are good examples in countries like Tunisia, Morocco and Indonesia which have gender just laws. Several such practices are not permitted.
It is said Hindu women benefitted from the Hindu Code Bill that was passed in Parliament in 1955. Do you foresee a similar situation where Muslim women will benefit from the UCC?
Yes, for sure because there is no reform in Muslim personal law so the only option is UCC.
If your community is not giving you rights, then you will seek justice from the law of land.
75 years have passed and there is refusal from the Muslim clergy to reform personal laws, so the only hope is the UCC.
What about making instant triple talaq a criminal offence? How has it helped Muslim women?
It has really helped Muslim women. Also, thanks to awareness and judgment of the Supreme Court incidents of instant triple talaq have fallen drastically. We have hardly any cases of instant triple talaq coming to our organisations.
We do not read much about polygamy or nikah halala cases in newspapers. Do these two practices still take place in Muslim society on a large extent?
There are Muslim men who have two wives and there is no doubt about it. The Government of India says that incidents of Muslim men having more than one wife is less than two percent of their population.
The problem though is that why do you want legal validity for the second marriage? Why do you want the law to protect you if you want to go for multiple marriages? How can you ask for that?
This is wrong. It is a malpractice and an inhuman practice which no other community can enjoy except Indian Muslims.
If a Hindu married man goes on to marry another woman his act will be punishable under the bigamy law and he will have to serve seven years of imprisonment. Therefore, you cannot say that since I am a Muslim man, I have a right to have multiple wives.
It is good that the practice is not very high among Muslims, but why then do you want such a law? Just abolish this Muslim polygamy law and there will be no arguments or fight. If they do that, then there will be no need of the UCC too.
Is it true that in the texts of Islam it is written that if a Muslim man wants to take on a second wife, then he has to take permission from his first wife, and only if she gives it is he permitted to go ahead with the second marriage?
We spoke to 300 Muslim women who were in a polygamous marriage and not a single woman told us her permission was taken by her husband to go for a second marriage. These women came to know about their husband's second marriage only through friends, neighbours or relatives.
If a man is right, why will he have two wives?
Is it true that Islam speaks mostly about second marriage in the background of men dying in wars, therefore they could take a widow as a second wife to protect her economically and socially?
How many men marry widows? And today we are in a different age so marriage is not the only alternative for women.
Many say the UCC is an election ploy of the BJP for the 2024 general elections, and is floated now only to polarise Indian society to win elections.
It is a political issue for the BJP as it is part of their manifesto. For them the UCC is a political issue and there is no doubt about it.
Critics also point out that the BJP wants to keep tribals out of the UCC as they do not want to disturb their customs.
If they keep tribals or north eastern states out of the UCC, then the UCC will be meaningless.
UCC should be across India and legally applicable to every Indian citizen.