And, in turn, help 1,000 Indian artisans earn Rs 5,000 at a time when they are struggling to cope with financial hardship during the COVID-19 pandemic.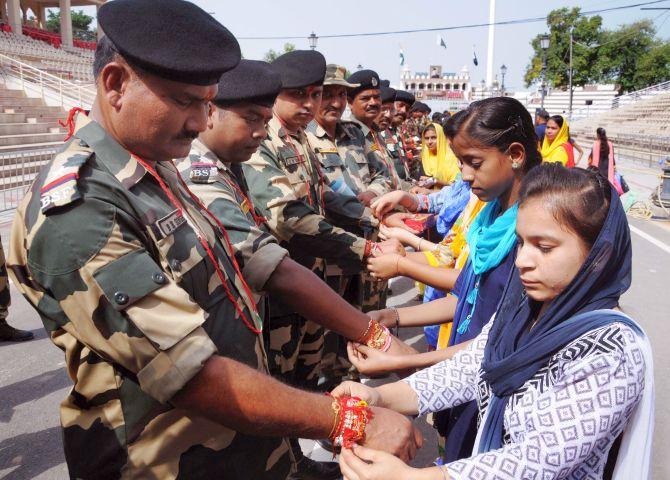 Habba, a non-profit organisation, and a sister company of Rang De, which provides interest free loans to small and marginal farmers, is running a campaign to celebrate this Raksha Bandhan with 'gratitude and empathy' (external link to habba.org).
Here's your chance to express your unconditional gratitude towards India's soldiers defending the nation and our borders by buying rakhis from Habba.org, which will ensure these rakhis reach Indian soldiers for Raksha Bandhan, and empathy for the artisans, who you can help, by buying their hand-made rakhis, earn Rs 5,000.
Prasanna D Zore/Rediff.com speaks with Ram N K, co-founder and director, Rang De, to know how the arrangement will work out and how they plan to sustain this initiative of providing income to artisans after Raksha Bandhan.
Who came with the idea for the Jai Jawan. Jai Artisan initiative? What exactly are you trying to achieve through this initiative?
We have been doing loans at Rang De. We did the farmers loans initially. And we did interest-free loans in the last two months, close to Rs 8 crore of interest free loans for small and marginal farmers.
This capital of Rs 8 crore came from about 5,000 people from around the country in partnership with NDTV; we did a national campaign, we did a telethon with them that really helped us get the support.
We also wanted to do the same with artisans; give them loans as well. But we realised that it's not the right thing to do.
For the last five months, they have not had even one single order.
And, in fact, the orders which they had earlier, they also did not get picked up, and they did not get paid for that too. They were in really dire straits.
So offering them loans would have put them into more misery, even at zero percent, because they had no idea about when the markets will open up.
What we got from on the ground was very saddening. Highly talented artisans and weavers were now looking out for daily wage work under the NREGA scheme, and many good district collectors were creating lot of work orders so that these artisans can do some work and earn money.
All the relief operations (for the poor and the needy) came to a grinding halt by end of June.
And these artisans were now looking out for hard labour.
We found the larger issue was access to markets and there was absolutely no uptake as there was no demand. Nothing was getting sold despite giving discounts. But this is not about discounts; people just didn't want to buy.
We wanted to revive Habba in August because we have this unique B2B2C model with corporates and divert their employee engagement budgets towards buying products from these artisans.
We were building up for that, but three weeks ago something happened.
We got this call from a group of artisans in Uttarakhand.
They told us that like last year, this year also they have made rakhis, 10,000 rakhis from ringal (dwarf) bamboo.
It is very special bamboo which grows on the Himalayan highlands and very abundantly available. Somebody had taught them how to make absolutely eco-friendly ringal rakhis last year.
Last year they had a bumper sale and this year too they were prepping up for that. Except for this year there was no market; no trader came and bought from them.
These rakhis were ready three-four weeks ago and now they had no buyers.
These artisans reached out to us when they came to know from somebody about the Habba marketplace.
They had one simple request: They asked us if we could buy these 10,000 ringal rakhis.
We realised how tough it would be to sell these rakhis in these tough COVID-19 times.
At the first instance, we apologised to them and expressed our inability to do so. This conversation got over there.
A week later, which is around two weeks back, on a Sunday night, we got this idea to look at this problem differently.
What if we were to make an appeal to the citizens of our country to buy these rakhis and send it to our soldiers as a mark of respect with a letter of gratitude to them for what they are doing for us.
We knew that this way we could solve multiple problems at the same time.
One, be able to give the livelihood to the artisans; two, be able to express our gratitude to our jawans doing their duties especially in these tough times.
And also it (the amount generated from selling rakhis) will take care of the cost of shipment because we will be sending it in a sanitised way to the army.
So, it came together. We spoke to our team members, our mentors and they all loved the idea. And then we quickly got into action.
It took us a while, a few days to build the page, design it we executed this idea in just about nine days, to be honest.
We launched it the previous Sunday (July 19). We started reaching out to people and people have been, very, very generous. Somebody in Singapore bought 1,000 rakhis.
Each rakhi costs about Rs 100 and when we sell all 100,000 rakhis we would have generated Rs 1 crore.
There is no GST on rakhi because it is exempted from GST.
50 per cent of this amount, that is Rs 50 lakh, will be the income for 1,000 artisans who will benefit from this initiative.
That's Rs 5,000 per artisan in just ten days, who currently are struggling to make ends meet financially.
What happens to the Rs 50 lakh you would still have after paying Rs 50 lakh to the artisans?
All the information about how the money would be used and spent will be on the Habba page. All the expenditure is accounted for.
In case if there is still a surplus after providing for all the expenses and contingencies, that money too would go to the artisans.
All the people who participate in the campaign will get an account statement of how we have spent or we will put it up on the Web site as well.
We believe in absolute transparency and every penny will be accounted for publicly.
How do you plan to send these one lakh rakhis to the jawans?
We have reached out to the Indian Army headquarters. We are in touch with a very senior army officer, a brigadier there and the Indian Army is giving us complete support.
When we told them about this concept, they were initially very curious to know about it, and when they heard about the whole programme, they loved it. They said, this kind of initiative is happening for the first time in India.
As of 11 am, India time, July 31, Indians in India and abroad have purchased 19,291 rakhis generating Rs 964,550 for Indian artisans. Which means, there are 80,709 rakhis still to be sold with two days to go.