'Parents have to -- whether they like it or not -- save up Rs 50 lakhs to Rs 60 lakhs per daughter for her wedding.'
'If someone is earning up to Rs 10,000 a month and has three daughters, how will he manage?'
'Somehow, somewhere, there has to be a cap on this kind of expenditure.'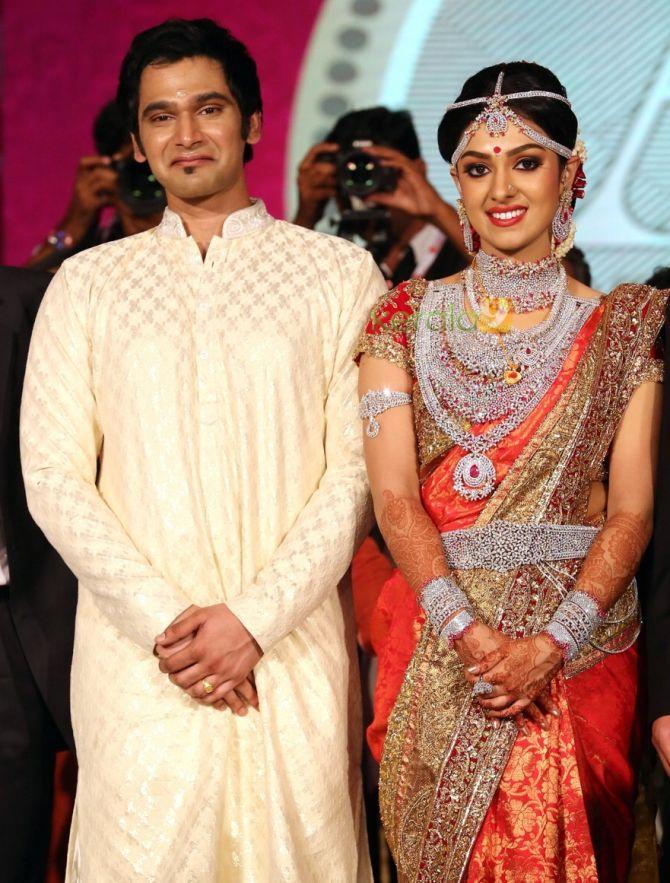 *IMAGE: NRI businessman Ravi Pillai spent Rs 55 crore on his daughter Dr Arathi Ravi Pillai's wedding to Kochi doctor Adithya Vishnu.
The bride accessorised her look with diamonds, a whole lot of them! Photograph: Kind courtesy Facebook
Her wedding, 23 years ago, was a grand affair that involved a chartered flight and a guest list estimated somewhere between 250,000 to 300,000 people.
So when Ranjeet Ranjan, the Congress MP from Supaul in Bihar, introduced a bill in Parliament aiming to curtail the lavishness of Indian weddings, she obviously ran into a storm.
The private member's bill, which was submitted in Parliament last July, is once again the focus of attention because it was approved by President Pranab Mukherjee and now returns to Parliament for discussion.
Among other things, the bill aims to"
Curtail wasteful expenditure by limiting expenses to Rs 5 lakhs each for the bride's and groom's families.
Set up a welfare fund to which families will have to contribute 10 per cent of the wedding expenses if it crosses the Rs 5 lakh limit. This fund will be used to facilitate the wedding of girls from poor families.
Make wastage of food at weddings a criminal offence.
Limit the number of invitees and the number of dishes served at a wedding.
Ensure the registration of the wedding within 60 days.
The penalties include imprisonment and fines.
You can read the bill in English here and in Hindi here.
Ranjan counters the criticism saying that a wedding -- especially getting a girl married -- is unnecessarily back-breaking for a family and such financial catastrophes -- brought on by societal pressures -- urgently need to be curtailed.
The MP tells Rediff.com's Savera R Someshwar that, at 43, she should be allowed to correct the mistakes of the past.
*IMAGE: Politician, producer and philanthropist Dr T Subbarami Reddy's grandson Keshav -- GVK group CEO G V Sanjay Reddy and Pinky Reddy's only son -- wed Veena, a chemical engineering graduate, in a grand wedding ceremony recemtly.
Here the newly weds are greeted by movie superstars Rajinikanth and Amitabh Bachchan and Samajwadi Party MP Jaya Bachchan.
Could you explain the thought process behind The Marriages (Compulsory Registration and Prevention of Wasteful Expenditure) Bill, 2016, which has now received the President's approval?
If you look at Bihar or Uttar Pradesh, getting your daughter married to a peon means you have to give cash of Rs 30 lakhs to Rs 35 lakhs.
If you want to get your daughter married to an IAS officer, you have to give Rs 1 crore.
If you go to Punjab, where I hail from, cash mein tilak nahi hota hai (the money that is given by the bride's family to the groom's family during the tilak ceremony, which can be considered as an engagement), but there is a lot of sho-sha. Dikhawa hai (ostentaiousness).
A wedding puts a lot of pressure on the middle class. You may have educated your daughter; she may be a very talented child, but there is no getting away from the fact that you will have to spend a certain amount of money on her wedding.
Parents have to -- whether they like it or not -- save up Rs 50 lakhs to Rs 60 lakhs per daughter for her wedding.
If someone is earning up to Rs 10,000 a month and has three daughters, how will he manage?
Somehow, somewhere, there has to be a cap on this kind of expenditure.
Isn't this because of the mindset we have and the social pressure we face in India?
Of course.
Nowadays, people are willing to spend Rs 2,500 to Rs 10,000 on a wedding invitation card just to impress society.
In a country where there are so many poor people who cannot afford two square meals a day, you are willing to spend Rs 20 lakhs to Rs 30 lakhs on one meal for the baraatis (guests from the groom's side).
There are so many dishes served; can people each so much?
So much food is wasted at these functions; I have seen it myself in many weddings that I have attended.
The desire for one-upmanship only makes matters worse; your wedding has to be better, your menu have more food, your location must be glitzier, your jewellery must be more expensive... It just goes on and on.
I've also noticed parents want their girls to marry into a family that is financially better than their own; aur sukhi rahen (let her be happier).
So they take on the huge pressure of financing a wedding they can't afford.
Sometimes, the boy's family will say if you cannot afford it, we will spend for the wedding.
Don't you think in such cases the girl's mother will regret the fact that they could not get their daughter married off in the style that was expected?
They feel that their daughter will have to compromise, muhje jukhna pad raha hai (we have to bow our head).
We give a lot of importance to Western culture and follow it in many ways, so why don't we follow it when it comes to marriages?
One of my sisters lives in London. One of her daughters is an engineer and she wants to get married.
The boy and the girl will pool their finances together, consider what they can afford and plan their wedding.
In India, by the time we reach the age of 50 or 60, we have educated our children and helped them stand on their own feet.
The money remaining with the parents should be used for their retirement so that they can live comfortably.
Instead, they are willing to sacrifice everything for two days of sho-sha that will soon disappear from everyone's memory.
A lot of people sell their land, mortgage their house, take a loan, just for do din ka status (to be able to show off their status for two days)...
If you have that kind of money, empower your daughter and son-in-law financially instead of indulging in food wastage or noise pollution.
It is my opinion that these changes should be made, there has to be some kind of level playing field.
I have got a good response for my bill.
At least, because of my bill, a discussion has started on this matter.
How will the bill help?
I have mentioned three specific things under my bill:
Food wastage
Wasteful expenditure
Compulsory registration of the wedding
You must have seen many such cases in Punjab where the boys get married here and go abroad, where they get married again.
The marriage here has not been registered, so the girl's life is shattered.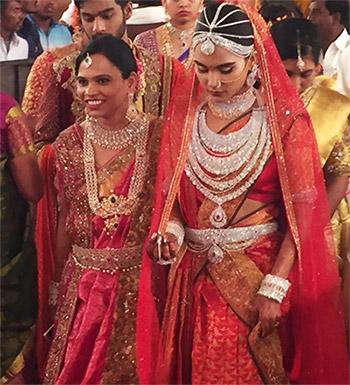 *IMAGE: At her wedding, Brahmani Reddy, controversial mining baron Gali Janardhan Reddy's daughter, was dressed in a red Kanjeevaram sari that reportedly cost Rs 17 crore.
Photograph: Kind courtesy Babu Reddy M/Facebook
Don't you think the biggest expense in a marriage is dowry? Should that be rooted out of the system first?
Yes. But that is a different matter and we are going to come up with a plan for that as well.
Here, my main focus was wastage of food, wasteful expenditure and registration of the marriage.
There has been a lot of criticism because you too had a lavish wedding.
Yahan aati hai politics (this is where politics enters the picture).
I was 19 years old when I got married (February 6, 1994); 23 years have passed since then.
If I no longer want to do what I had done so many years ago, is it a crime? Is it wrong to change?
My parents are middle class people. At the very most, we must have spent Rs 1 lakh at my wedding.
I was only person in the chartered plane that went from Patna to Purnea (one of the charges against her is that a plane ferried guests to the wedding location).
Yes, I have said that 2 ½ to 3 lakh people attended our wedding reception.
You have to understand that rural area mein shaadi hui thi (My wedding took place in a rural area).
We were married in the Purnea gurudwara, which is a very small gurdwara. There was no special lunch-wunch.
From my side, a maximum of 50 people must have attended the wedding.
We ate in the hall itself and then, in the night, there was a bhoj (a low cost communal meal) instead of the typical wedding feast.
Someone brought yoghurt, someone brought rice.
The bhoj may have cost Rs 5 lakhs to Rs 8 lakhs.
My husband (controversial three-time MP Pappu Yadav) was the MP of Purnea. Ours was an inter-caste marriage -- I belonged to Punjab, he was from Bihar.
This increased the curiosity level in his constituency. Gaaon mein bada attraction tha ke kisko leke aaye (There was a great amount of interest in the bride). People from all the nearby villages had come for the wedding.
There is a great difference between a royal wedding and people coming to see the bride because the groom is popular.
In fact, I still tease my husband that 'Aapne shaadi kahan ki thi? (When did you marry me?). Our wedding was like a rally. And people don't come to a rally to eat... dekhne aate hain (they come to see).
If people want to stretch that, they are most welcome to do so. I don't care.
How old are your children? What if they or their in-laws/partners want a lavish wedding?
Let me tell you a story. Four years ago, we had gone to Punjab for a family wedding.
There is a lot of dhikawa (showing off) in Punjabi weddings.
My son, a 17 year old then, told me, 'Mamma, itni taam-jaam mere mein mat karma (Mom, keep my wedding simple). Instead put the money the bank. We can use it to travel.
If you see typical politicians' weddings, the newly weds are sidelined as all the attention is focused on the VIP guests.
My children do not like this. As young as they are -- (her daughter is 13) -- they say please do not invite any VIP.
This inspires me.
Last week, someone asked me how I could ride such an expensive bike I replied that I could probably afford it because I don't have to worry about buying gold or saving money for my children's weddings.
Touch wood, I am raising my children to be independent, to stand on their own feet.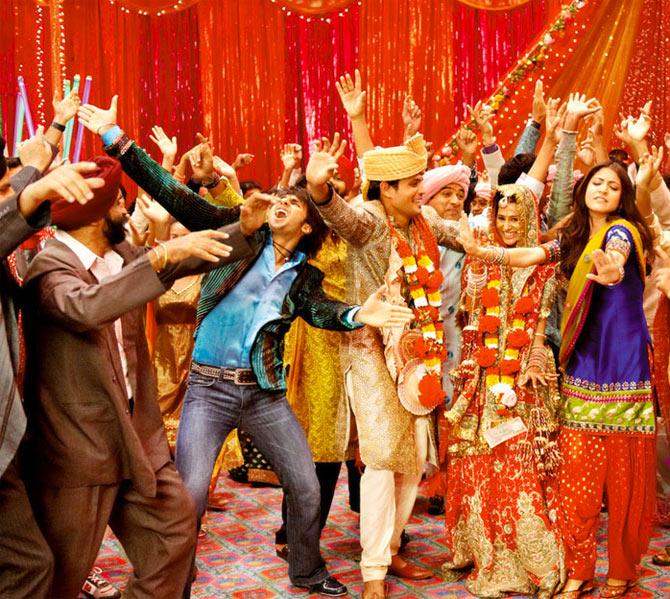 *IMAGE: A scene from the film Band Baaja Baaraat. "There is a lot of dikhawa in Punjabi weddings," says Ranjeet Ranjan, who is looking to rein in wedding expenditure.
Why have the same budget for rural and urban areas? Things are much more expensive in urban areas.
Of course.
But a wedding in the rural area does not cost Rs 10 lakhs.
The idea behind a cap on expenses is that people begin to fear the law -- kanoon ka yeh dar baithe -- that we should not spend so much money unnecessarily.
In the village, you can have a feast for Rs 2 lakhs -- you'll be able to feed 1,000 people with dal, rice, vegetables, a sweet dish and people will be satisfied.
But even in the village, if you are getting your daughter married to a teacher, you have to give dowry. My complaint is against that. I want that capped.
We should have stringent laws so that people are frightened and think twice before following the dowry system or having a grand wedding because of societal pressures.
I want youngsters to come forward and refuse to follow this system because it is against the law.
I could be wrong. But should such things not be discussed? We need to find a solution to this problem.
What about limit on the number of guests?
People are questioning how a wedding can be financed in Rs 5 lakhs.
Well, if you invite a limited number of guests, if you keep a limited variety of food, your expenses are definitely bound to reduce.
If you are looking at the nitty-gritty to such an extent -- you not only decide the budget of a wedding but also the number of guests that can be invited and the number of dishes -- will you also decide how much can be spent on the bridal outfits and the jewellery?
If there is a discussion on the bill, all these issues will be raised.
If you read my bill, you will see that jewellery, decoration, cars, clothes, horse drawn carts, helicopters, planes... I have raised every point.
If this becomes a law, then you'll have to restrict your expenses in every direction.
Businessmen, politicians and film stars have the most ostentatious weddings. How will you stop that?
And the middle class wants to imitate what they do.
I have seen it happen and seen parents who have not been able to recover from the financial strain.
The crorepati may say he has the money so he is doing it. One of the clauses in my bill is that they must not publicise such weddings because the impact is not very good.
We get starry eyed about Bollywood very easily. So when such extravagant dreams settle in their eyes, children forget about the difficulties the parents have encountered in order to tackle the daily necessities.
Parents, after all, are parents. They would like to fulfil their children's dreams.
We Indian parents spend our earnings on fulfilling our children's dreams.
These people are wealthy, have the right connections and wield a lot of influence. How will you make them obey the law?
It is a problem.
Even if Parliament increases the amount that can be spent on a wedding to Rs 20 lakhs, the people who are spending Rs 100 crores on a wedding will have to donate Rs 10 crores to the fund that will be created for the marriage of poor girls.
At the same time, they will not want their lavish weddings highlighted by the media. Since there is a cap, they will worry that they will be faced with an inquiry.
Two things will get sorted here.
One, they will spend less because they will have to give a percentage to the BPL fund.
Secondly, if the media does not hype their weddings so much, those who dream of unnecessarily having similarly lavish weddings will not feel inspired to do so.
Destination weddings won't be advertised so much.
Kullam-khulla saaj-sajawat mein rukawat lagni chahiye, lagegi (Ostentatiousness needs to be controlled and it will be).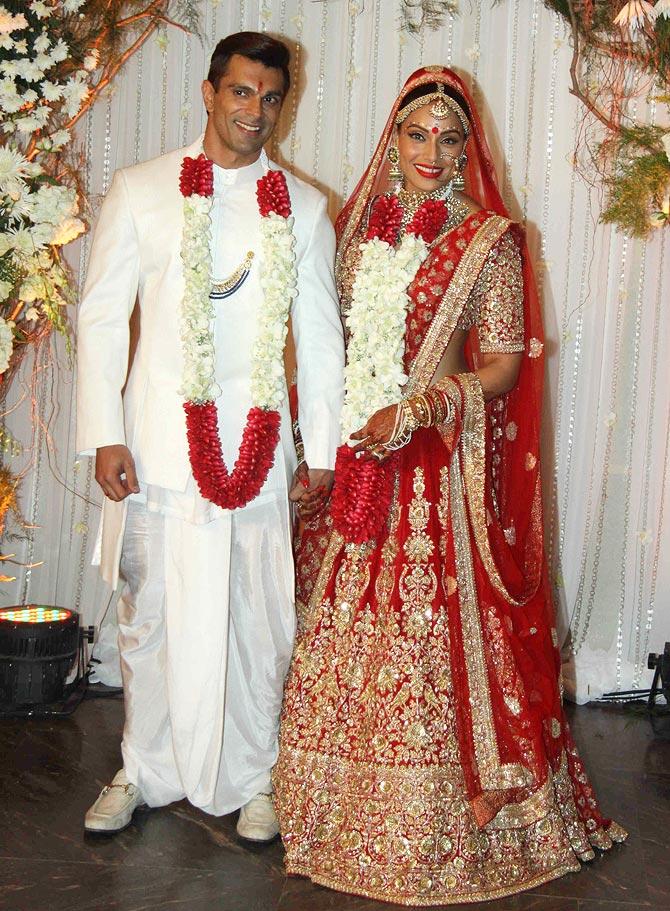 *IMAGE: Bipasha Basu and Karan Singh Grover included all the traditional ceremonies, including the mehendi and the sangeet in their wedding celebrations. Photograph: Pradeep Bandekar
It may a good idea to avoid ostentatious weddings, but don't you think that is a matter of personal choice? Should the government try to control a private citizen's life to such an extent?
No doubt, lekin yaar jab pani sar se oopar chala jaaye na (but when the situation crosses a certain limit)...
Take child marriage, for example; it is a family matter, isn't it? But it is also a huge social problem.
Similarly, weddings -- I am including the dowry problem here as well -- are a huge burden for more than 70 per cent of India.
Girls are burnt to death because of this, countless marriages are broken...
Why are uniforms compulsory in school? Because you don't want the rich-poor divide there.
This is the same kind of thought process that we need to see in our marriages as well.
Why are people like the Reddy brothers spending Rs 500 crores on a wedding?
The invitations sent to VIPs by the late Jayalalithaa are said to have cost Rs 10,000 each.
I feel that some kind of limitations need to be set.
Even if this is successfully implemented, how will you ensure that the 10 per cent contributed to the marriages of girls from poor families actually reaches them and is not siphoned off elsewhere?
We would like a fund to be created for poor children.
In order to ensure the money actually reaches then, the administration should be involved through the DM (district magistrate) and the money directly given for wedding expenses.
That way, I feel there will be 95 per cent transparency in this issue.
The process should be similar to what happens when a patient from our constituency needs to go to a big government hospital like AIIMS and the expenses are taken are of by the government.
There are documents to be submitted before the approval happens and the payment is made directly to the hospital.
Will there be changes to the bill?
This is a private member's bill and, when it comes forward for discussion, there will be a lot of changes.
For example, I felt that the parents of the boy and the girl should not spend more than Rs 5 lakhs each.
If they spend more than that, the income tax department should be given the order to ensure that 10 per cent of the excess amount should be deposited in a fund that will be used to finance the weddings of girls from poor families.
That amount may be increased by Parliament.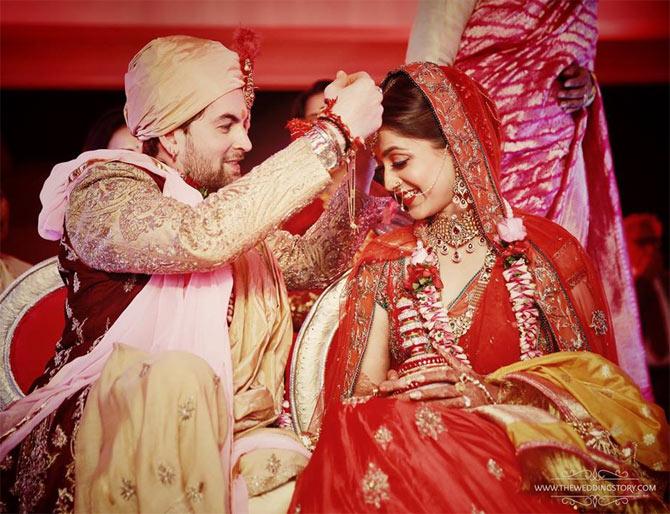 *IMAGE: Neil Nitin Mukesh, the latest movie star to get hitched, had a wedding in Rajasthan and a reception in Mumbai, attended by many Bollywood stars. Photograph: Pradeep Bandekar
Apparently, six bills to curb wedding expenses have been introduced over the years, but none of them have been passed -- four have lapsed and two are pending.
See, many private members' bills have been presented but, in the last three years, only two have been approved by the President -- one transgender bill and this one.
It is a positive sign. It shows that the government also wants to discuss this bill.
How much of a success rate do private members' bills have?
It is totally dependent on the government.
If the bill appeals to the government, it can amend and approve it.
If the government is not interested in the bill, it will not be taken up.
Is it not true that very few private members' bills become the law?
Yes, it is very rare. Very rare.
How hopeful are you that your bill will become the law?
Look, my main aim is to ensure this matter is discussed. It should happen in the media, it should happen in Parliament.
Secondly, if the government says it is waging a war against black money, then it should pass this bill.
Then it will be clear how fair this government is. So much black money is used in weddings.
The media keeps says politicians do not work; they just indulge in politics.
There are many such bills that an MP feels should come before the people and should be worked upon.
So if someone is ignoring politics and bringing about such a bill, the government should ask its MPs to freely discuss this bill.
If that happens, I am 100 per cent sure this bill will be passed because, even in Parliament, 80 per cent of the people are middle class.
They understand the kind of problems a family faces.
It is unfortunate that we get mired in politics -- whether this bill is passed or not unfortunately becomes a matter of politics.
I feel positive about this bill because not every bill gets this kind of response from the electronic and print media, nor does it get this kind of response from the people.
It is clear this is a problem that affects everyone and people want a solution.
I feel the government is looking into this as well, so let's see what happens.
Is it true that your bill is a replica of the bill introduced by Mr Akhilesh Das Gupta in the Rajya Sabha in 2011?
I have no idea about Akhileshji.
As an MP, you think about various issues. You make your personal assistant write it down so that you are reminded that this is an issue you want to do something about.
We are not experts on this; so we call in experts and discuss the issue with them.
We tell them we want to present a bill on this subject and find out how we can go about it.
When did you start work on the bill and when was it presented?
I submitted the bill in Parliament in the July session.
When did it receive Presidential approval?
Just a few days ago. I was in my constituency when it happened.
When do you expect it to be taken up in Parliament and when do you expect it to become a law?
It has been approved by the President, so it should be taken up in this (the Budget) session.
If a private member's bill is taken up, the first one will be mine.
It has already been listed.
We don't know when it will be called for discussion.
If approved, it depends on the government as to how long it will take to become a law.
It could be six months; it could be a year.
Pakistan is the only country in the world which banned lavish weddings. Is this the pattern you would like to follow?
Yes, they can have four pakwan (dishes) and limited number of guests.
We can do more than that.
*All images published only for representational purposes.
Do take a look at the INTERESTING FEATURES in the RELATED LINKS below.