One has often heard of the 'Big, Fat Indian wedding'.
Well, this wedding beats the others hands down. NRI businessman Ravi Pillai spent Rs 55 crore on his daughter Dr Arathi Ravi Pillai's wedding to Adithya Vishnu, a Kochi-based doctor at the Asramam grounds in Kollam on Thursday.
With a net worth of $2.8 billion (Rs 18,200 crore), B Ravi Pillai is one of the richest Keralites.
Over 30,000 guests, performances by celebrities and a wedding pandal created by the production designer of Bollywood's record breaker movie 'Bahubali' were some of the highlights of the wedding.
Here are glimpses of the extravaganza.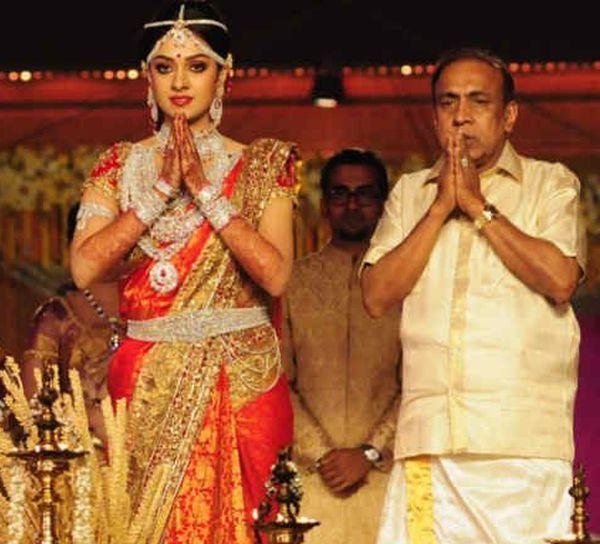 Nothing is too grand for my daughter! Ravi Pillai with his daughter Arathi at the wedding. Photograph: Facebook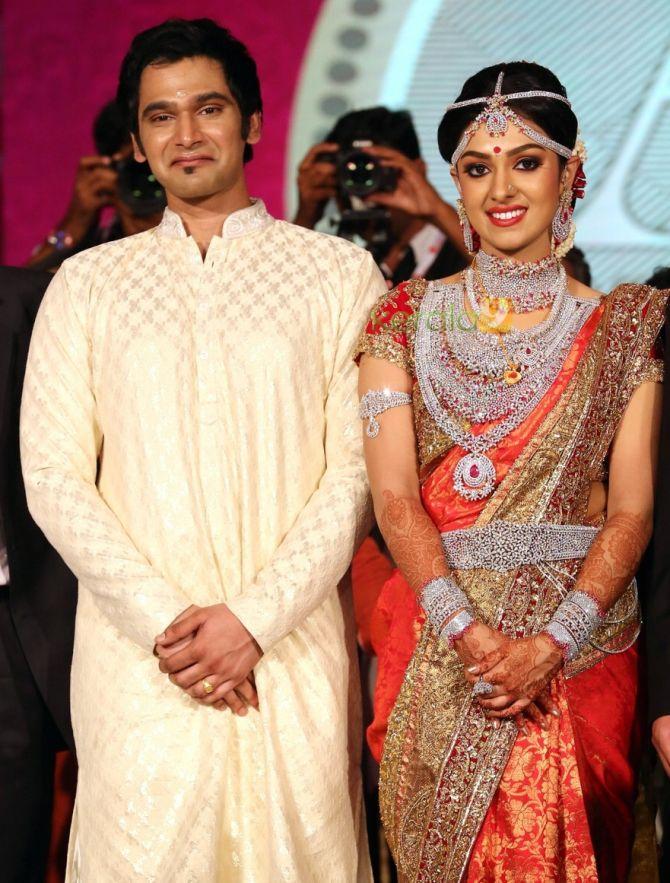 The bride was beaming in a Manish Malhotra ensemble. She accessorised her look with diamonds, a whole lot of them! Photograph: Facebook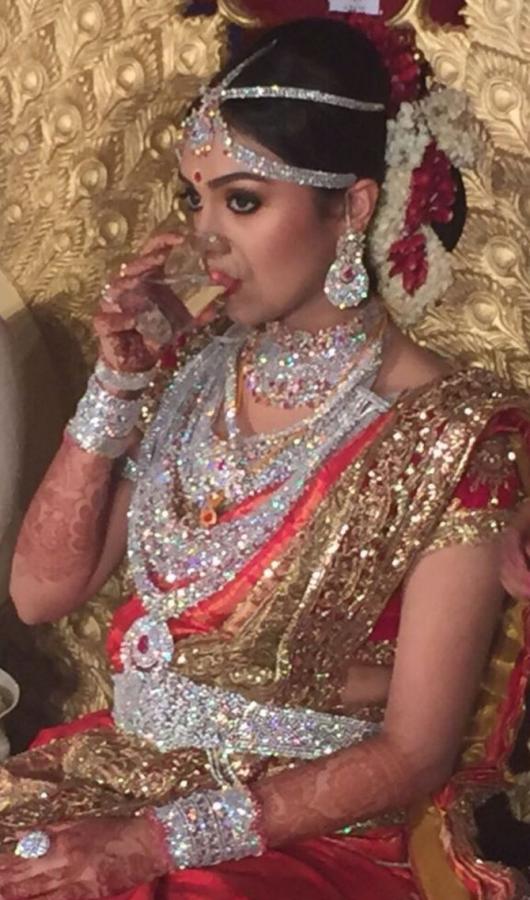 It seems that diamonds are truly Arathi's best friend. Here's another look at the diamonds she wore for her wedding. Photograph: Facebook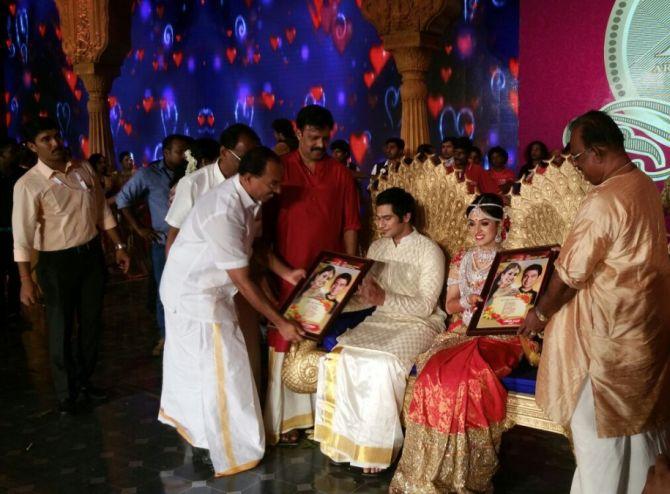 Around 42 global leaders including Royal members from the Middle-East, CEOs of various companies, government representatives, politicians, film stars, technocrats and diplomats were among the guests at the grand event. Photograph: Facebook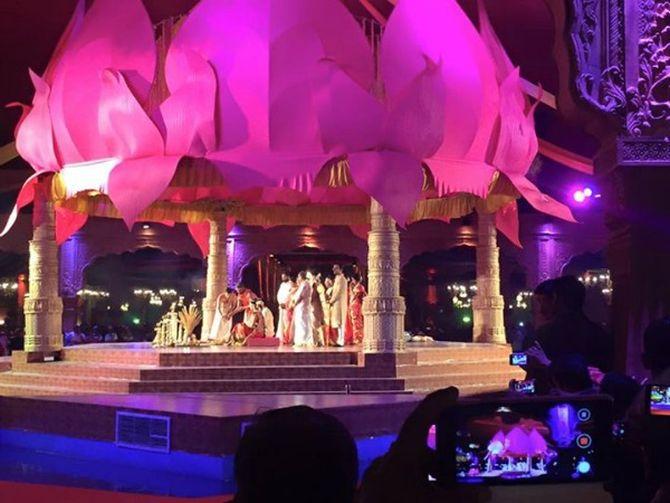 The wedding set, spread over eight acres, cost more than Rs 20 crore. The pandal was made by a team of 200 professionals led by film art director Sabu Cyril. Photograph: Facebook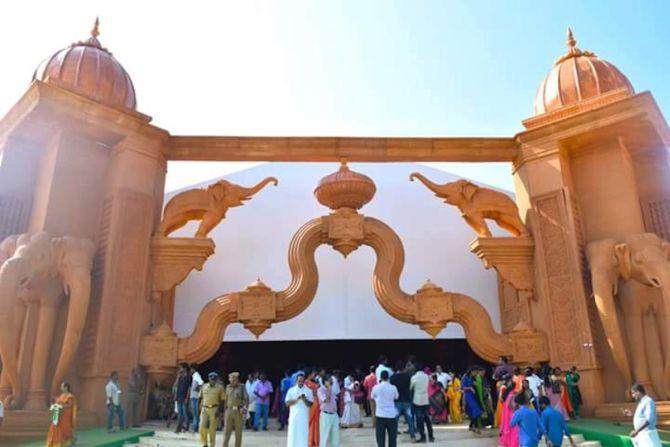 It took nearly 75 days for Cyril to create the pandal. The entire wedding set itself cost around Rs 20 crore. "Various parts for this set were first moulded in clay in Mumbai, and then it was cast in plaster of Paris. It took us about 40 days to assemble the pre-fabricated structures here," said Cyril. Photograph: Facebook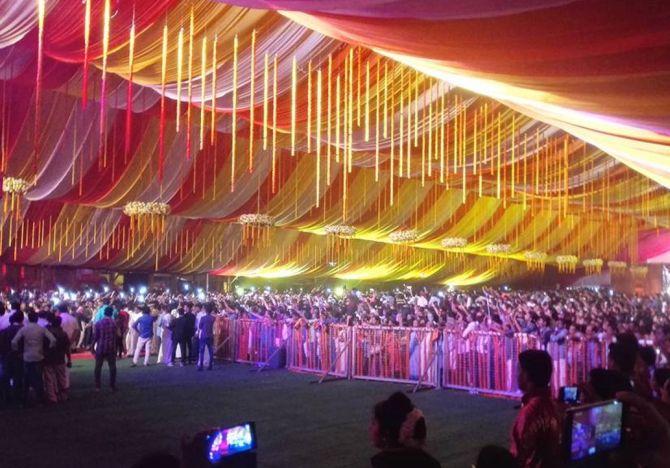 The menu for the wedding comprised of traditional sadhya with 10 payasams. For the VVIPs from around the world, a selection of global cuisines was available. In addition to the grand sets, guests at the wedding were entertained by performances by actresses Manju Warrier and Shobhana.
The rich feast of cultural programmes included Stephen Devassy's fusion music, Navya Nair's dance fusion, singer Manjari's ghazal recitals and Naga drama by actor Mukhesh and his wife Methil Devika. Photograph: Facebook