'It is unlikely that under this dispensation we will be able to contribute in any way to building a credible statistical system. So I didn't see the point in part of being in the committee'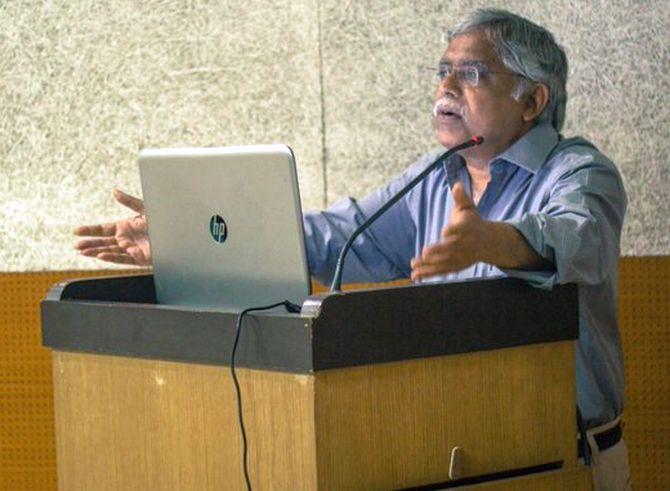 A day after masked goons entered Jawaharlal Nehru University and ran riot, injuring over 36 people with sticks, lathis and hammers, noted economist, Professor C P Chandrasekhar resigned from a central government-appointed committee on statistics.
The committee, appointed by the ministry of statistics and programme implementation, was set to shortly hold its first meeting to review India's economic data.
In his resignation letter, Professor Chandrasekhar wrote, "I regret to inform you that because of the situation in JNU where I stay, I will be unable to attend tomorrow's meeting."
He was also quoted as saying in the letter, "The JNU incident on Sunday has further undermined the faith in the system. It shows that we are now living in a different world and it's hard to work with a government in which you have lost faith."
Speaking to Syed Firdaus Ashraf/Rediff.com, Professor Chandrasekhar said that the agenda is "to declare everybody as anti-national and urban naxals and so on and so forth".
Why did you resign from the government-appointed panel?
I used to be on two committees -- the index services production and the other was the index services prices -- for which reports have been prepared and submitted. They created an omnibus committee which also has other things like responsibility for services and so on. So, when they called me a while back and since I had worked for the Central Statistics Office and department of industrial policy and promotion, I agreed to be a part of this large 28-member committee.
But since then so many things have happened, starting from the Citizenship Amendment Bill to the National Register of Citizens. Now, we have the National Population Register which is supposed to have house listing operations for census that became NPR under a different government. Now NPR is being increased in terms of its expanse and on that basis there is a possibility that an official can identify people on the basis of NPR figures as being doubtful (citizens of India).
Then you had the Jamia Millia University incident and the Aligarh Muslim University and now this Jawaharlal Nehru University incident happened. So it is unlikely that under this dispensation we will be able to contribute in any way to building a credible statistical system. So I didn't see the point in part of being on the committee.
Did you witness the violence at JNU?
I did not witness it directly as I live in a different part of the campus but I went out and met the students.
As of now there are two opposing views on who perpetrated the violence. While one says it was by the Left-backed students union, the other says it was led by the Bharatiya Janata Party's student wing, the Akhil Bharatiya Vidyarthi Parishad.
There is enough evidence. It is like saying somebody who is hit on the head and had to get 18 stitches did it to herself (Aishe Ghosh, president of Jawaharlal Nehru University Students Union). This is all propaganda. It is very clear that the attack was planned and who did it. It had the backing of the police and now we are having all such stories coming out.
As a professor what do you have to say to young students about violence on college campuses?
First of all, there is an agenda. And we know that there is a divisive agenda trying to identify the other as enemy. The agenda is to declare everybody as anti-national and urban naxals and so on and so forth. That is at the propaganda level.
On a secondary level, you are moving into a situation where you want to suppress dissent or different opinion -- either through direct police action like in Jamia or AMU. And if not that, then by having an incident as in JNU. There is no question that they (goons) had support from the police and administration.
What should the government do in such a time?
What should they have done! On some level, there is involvement of the State and police. You cannot have the police standing by in large numbers at the gate and some policemen go in civil dress within the campus. All of this happens for two hours, and that is not normal. After two hours, the university decides to invite the police to control the situation, which they do. There is a video showing that they are escorting them (goons).
There are also questions being raised about the integrity of the GDP data under the Modi government.
There are multiple things. One is you have GDP; they can say that they revised the series from 2011 as base and therefore some changes. But the whole point is that when you decided to generate a back series so that you can look at compatibility over time. There was a government committee which was to review the data and then you have another set of figures manufactured, which says that the rate of growth is the highest in the year of demonetisation.
NITI Aayog then got involved which they are not supposed to. There was some manipulation. They then decided not to release the employment survey and when they did not like what the data revealed, they did not release it. Obviously, this is not a dispensation which would like any information being put out.
Does this give the country a bad name across the world?
Obviously, the government is not bothered. There are large numbers of economists who have signed on this statistics issue. Even the international media has (written) about it. The government obviously is not bothered.