'They are ABVP-phobic people. Tomorrow, they will say the US attack on Iran is because of the ABVP.'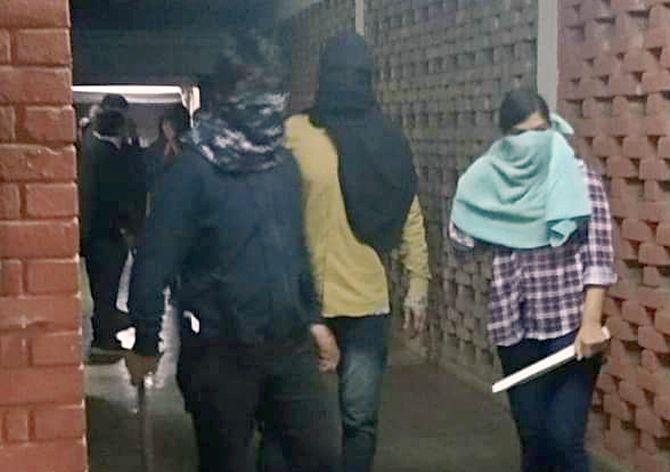 The Akhil Bharatiya Vidyarthi Parishad and the Jawaharlal University Students Union have jumped onto the blame game train after masked goons entered the JNU campus and assaulted several students and teachers on Sunday, January 5.
Immediately after the attack, the JNUSU alleged that the ABVP carried out the attacks in which over 26 students and teachers were injured.
"JNU students want to study, but these Leftists and Naxals do not want JNU students to study. They want to shut down JNU," ABVP's national General Secretary Nidhi Tripathi tells Syed Firdaus Ashraf/Rediff.com.
The ABVP is being blamed for the violence at JNU.
The students belonging to the Left unions have a habit of spreading dirt and then blaming it on the ABVP.
If you see the earlier videos, it is clear that the wi-fi rooms in the campus were shut by them. They were wearing masks and not allowing JNU authorities to do their work (so that students cannot sit for exams).
They cut the wires and this entire episode was being led by Left student leaders.
You then have a video that (shows) JNUSU President Aishe Ghosh leading a mob. You must ask them questions. I am sure all these people who attacked JNU were led by Left student unions. They beat up ABVP activists.
But the images show Aishe Ghosh injured. How can you say this attack was orchestrated by the Left?
Do they have any proof against the ABVP? It is inter-union rivalry.
She encouraged violence by stating that ABVP leaders should be beaten. She wants to indulge in violence.
Ever since Aishe Ghosh got a ticket for president, students of different Left unions like the Democratic Students Federation, All India Students Association were not happy with her. They did not want her to become president.
This entire violence was planned by the Left to blame ABVP.
It is being said the Bharatiya Janata Party through the Union home ministry encourage violence at JNU; that you wanted to teach them a lesson.
On the contrary. If you claim so, I will say the Delhi police gave the Left a free hand to beat up ABVP activists.
Our student leaders are injured. So I will say the truth is other way round.
We have been beaten and now these Left unions are spreading the story that we have beaten our own student leaders. There is a limit to lies. There is no common sense and logic to it.
There is an Indian Express report that says there was a WhatsApp group created by ABVP leaders before the attack.
In this way, anyone can make a WhatsApp group and spread lies. In that group, a Left student is there. He is from Hyderabad and his phone number is there. So how can you say this was an ABVP plan?
Anybody can make a WhatsApp group, make the chat go viral and blame it on the ABVP.
There is no logic. This is fake news.
An attacker has been identified on social media to be an ABVP activist.
That girl was Shambhavi who had been admitted to AIIMS.
How is it possible? She was getting treated at AIIMS and they are saying she was attacking at the same time. How can you say that? There is no logic.
What will the Left achieve by blaming you, as you say?
They only want to blame the ABVP.
These people suffer from a phobia. They are the same people who said after the 26/11 terror attacks in Mumbai that the RSS (Rashtriya Swayamsevak Sangh had perpetrated it. Today, everyone knows who did that attack.
They are ABVP-phobic people. Tomorrow, they will say the US attack on Iran is because of the ABVP. They only know to blame the ABVP.
Left unions have been winning JNU elections and the ABVP has lost, therefore, you have a grudge against them.
Who says that? This is just a myth spread across the country.
If JNU students support the Left, then why is it that five organisations have to come together to fight elections against the ABVP?
You can also see the vote percentage. If they are so confident, why do they not contest alone and not come in a group?
What is the ABVP's stance on the JNU fee hike?
We have clearly said we are against it.
During that time, they (the Left unions) put a female teacher under house arrest for three hours.
They attacked the homes of teachers. They threw liquor bottles at the apartments of wardens and stoned them too.
They also broke lights on the campus. The ABVP does not support these things.
What about the examinations which is the root cause of the problem as the Left unions have boycotted them?
Left student unions do not want exams. Students who gave exams, their answer sheets were torn up by them.
The forms were torn up by Left leaders. They are creating terror in JNU.
If they say JNU students are not willing to give exams, why is it that Left student unions have locked up JNU buildings?
JNU students want to study, but these Leftists and Naxals do not want JNU students to study. They want to shut down JNU.