Congress leader Rahul Gandhi on Tuesday asked the government whether China has occupied Indian territory.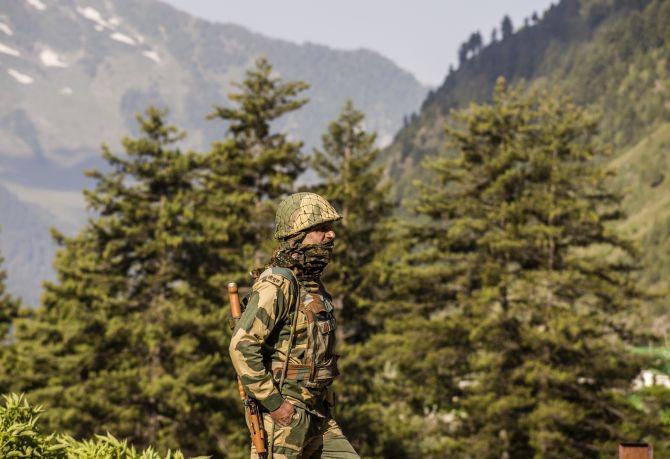 "We are standing united against Chinese aggression. Has China occupied Indian territory?" Gandhi tweeted along with a photograph of the Pangong Tso lake clicked by his father and former prime minister Rajiv Gandhi.
Rahul Gandhi has been attacking Prime Minister Narendra Modi over his statement at an all-party meeting last week that neither is anyone inside India's territory nor has anyone captured its posts while referring to the Ladakh face-off.

Earlier too, the Congress leader had asked the government whether China has occupied any Indian territory.

The Prime Minister's Office has already clarified Modi's comments, and said attempts are being made to give a "mischievous interpretation".

Firing a fresh salvo at Prime Minister Narendra Modi, Gandhi on Monday asked as to why China is "praising Mr Modi during this conflict".
Hitting back at the former Congress president, Bharatiya Janata Party president J P Nadda asked on Tuesday if it was the "effect" of the MoU the Congress had signed with the Communist Party of China.
"First, Congress signs MoU with the Chinese Communist Party. Then, Congress surrenders land to China. During Doklam issue, Rahul Gandhi secretly goes to the Chinese embassy. During crucial situations, Rahul Gandhi tries to divide the nation and demoralise armed forces. Effects of MoU?" Nadda said in a tweet.

The two parties had signed a memorandum of understanding in 2008 to facilitate high-level exchange between them and consult each other over important regional and international issues.

The BJP has cited this to attack the Congress as the opposition party has become increasingly aggressive against the Narendra Modi government over its handling of the border standoff with China.

In 2008, Rahul Gandhi, then a Congress general secretary, and Xi Jinping, then a senior functionary of his party and now China's president, had signed the MoU.

Senior Congress leader P Chidambaram on Tuesday hit back at BJP chief J P Nadda for raising the issue of 600 Chinese incursions under the UPA rule, saying the saffron party chief will not dare to ask Prime Minister Narendra Modi to explain the "2,264 Chinese incursions since 2015".

In a series of tweets, Chidambaram said BJP president Nadda asked ex-prime minister Manmohan Singh to explain the 600 Chinese incursions into India between 2010 and 2013.

"Yes, there were incursions but no Indian territory was occupied by China and no lives of Indian soldiers were lost in violent clashes."

"Will J P Nadda please ask the present PM to explain the 2,264 Chinese incursions since 2015? I bet he will not dare to ask that question," the former home minister said.

Chidambaram's attack came following Nadda's remarks on Monday criticising Manmohan Singh after the former PM took aim at his successor over his handling of the ongoing stand-off with China.

Nadda had said Singh and his party should stop "insulting our forces" repeatedly and questioning their valour.

"One only wishes that Dr Singh was as worried about Chinese designs when, as PM, he abjectly surrendered hundreds of square kilometres of India's land to China. He presided over 600 incursions made by China between 2010 to 2013!" Nadda had tweeted.

To attack the government, Chidambaram also cited a media report on Tuesday which quoted official sources as saying that the Commander-level talks are aimed at "restoration of status quo ante".

"It (the report) also says that 'China has moved up to Finger 4 and has undertaken a major build up between Finger 4 and Finger 8'," Chidambaram said on Twitter.

"All these are in Ladakh. Do these not point to Chinese incursions into and occupation of Indian territory?" he asked.