'The NDA has provided me a healing touch to survive.'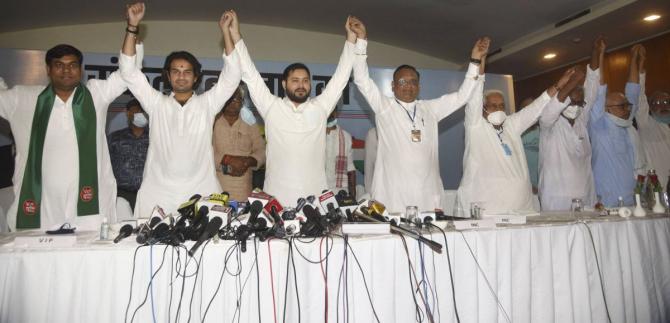 Mukesh Sahni, a 39-year-old Bollywood set designer turned politician, is trying hard to make a space for himself in the rough and tough caste-ridden politics of Bihar.
Sahni, chief of the Vikassheel Insaan Party that is now part of the Bharatiya Janata Party-led National Democratic Alliance, is upbeat about making his political presence felt in the Bihar assembly election in which his party is contesting from 11 seats.
Sahni, who calls himself the son of a Mallah (a community of boatmen and fishermen), hopes to emerge as the leader of his caste that has a sizeable presence in north Bihar. His caste is also known as Nishad and Sahni.
A school dropout, he left his village in Darbhanga district at the age of 18 and headed to Mumbai that had attracted him since childhood for its Bollywood glamour. He struggled for years and finally established himself as a set designer and made good money.
In the 2015 Bihar assembly election Sahni was with the NDA which was defeated by the newly minted combination of Rashtriya Janata Dal and Janata Dal-United which contested the polls together.
In 2018, Sahni formally launched his party and contested the 2019 Lok Sabha election as part of the Grand Alliance but failed to win a seat.
Till the start of RJD leader Tejashwi Yadav's press meet in early October to announce the Grand Alliance's seat-sharing deal for the assembly polls Sahni was happy but walked out midway in anger and announced he was quitting the Grand Alliance. Later he joined the NDA.
Speaking to Rediff.com Contributor M I Khan, Sahni asks, "Tejashwi has proved that he is not capable to manage an alliance, how can one expect him to run a government?"
After the RJD-led Mahagathbandhan formally announced its seat-sharing deal early this month, why did you walk away and switched over to the BJP and JD-U-led NDA?
I was shocked when RJD leader Tejashwi Yadav cheated me as he announced no separate seats for my party. It was contrary to what was finalised in a deal between Tejashwi and me. He had promised 25 seats and the deputy CM post for me, but was totally silent on this during the formal announcement at the press meet.
Are you disappointed with Tejashwi or are you angry at the neglect of your party?
Tejaswi's act was like backstabbing at the last minute. He wanted to end my political career by pushing me on a road full of uncertainties. But the NDA has provided me a healing touch to survive.
Do you think your last minute decision to join the NDA is right, or is it a decision you should have taken earlier?
As per the demands of time and politics, my decision is hundred percent right.
I think my earlier decision to join the Mahagathbandhan was also not bad. But in the given situation now, as the polls are nearly two weeks away, this was a decision in the right direction.
I am thankful to Prime Minister Narendra Modi, Union Home Minister Amit Shah and Bihar Chief Minister Nitish Kumar, who is the JD-U president, for giving me the right place and a big opportunity for my party to contest polls as an ally of the NDA.
Look, it is a big development the way the powerful Shah and Nitish helped me.
It is said that you have a lucrative business in Bollywood. What attracted you to politics which is full of challenges as you have experienced during the last five years?
Yes, you are right. I have a well settled business and earned decent money as well. But my heart always beats for my poor and backward community in Bihar. I have struggled a lot in my early life.
I joined politics in 2015 and faced a rough path. It was a difficult challenge for me to succeed because I was not from a political family and politics as a career has not come to me.
But I have established a political party that represents the aspirations of my community and other poor and backward sections.
I want to be a leader not to become an MP, MLA or minister. If I wanted to become an MP or MLA I would have become one long back by funding any political party.
Till a decade ago I had never imagined to be in politics. This is a fact that I never dreamt that one day I will be doing politics. This has become a reality now.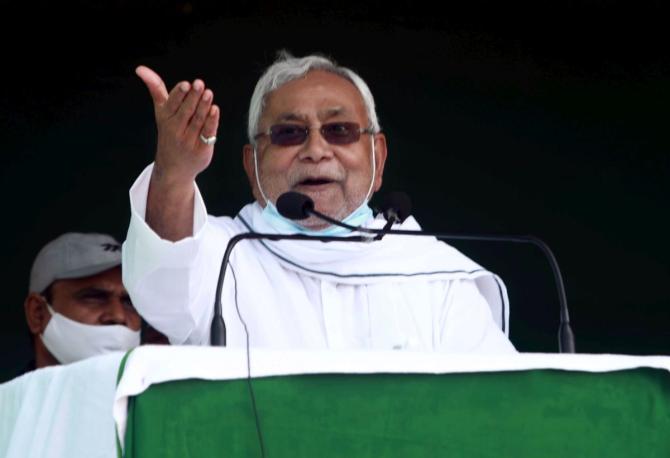 How do you see LJP President Chirag Paswan's decision to contest against the JD-U despite the fact that he has been repeatedly claiming to be a part of the NDA? Will his move not harm the ruling NDA and benefit the opposition Grand Alliance?
Chirag is a political heir, he gets politics as a heritage. He has been doing his own politics.
I can say that Chirag is making a big mistake. He is free to take his decision. Chirag has taken a political decision in a hurry by opposing Nitish Kumar. It will be known on November 10 when the poll results will be out, whether his decision was fruitful or harmful.
As far as his contesting against the JD-U, Chirag is not in the NDA, his party is not our ally.
For Bihar Nitish Kumar is the best face for the CM&'s post. No one can refute it, not even his political rivals.
What about Tejashwi who is the Mahagathbandhan's chief ministerial candidate?
Tejashwi is a novice, he has to learn the dynamics of politics and gain experience in the coming years before he can claim to be fit for the top post.
Tejashwi has proved that he is not capable to manage an alliance, how can one expect him to run a government and manage a state with over 12 crores population?
Tejashwi has to work hard and for long to become CM.
In the near future, say next 10 years, he will not become CM, I am certain.
How do you rate Tejashwi's father Lalu Prasad, the RJD chief?
For me Laluji is a mass leader, he has played an important role for social justice. I praise him because Laluji has immensely contributed to taking forward the fight for social justice.
But he also committed some mistakes that put him behind bars.
In case after the poll results the Mahagathbandhan falls short of a few seats to form the next government in Bihar, will you extend support to it?
Never, it is not possible. I will not join hands with the RJD.
I and my party want to see Nitish Kumar as CM again and to head the next government for another five years to develop Bihar.
Nitishji is a man with vast experience, unmatchable.
If anyone compares Bihar of today with Bihar of 15 years ago, Bihar has moved ahead with development.
If Nitishji is on the seat again, the future of Bihar is bright and prosperous as a developed state.