'Among Dalits, the Valmikis were the biggest voters of the BJP.'
'They now feel Yogiji has failed them in Hathras.'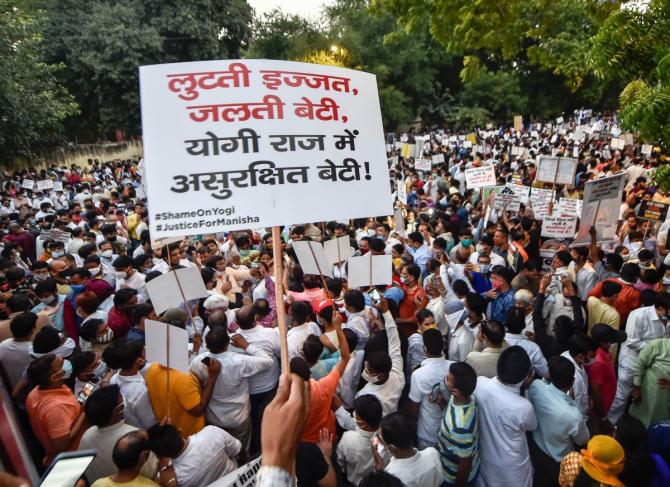 A month after the horror in Hathras, where a 19-year-old Dalit girl was allegedly gang-raped and brutally assaulted on September 14 -- she died in a Delhi hospital a fortnight later -- reports have come in of another attack on a young Dalit woman in Uttar Pradesh.
Dalit activist Ram Kumar, convener of the Dynamic Action Group, tells Rediff.com's Syed Firdaus Ashraf that these cases will change the politics of UP, with the Bharatiya Janata Party's Dalit voters in the state having a rethink about their support for the BJP.
The Hathras case has taken a political turn and now it is being stated that there was no rape.
From the very first day the administration was trying to cover up this incident.
The point that needs to be understood is that the girl was asked whether she was raped.
Now a village girl may not be able to understand the English word, 'rape'.
Only when she was asked in Hindi that 'kya aap ke saath galat kaam hua (whether anything wrong happened with you)', then she said 'haan hua' (yes, it happened)'.
Now when she is saying 'mere saath galat hua', you cannot say that she wasn't raped.
You did not conduct her medical examination (on time). You did not give her proper treatment.
If the Bhim Army chief had not reached Aligarh (where the girl was being treated), the news would never have come out.
The post-mortem report clearly says that there was injuries on her private parts.
How did this happen? Her neck was broken, so was her backbone.
She was sent to Safdarjung hospital (in Delhi) only when Chandrashekhar (Azad, leader of the Bhim Army) reached (Aligarh).
The girl's tongue was also cut off and she was trying to survive in spite of such cruelty.
It is being said that there was a dispute between the accused and the girl's family so false allegations of rape are being levelled against the former.
I don't know the details, but what I have heard is that the Thakurs (the accused's family) were eyeing this Dalit girl's family land. And they had a fight over this land.
But that apart, you should understand why this is happening ever since the Narendra Modi government came to power (at the Centre) in 2014 and the Yogi Adityanath government came to power in Uttar Pradesh in 2017.
As soon as they formed the government in UP, they (the upper castes) felt that they will get back the kind of 'rutba' (status) they once enjoyed.
This status diminished over the last 30 years, thanks to the rise of Dalits in politics. And since they could not gain that kind of status for their community, they have got agitated.
Therefore, you are seeing violence from their side to achieve their means.
All kinds of atrocities are inflicted on Dalits and minorities to establish that old fear of (upper castes) in them.
Can you explain what is this 'status' you are talking about?
Like if an upper caste person calls a Dalit to work in his fields, the latter has to drop all his work and attend to his service.
If he does not come then he will face violence.
They also do not like Dalits answering them back or walk in villages seeing eye to eye with upper caste people.
They want to tell Valmikis, Dhobis and other scheduled castes that they have to know their 'limits' and live accordingly.
They expect that Dalits must not sit in front of them now, like it used to happen 30, 40 years ago.
They want to regain upper caste pride in the villages of Uttar Pradesh. This is a new kind of politics which Yogiji calls 'Ram Rajya'.
If true, it's very sad that one harasses a Dalit girl who has nothing to do with politics, to show one's strength.
If you want to show superiority of your caste then the easiest target is a woman.
She can be raped in the field and then be blamed for it, merely by stating that she was 'answering back' to the upper castes.
This used to happen 30 years ago in Uttar Pradesh. Nobody dared to go to the police station to file an FIR then.
But all this changed because the economic condition of Dalits improved and things changed on the ground.
Now, the Dalit society understands that they (upper caste men) are targeting their women to show them 'their place' in society.
Does the SC/ST (Prevention of Atrocities) Act not work in villages?
Modi made the Dalit Atrocities Act stronger. But the implementation of that law is more important, which is not happening.
The Constitution is very good, but if you do not want to believe in it or practise it, nothing will happen.
In Uttar Pradesh, the police have been given such a free hand by the Yogi government that I have not seen in the last 35 years.
If they catch hold of an Opposition leader, that person will never be able to speak on behalf of a victim's family.
They did not allow Rahul Gandhi and Priyanka Gandhi to meet the family (the first time).
The next day, they allowed some of them to reach Hathras ,but now, they are not allowing other leaders to go there, again.
What does the Yogi government want to hide in Hathras? If people want to go let them go and meet the family.
Let them go if someone wants to show empathy for the family.
Dalits voted for the BJP in large numbers in 2014, 2017 and 2019. Do you think this will change after the Hathras incident?
Among Dalits, the Valmikis were the biggest voters of the BJP.
They now feel Yogiji has failed them in Hathras.
The situation at present is such that even the BJP is worried.
Dalits are also wondering now whether this is the Hindutva agenda of the BJP for Dalits which treats them as inferior.
These Dalits dumped the Congress for the BJP and now they are questioning their own beliefs.
Now a young generation of Dalits has come up in politics and the BJP is worried that they may ditch them in future.
There are dozens of Dalit BJP MLAs in UP. Why are they keeping quiet?
They have no commitment towards Dalits.
In Hathras, there is a Dalit MLA and a Dalit MP. Both of them are Valmikis.
They have not gone to the village and met the victim's family.
And if they go now, they will be beaten up by other Valmikis.
Adityanath is saying after the Citizenship (Amendment) Act, the Opposition now wants to set off a caste war in UP.
Only he has perpetuated this theory by calling on the Thakur Samaj to go to the Hathras village.
He gave wind to this theory and the BJP is only promoting it.
Don't they want to bring about equality in society?
What has equality got to do in Hindu Rashtra? Hindu Rashtra runs on inequality.
They do not want to bring in equality. They want samrasta (where each caste does its assigned work) in society.
The RSS (Rashtriya Swayamsevak Sangh) believes in this theory that backwards and minorities have no right to vote. This was said by the (late RSS sarsanghchalak Madhav Sadashiv) Guru Golwalkar. (Note: The RSS denies this charge and says it disowned Golwalkar's book in which such remarks were made.)
Whereas Dr Babasaheb (B R Ambedkar) envisaged samta (equality), they want to work on 'Manuvad' and want Dalits to respect Brahmins.
Will this incident change UP politics?
Yes, definitely.
The BJP is undermining the Congress in Uttar Pradesh.
The day the Congress declares Priyanka Gandhi as its chief ministerial candidate, they will get an absolute majority as all the Brahmin votes will shift to the Congress.
Backward and minority votes too will shift.
Bahujan Samaj Party chief Mayawati surprisingly is very quiet.
She has only asked for Yogi's resignation and nothing more.
She is worried about the Enforcement Directorate and Central Bureau of Investigation (going after her).
Her time is over and her role will be taken over by Chandrashekhar (Azad).
This case would not have become so big if Chandrashekhar had not taken up the issue.