'The RSS guides us, never dictates.'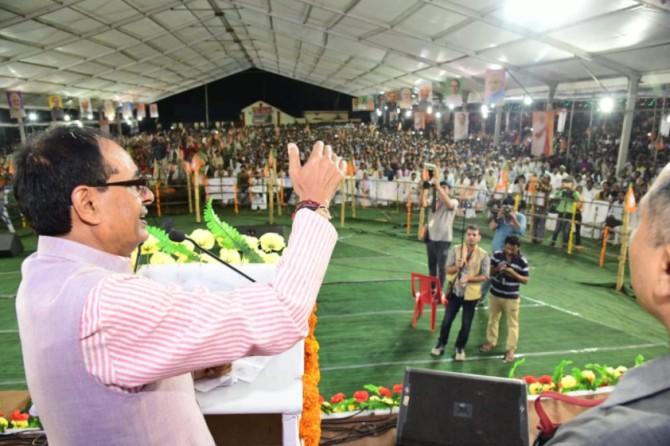 As Madhya Pradesh gears up to face the electorate on November 28, Prabhat Jha, former state president of the Bharatiya Janata Party and now its national vice-president and Rajya Sabha member, tells Rediff.com's A Ganesh Nadar, "Jyotiradiya Scindia and Kamal Nath are leaders of their constituencies, they are not leaders of the state."
You called the Congress 'faceless, senseless and baseless'. But the Congress has a chief ministerial face in Jyotiraditya Scindia, and without sense and a base the Congress could not have ruled India for 60 years.
Jyotiradiya Scindia and Kamal Nath are leaders of their constituencies, they are not leaders of the state. They cannot even win elections in the neighbouring constituency.
You know out of seven assembly constituencies in his Lok Sabha constituency Kamal Nath lost four. Jyotiraditya Scindia can win in Guna, but his party loses in Gwalior and Morena.
They are both egotistic, they know all their party leaders, but they don't know their party workers.
Kamal Nath is a businessman, not a politician. He is not a politician with a state-wide image. They (Kamal Nath, Jyotiraditya Scindia) are not leaders of the common people.
You mention that large crowds attend Chief Minister Shivraj Singh Chouhan's rallies, but anybody with vehicles and money can mobilise large crowds.
You are forgetting our victories in 2008 and 2013, our rallies are converting to votes.
We have conducted 300 programmes across the state this time. We have personally reached out to 5 crore (50 million) voters.
What about the Vyapam scam? Do you believe this scam, which has seen so many mysterious deaths, will not affect your party's electoral prospects in MP?
The Vyapam scam was probed by the CBI (Central Bureau of Investigation) on the high court's orders. The state government has nothing to do with it.
Both the high court and Supreme Court have held the Congress responsible for this scam. The Supreme Court even told Kapil Sibal to fight his battles in the assembly election and not in court.
Does your party decide who contests the elections? Or is it the RSS (Rashtriya Swayamsevak Sangh) which decides? Two days ago came the news that the RSS has asked Chouhan to drop 70 sitting MLAs.
That is news created by the newspapers. The RSS never gives such diktats. We all came from the RSS and we respect the RSS.
The RSS guides us, never dictates.
Who contests the elections is decided by the BJP.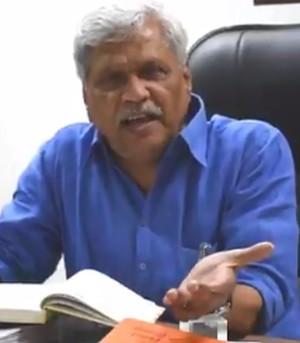 You dismiss Kamal Nath as a corporate man. Critics of your party call the prime minister a supporter of corporates, especially after the Rafale deal.
The prime minister meets people from the corporate sector as the prime minister. He doesn't belong to that sector.
He doesn't own a factory nor does he have 4,000 workers working in his factory like Kamal Nath does.
Why did your government prefer Anil Ambani's company over HAL for the Rafale deal?
That Dassault knows, the French president knows. The Rafale was selected after consultations between the defence chiefs, the defence minister and Arun Jaitley.
There are so many accessories needed for that aircraft. We cannot reveal all of that.
It's a matter of national security, it's a defence matter.
The Congress is playing dirty politics with national security.
You dismiss Jyotiraditya Scindia as belonging to dynasty politics, but what about Rajasthan Chief Minister Vasundhara Raje, his paternal aunt, who is in your party?
Though belonging to a dynasty Vasundhara Raje knows what democracy is.
She is a democratic leader. She knows her party workers and she knows administration.
She relates to the people of her state and she has won their hearts.
Will Hardik Patel have an effect on the outcome in Madhya Pradesh?
When he doesn't have any effect in Gujarat, how can he have any effect in Madhya Pradesh?
The farmers are upset with you especially after the Shivraj Singh Chouhan government ordered firing on the Mandsaur protests last year, killing six farmers.
Farmers of our state are with us, our kisan rally had 40,000 farmers in attendance.
The farmers you are talking about lost their lives because of the Congress. Their farmer leaders provoked the farmers and thus they were killed.
In Sabarimala your party is protesting against the Supreme Court's ruling. Isn't that going against the law you are supposed to uphold?
I am busy with the elections in Madhya Pradesh and I am not following what is happening in Sabarimala.
But I would like to tell you that we are law-makers, not law-breakers.