'As we reach 2022 we are creating a very new, different India where the Citizenship Amendment Act will be passed, NRC will be pushed through, Article 370 scrapped...'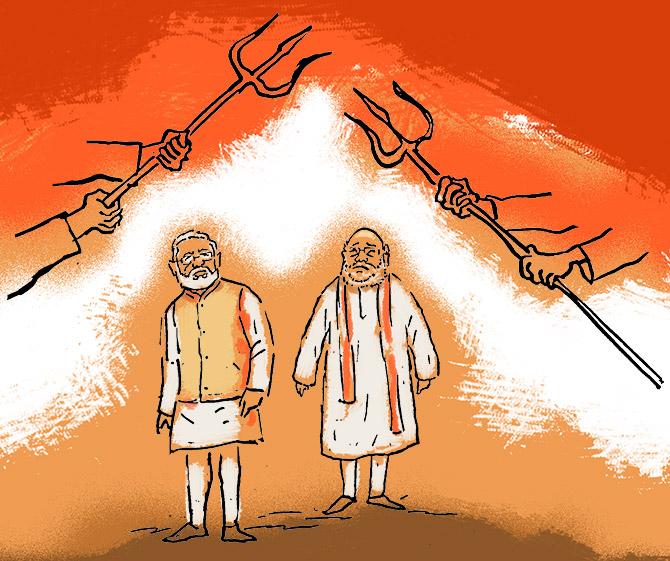 "A majority government is not the license to be a majoritarian government or create a majoritarian India," Rajdeep Sardesai, journalist, author and television anchorman, tells Rediff.com's Archana Masih in the second part of the interview.
In your book 2019: How Modi Won India, you say that the Jodi No 1 of Indian politics is determined to make India a modern Hindu nation. In 2022, 75 years after freedom, what will this India look like?
We are seeing signs of what can be described as a majoritarian India.
The Citizenship Amendment Bill effectively discriminates between communities. In a way it validates Mohammad Ali Jinnah's two nation theory. Muslim refugees will not be accepted but Hindus, Sikhs, Christians and other communities will.
That is not what the Constitutional idea of India was. The Bill is anti-Constitutional and bigoted. But in the present atmosphere it will be seen as just another sign of a strong State, pushing its diktat on the people.
We have seen the way Article 370 was scrapped. There should have been some parliamentary consultation without treating Parliament as a notice board.
If the BJP wants to push its ideological agenda, then that agenda must necessarily also create a wider consensus if possible amongst stake holders. It must be based on dialogue.
A majority government is not the license to be a majoritarian government or create a majoritarian India.
One of the fears I have as we reach 2022 is that we are creating a very new, different India where the Citizenship Amendment Act will be passed, NRC will be pushed through, Article 370 scrapped -- the BJP will try to correct what it thinks are the distortions of the Congress-Nehruvian India.
But this is a great, diverse, plural country. I hope State power can only go so far and no further.
The fear I have is will this diversity reduce and will there be a growing Hindu-Muslim divide, and a growing sense of authoritarianism where anyone who speaks out is deemed anti-national.
If there are checks and balances, institutional pushback, I remain hopeful that India will find a way of retaining its uniqueness.
There is no country as plural and diverse as us.
You mention institutional pushback and speak about 'democratic recession' in the book. In the event of a limited institutional pushback, what do you see as the way forward?
I don't want to predict a doomsday situation for India. India is too large and diverse to suddenly transform itself into an authoritarian society.
We should be concerned that there are too many elections in the country, but do those elections help in strengthening the citizen? Is there actual citizen power?
That is why I call it democratic recession.
We are a democracy, but what are the elections giving us?
In Maharashtra, there is a post-poll jugad. A subversion of the mandate.
Look at the manner in which money is spent in an election.
We have to accept that democratic recession has not only happened in the last five years, but clearly now it is more brazen. Electoral bonds are clearly against the notion of a transparent democracy.
Despite the economic slowdown people are enamoured by Mr Modi -- much more than what Mrs Gandhi experienced after the 1971 War victory. What makes people forget about unemployment, the auto crisis, economic slowdown and continue to have faith in him?
People are cynical of their political class and there is a general loss of faith in politicians and politics.
Modi says, 'I will fix this system, give me time, I am like a long term fixed deposit'.
He has created the impression in the minds of lots of Indians that 'I am the strongman who will fix India'.
The economic downturn has finally made some people raise questions about Modi's promise of a 5 trillion dollar economy, but at the bottom of the pyramid people say, 'We have given 60 years to the Congress, let's give Modiji 10 years'.
Next time Mr Modi asks for votes and there is still an economic downturn, he may find it more difficult. But today people are still willing to give him another chance.
He has built a measure of trust in the minds of the average Indian. This is his big selling point, while nobody from the other side has come with an alternative vision.
India is also poised for a new party with a new agenda of change with a new leadership.
What could this alternate politics and leadership be like?
A leader that goes beyond State power and can unleash the energies of India. Who can focus on health and education where we have been left behind. A leadership that has a bottom up approach of solving problem.
We need a completely different way of running a government. It has to be a welfare State where people have to get involved, for example, mohalla clinics, improve government school like Arvind Kejriwal has attempted to do.
We need to truly liberalise Indian businesses. Create an environment where the taxman is not seen as a villain and not mistrust the businessman.
It is a broad vision of a socially liberal and economically open society. That's what young India is hankering to be.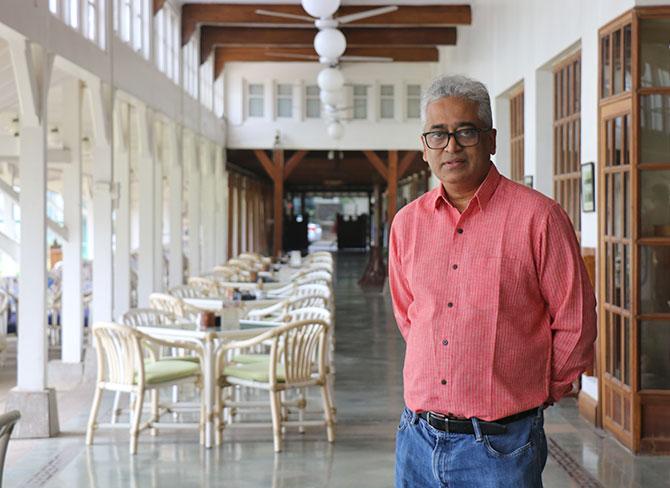 Do you think the Congress can revive itself?
In Maharashtra, the Congress is party number 3. Is being the no 3 party in a coalition led by the Shiv Sena, a recipe for revival?
It is a recipe for survival, not revival.
The Congress may survive, not revive. The Congress wants everything by default.
You have to energise your cadre and give them a sense that you are going to fight. All said and done that's what Sharad Pawar does.
---
Archana Masih is a keen observer of national politics. She can be contacted at archana_masih@rediffmail.com