'It's inspiring to see that BJP has been able to hold on to its votes'
'I see a very bright future for our party in the state'
'Change in demography and 'Hinduvta' have been deciding factors for BJP'
The Trinamool Congress has romped back to power in style in West Bengal. However, Bharatiya Janata Party activists and supporters can't help being happy with their performance in the state. The party has received a 10.2 per cent vote share (of the votes counted till 2 pm).
Sumantra Maiti, a BJP activist and information technology professional, had predicted that the party would put up a respectable show.
He explains to Indrani Roy/Rediff.com the factors that led to the rise in BJP vote share in Bengal.
The Trinamool Congress has a clean sweep in this election. What's your reaction?
I had more than expected this sort of a result. Those who had hoped for another poriborton (change) were wrong to the core.
For the people of Bengal, history tells us that it takes time to accept or reject a change. Have we forgotten that the Left Front had ruled the state for 34 years?

Are you happy with how the BJP has fared?
Oh yes. It's inspiring to see that our party has been able to hold on to its votes. This is a major takeaway for us from this election.

A few years ago, BJP did not have a toehold in Bengal. Which factors have led to an increase in BJP's vote share in the state?

I think the change in demography and the 'Hinduvta' issue have been the main deciding factors for our party.

You actually mean to say BJP's 'Hinduvta' card has been successful here?

Yes. The BJP has been able to influence the younger generation to a great extent. The youth have reinstated their faith in BJP's nationalism, they have expressed their confidence in the so-called Narendra Modi magic. Several young party workers have worked tirelessly round the clock on social media.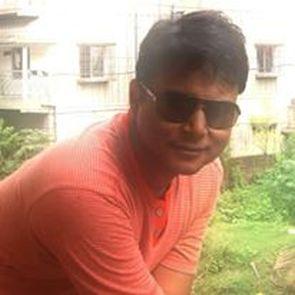 IMAGE: Sumantra Maity, a BJP activist and Information Technology professional
Don't you think the TMC's pro-Muslim stand has been responsible for this new found 'passion' for Hinduvta?

I do agree that there is some sense of anguish among the people about the TMC's way of wooing the Muslim voters but that sentiment isn't strong enough to translate into negative votes yet.

People of Bengal are totally disgusted with the Left Front and TMC has benefited immensely from it.

Why this disgust for the Left?

Even hardcore Left loyalists were disgruntled with their party's 'neither here nor there stand' prior to the elections.

Also, I feel the way the Left reacted to the Jawharlal Nehru University, Jadavpur University and other related issues somewhat lent an anti-national stamp to the party.

How optimistic are you about BJP's fate in the 2019 Lok Sabha election?

I do see a very bright future for our party.

But, BJP has to focus on the migration issue without confusing it with the communal aspect. Our party also has to work rigorously to organise a movement against the Trinamool Congress and Mamata Banerjee. That's not a very easy task. But we have every reason to be hopeful.

There have been no effects of Narada and other issues of corruption in election results. Your comments.

The TMC has carried forward the dole politics introduced by the Left Front government. (Mamata) Banerjee's government distributed rice at Rs 2 per kilogram and donated cycles to rural people.

Though a few factors like the Narada sting and the flyover collapse went against the Trinamool Congress, the amount of dole that the party offered outweighed everything. I admit that dole politics does not have a good effect in the long term, but it did have a great positive impact on the election result this time.

Do you think it was a mistake for the Left and the Congress to join hands?
Absolutely. The alliance was unethical and illogical. People of the state just negated this union.
Congress and Left have alleged that BJP and TMC had a tacit understanding of vote sharing. What do you have to say?
It's utter rubbish. I would not like to comment on it.