'All gau-bhakts, of whichever ideological shade, party or banner, anybody and everybody is entitled to participate in the commemoration.'
'Most importantly, the programme has to be totally peaceful.'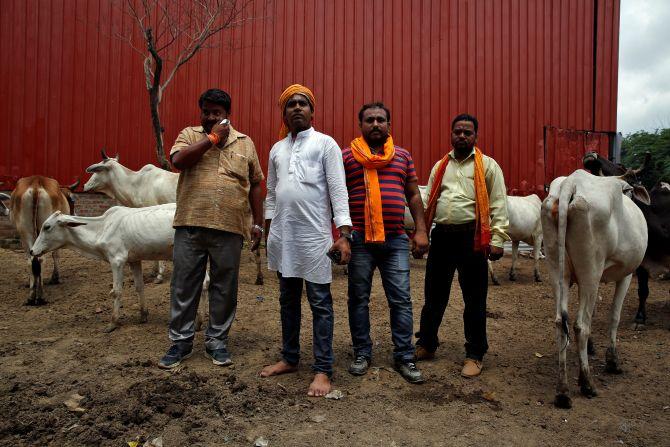 On November 7, 1966, the Delhi police fired upon Naga sadhus who were marching from the Red Fort to Parliament to demand enactment of a law to ban cow slaughter. The police opened fire when the agitators broke the police cordon and entered Parliament.
To mark 50 years of the police firing, the Goraksha Andolan, founded by Rashtriya Swayamsevak Sangh ideologue and former Bharatiya Janata Party general secretary Kodipakkam Neelamegacharya Govindacharya, has organised a day-long event in memory of those killed in the incident.
Though newspapers widely reported the number of deaths in the police firing at six, it was strongly contested by Hindu organisations which believe that more than 200 sadhus and sants were killed that day.
Prasanna D Zore/Rediff.com spoke to Govindacharya, image, below, who despite being the founding father of Goraksha Andloan, said that he will be attending the event in his individual capacity.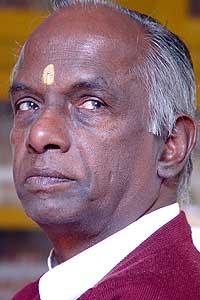 You are commemorating the deaths of sants and Naga sadhus who died in the 1966 police firing in 2016. What is the significance?
This is not the first time that we are organising a meet to remember the gau rakshaks (cow protectors) who were killed in 1966. Every year, big and small programmes were organised in Delhi's Ramlila Maidan to remember those who were killed.
For five-six years continuously Jagadguru Shankaracharya Madhavashramji Maharaj, who has his ashram in Old Delhi, along with the Godhan Sangh used to take the initiative for organising this commemoration.
Since 2016 is the 50th year of this brutal killing, it was decided that we should call all those individuals, groups and organisations together and hold a commemoration programme that will include some kind of havan, japam, moksha deepam.
We want to pay respects to the gau rakshaks who died.
But those who opposed cow slaughter and sought a ban on it did not die in police firing only in 1966. Before that too cow slaughter has been opposed continuously in India. So, this year's commemoration is nothing new.
You have said that more than 200 people died in the police firing. Do you have their names or list or any proof to substantiate your claim?
It was published in some newspapers at that time that around 249 sadhus and sants were killed in the police firing. This was the figure quoted in some newspapers during those days. I am not sure about the number (of deaths in the police firing).
Are you going to invite members of the Bharatiya Janata Party to be part of this commemoration?
All the gau-bhakts, of whichever ideological shade, party or banner, anybody and everybody is entitled to participate in this commemoration. But one has to act according to the discipline of the committee that is organising this event.
Most importantly, the programme has to be totally peaceful.
In the recent past there have been many violent attacks on Dalits and Muslims by cow vigilantes...
I won't like to comment on that. I wouldn't like to join this issue at all at present.
Prime Minister Narendra Modi too has made a statement against the violent cow vigilantism...
Again... I won't like to join this issue as well at present.
Would you be inviting the prime minister to this event?
I have not yet thought about it but I am not the organiser of this event. I will be participating as an individual.
Image: Members of a gau-rakshak group are pictured with cows they claim to have saved from slaughter in Agra. Photograph: Cathal McNaughton/Reuters.