'This setback is only transient, and I am sure this too shall pass.'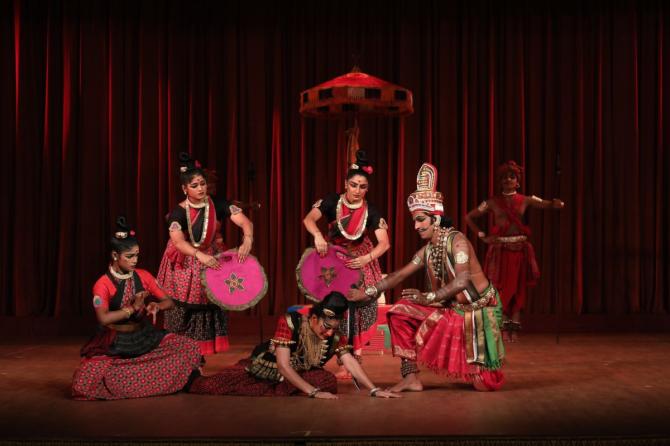 There is no end to the controversies surrounding Kalakshetra, the celebrated institution founded by dancer Rukmini Devi Arundale.
The students may have called off their protest, and an assistant professor accused of sexual harassment has been arrested, but fresh allegations of discrimination, harassment and abuse surface regularly.
It is in this background that Rediff.com's Shobha Warrier decided to speak to the well-known dancer V P Dhananjayan who joined Kalakshetra in 1953 at age 13.
He was hand-picked from his little village of Payyanur in northern Kerala by the legendary Kathakali artist Guru Chandu Paniker and taken to Rukmini Arundale's temple of arts.
The rest, as they say, is history.
Kalakshetra not just crafted him into one of the most respected artistes in India, it also enabled him to find his life partner Shanta there.
The Dhananjayans, as they came to be known, became well known not just in India, but across the world.
Is there a lot of difference between the Kalakshetra you joined 70 years ago and the Kalakshetra of today?
Yes! Indeed, there is a lot of difference. When I first joined in 1953, classes were held at the Adyar Theosophical Society campus.
However, the major difference I would point out was that the classes were offered by great and established artists, all of whom had crossed 60 by then.
They were real gurus and their mere presence itself was awe inspiring for the students.
They had reached such a level as artists that we could see divinity in them.
Not a single one of them was a youngster and that made the fundamental difference.
I believe that one becomes a real guru only with experience and accumulation of knowledge, and nothing else.
We, as students, were very fortunate then that we could interact with such great artists and learn from them directly.
I must also say, a special visionary quality of Rukmini Devi was that she did not believe in retiring teachers after a certain age.
If I remember correctly, it is because of this primary reason that she refused to accept the status of Deemed University in 1963.
Was it because all the gurus were great artists that Rukmini Arundale wanted Kalakshetra to be a Gurukulam where students could spend all their time with such great artists?
Yes, that's what Rukmini Devi envisaged.
She wanted all the students to reside in the campus and study directly under the gurus like the age-old Gurukula Sampradaya.
History has proven that under this unique umbrella of Sampradaya, the institution ran extremely well and gave birth to many well-known artists in the later years.
In my view, the deterioration began after the government took over in 1988-1989.
From then onwards, Kalakshetra came under the control of the government which led to many lapses in the administration including the retirement of great acharyas.
It is ironic that while we had great artists as gurus in our days, today the moment a student graduates, he or she gets the opportunity to be a teacher at Kalakshetra.
What kind of experience will they have to impart knowledge on art?
While we were students, all our acharyas were very strict, and the administration was also very regimental and vigilant.
Now, under the control of the government, the atmosphere is quite liberal.
What do you mean by strict?
When I say strict, you should realise that their strictness always had a lot of love behind it.
One should look at strictness in the context of discipline.
The three paths we had to follow were discipline, devotion and dedication: They were the three Ds. And this was our formula for success.
You must also note that in those days, girls and boys were not encouraged to mix liberally. We were scared to do anything in front of our gurus.
Yet in such a strict atmosphere, the two of you fell in love....
Of course, people do fall in love. But the love we had was also very quiet, discreet and disciplined.
It was a kind of silent love as we were not allowed to show our feelings in public.
And, of course, we had an innate fear of the administration reprimanding us and taking any disciplinary action.
Would you say such a strict atmosphere helped the students develop as good artists and human beings?
It was extremely helpful in our lives. Without discipline, one cannot achieve anything.
Personally speaking, whatever we have achieved in our professional and personal lives, it was all because of the discipline inculcated in us by our acharyas.
Do you think there is lack of discipline in the institution because you don't have the kind of acharyas of yesteryear?
It is quite possible. There are no acharyas at Kalakshetra today. One can only see young teachers.
The selection process limits both the students and teachers to be chosen from almost the same age group.
Then, of course, after the government took over, one witnessed a lot of lapses in the administration.
That is because the institution restricted or limited itself to government appointed staff who have no knowledge of the legacy of the institution or understanding of what Kalakshetra stood for or how it should be run.
The official appointees try to learn about the institution after their appointment.
Naturally, the new appointees are totally dependent on the teachers who were once students at Kalakshetra, and later employed as teachers.
This would eventually lead to a few teachers having more power and influence than the administration at times. This may lead to the possibility of misuse.
Were you shocked when you heard about the accusations against teachers like sexual harassment, discrimination etc?
Yes, I was, and I still am in a lot of pain.
I am pained because these things have happened in such a great institution and tarnished its image.
But I cannot say how much truth lies in the accusations.
People like us never had any inkling of something like this happening there.
If we had, we would definitely have got in touch with the management and asked them to address the situation.
We have had no direct contact with the students or the activities of Kalakshetra.
If they had adopted people like us in the advisory board, and if they had offered us an opportunity to participate, I feel the students would have shared their fears with us honestly.
The problem the students faced was, there was no platform where they could air their grievances freely and without fear.
The government-appointed governing body is an eyewash because none of them have any association with Kalakshetra.
Not a single senior teacher from Kalakshetra is a member of the governing body.
After a lot of persuasion, one non-staff alumnus was included recently.
The body meets once or twice a year, and nobody knows whether they discuss these issues in the meetings.
From what I understand, they don't even interact with the students and staff.
The governing body does not consult us at all on any matter concerning Kalakshetra. We have not had any chance to interact with the students.
I think this is one of the reasons why incidents like these happen there.
They should have made use of our experience and knowledge of the history and significance of Kalakshetra for the betterment of the students.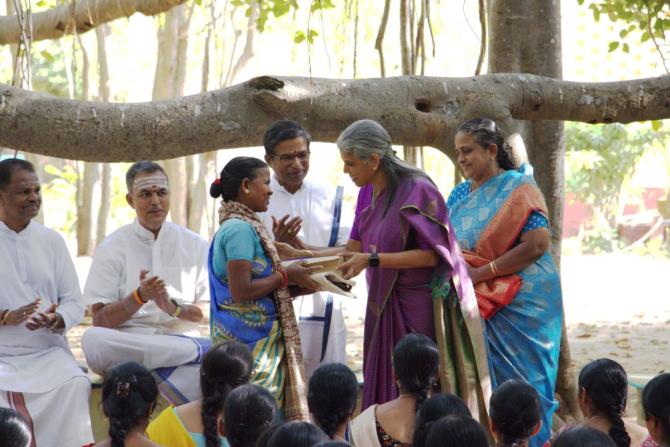 With not just girls but boys also complaining about sexual harassment, the image of Kalakshetra has taken a huge beating....
I feel if there was a students union on the campus, the issue would not have reached such a stage.
They had to openly protest as there was no forum for them to raise the issue.
The question remains unanswered as to why some of the teachers who supported the students' protests did not apprise the management earlier if they were aware of the grievances of students against some staff members.
Their accusation is that the administration refused to listen to their woes.
In short, there was no one to question the administrative lapses.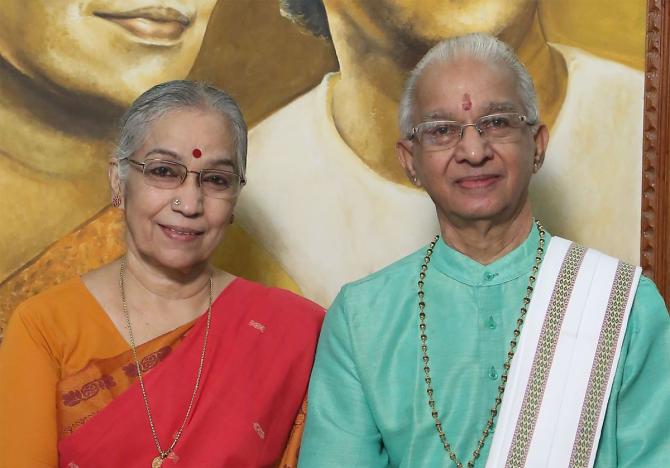 Some old students now allege that Kalakshetra is a casteist institution and that there is Brahmanical dominance there. Is this true?
No, it is not true at all. It is wrong to say that.
The fact is, none of us are Brahmins. 90% of the students who come to Kalakshetra today are Nairs, Menons and from other non-Brahmin communities. A majority of them are from Kerala.
The atmosphere at Kalakshetra during our time was nothing like what they say now.
In those days, Rukmini Devi insisted that anyone who came to study at Kalakshetra should be admitted.
She believed that it was the duty of the gurus to mould each student.
It was because of their effort that we reached this level.
I don't think any of the teachers of today can do what the acharyas of those days did for us.
While I joined at the age of 13 with absolutely no knowledge of any art, Shanta had joined when she was just 8 or 9. Kalakshetra opened a new world for us.
Today, they admit only those students who are above 18, who have already studied art or exposed to art.
Unlike us, when the students of today join, they are just taught the Kalakshetra style.
But I am confident that nobody can tarnish the greatness of Kalakshetra forever. This setback is only transient, and I am sure this too shall pass.
Feature Presentation: Aslam Hunani/Rediff.com