'These are the people who don't want peace in the state, who want to disturb harmony in the state.'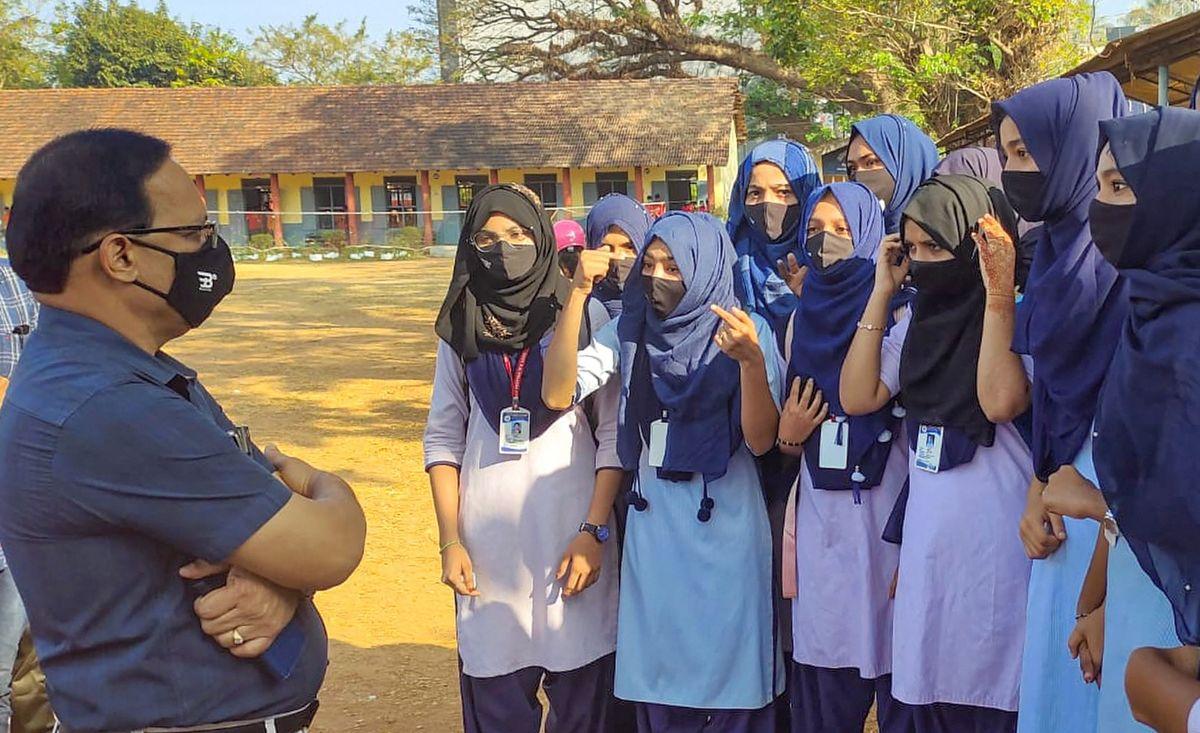 Without naming who these people or organisations are, the Bharatiya Janata Party's Karnataka vice-president Nirmal Kumar Surana says the people of the state will have to follow the directions of the Karnataka high court that is hearing the plea of a group of Muslim girls from Udupi against the ban on wearing the hijab (headscarves) or burqa inside classrooms.
A government school in Udupi recently denied entry to girls wearing hijabs inside classrooms following which sporadic protests erupted in some parts of Karnataka where students wearing saffron turbans, shawls and stoles protested against the girls wearing hijab into classrooms. It soon snowballed into protests for and against wearing the hijab in school and college premises and classrooms
Things came to a head when a girl student was heckled by a bunch of saffron-stole wearing students chanting 'Jai Shri Ram' inside a government college in Mandya district and the girl took them on by chanting 'Allahu Akbar'.
The unverified video of the entire event went viral on social media and mainstream media following which Chief Minister Basavaraj S Bommai declared a three-day holiday in schools and colleges across Karnataka.
At the time of publishing this report, a three-judge bench -- headed by Karnataka High Court chief justice Ritu Raj Awasthi -- is hearing a case that will decide if schools and colleges can make rules that order students to not wear religious attire while in classrooms.
While the next hearing is scheduled on Monday, the bench has asked students not to wear any religious garments in schools and colleges.
Surana spoke with Prasanna D Zore/Rediff.com on the issue.
Will tensions ease in Karnataka over anti-hijab protests after the Karnataka high court gives its decision?
It is a matter for people to understand. People are confused now, but they will have to follow whatever direction the high court gives. There is no tension in Karnataka right now.
There are some people asking for hijab (be allowed to be worn inside classrooms in schools and colleges) and some people are opposing it saying it is not right. The situation has calmed down and nobody is protesting right now (on February 10).
If everything was normal and there were no tensions, why did the chief minister declare a three-day holiday for schools and colleges?
There is a debate whether the hijab should be allowed or not in schools and colleges. The Karnataka government is clear about one thing that whatever the uniform prescribed by the school, students have to wear that particular uniform. That's all.
Was the Karnataka government successful in controlling the law and order situation?
Some unwanted people or unwanted organisations started jumping into it (the hijab controversy) making it worst.
Could you name these unwanted organisations and people?
These are the people who don't want peace in the state, who want to disturb the harmony in the state.
Should action be taken against students who charged upon the girl wearing the hijab in the Mandya school and tried to browbeat her because she was wearing a burqa and going to college?
It is already happening and the police are investigating the case.
You do agree that action should be taken against students who were seen in the video heckling the girl?
Peaceful protest is always welcome. This is a democratic country and anybody can protest.
How do girls wearing a hijab or burqa in schools and colleges harm social and religious harmony?
This is not a question of harming or not harming (social and religious harmony). Once your school decided to follow a particular uniform you have to follow the rule. Uniform is for uniformity and equality. That's all.
Whatever rules are prescribed and made (by the school), why do you want to go against those rules?