'It is an uncomfortable situation for a woman.'
'She has been on her own, separated from family.'
'That is the point of isolating her -- breaking her to a point where she bends to their will.'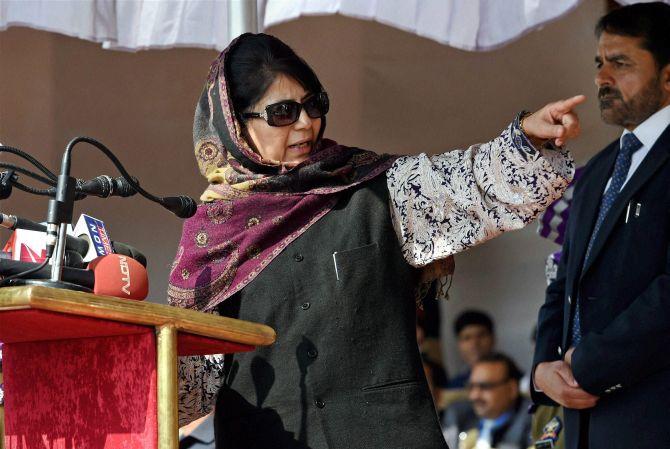 Iltija Mufti, detained former Jammu and Kashmir chief minister Mehbooba Mufti's eldest daughter, last saw her mother 25 days ago.
Iltija says she returned from Srinagar to Delhi because she had a feeling that the government would not release her mother and the detention would drag on.
In the last six months whenever she goes to visit, she has to inform the security an hour beforehand. She spends a couple of hours with her mother alone in a small, approximate 10x10 feet room, Iltija says.
Mufti has been held in a house designated as a sub-jail since the abrogation of Article 370 in Jammu and Kashmir on August 5.
Last week, at the end of six months, the J&K administration extended Mufti's detention under the Public Safety Act, a law under which a person can be held for up to six months without trial and can be extended further. Former chief ministers Dr Farooq Abdullah and Omar Abdullah are detained under the same Act.
"She can't go beyond the gate of the house. The rest of the rooms have security guards. It is an uncomfortable situation for a woman," says Iltija.
"She has been on her own, separated from family. It is not the best place to be in, but that is the point of isolating her -- breaking her to a point where she bends to their will," Iltija tells Archana Masih/Rediff.com over the phone from Delhi, where she has spent most of the last six months so that she can speak to the media, write op-eds and tweet.
"I know it is going to be a long drawn out battle for us. We have to fight."
It is very hard to express oneself freely in Kashmir, she says.
"Kashmir is pretty much an open air prison where abnormal is the new normal. For an average Kashmiri there is an atmosphere of repression and fear."
Only the immediate family can meet Mehbooba Mufti which includes her two daughters, siblings and mother. No one else is allowed to meet her, says Iltija.
Mufti has been spending her time reading books by Amitava Ghosh, Karen Armstrong -- she reads the Quran and prays.
Mufti was provided a television in September after Iltija put in a request. "As a public figure it is very important for us to make sure she is not cut off from the rest of the world. She does not get newspapers," she says.
"She is doing fine physically, but I feel it is time she stepped out. It's time she comes back to her family."
Mufti was earlier detained in a government guest house and was subsequently moved to a house in November after Iltija requested the authorities to shift her to an accommodation more suitable for Kashmir's harsh winter.
"Her health is okay, but solitary confinement is more about the emotional than the physical. The point is to isolate the person and impair their sense of decision making."
At the end of the six-month period of detention, the family had expected Mufti to be released.
"I thought at least they will send her home and have her under house arrest, but we did not imagine they would slap the draconian PSA law," says Iltija.
"This is illegal. These are just ways of extending her detention," says Iltija, who adds that she had remained a very private person through her mother's chief ministership and has been thrown into the deep end to speak to the media after her mother's detention.
"I have had no experience with how to deal with the media, how to articulate myself in this way on this level -- nationally and internationally -- but I feel there are very few voices coming out of the valley and I have no choice but to speak up," she says.
Speaking about some of the points she finds most objectionable in the dossier that was leaked to the media and widely criticised for many of its frivolous accusations, she says: "I just got to see her dossier a couple of days ago. The dossier (which forms the basis of the PSA) is a personal vendetta than a factual legal document. It is sexist, misogynistic and preposterous. It even talks about my mother's failed marriage as if that could be a ground for invoking PSA."
"She has been accused for her tweets -- as an Indian politician she is allowed to express herself. Her tweets have never instigated violence unlike BJP minister Anurag Thakur whose provocative statements actually led to violence."
The dossier accuses Mehbooba Mufti of working with separatists and making anti-national statements.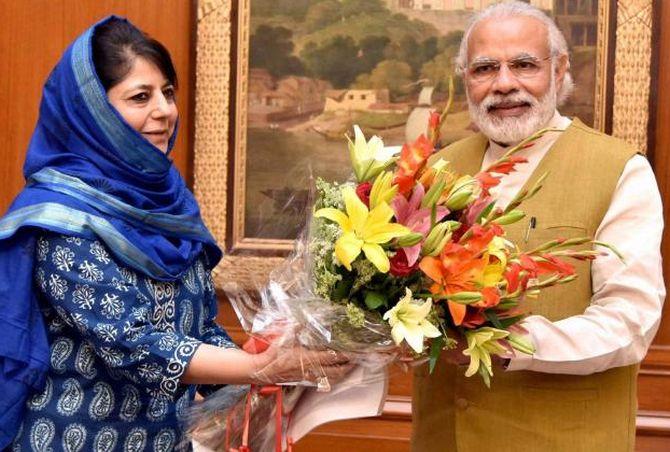 Another point in the dossier mentions Mehbooba Mufti as 'Daddy's Girl', in reference to her late father and former chief minister Mufti Mohammad Sayeed who headed a coalition government with the BJP in 2014.
"The irony is that had she not been her father's daughter, the BJP would not have come into an alliance with the PDP (Peoples Democratic Party) for a second time. My mother essentially honoured her father's commitment to the BJP."
The BJP subsequently withdrew support to the PDP government in 2018.
"When my mother is in alliance with them, she is called 'nari shakti' -- at that time also her stand on 370 hadn't changed, abrogating was not in their agenda for the alliance. And then when you want to smear her, you invoke historical figures like Kota Rani, a queen who was not much admired by the people."
The family is waiting to see how the Supreme Court responds to the habeas corpus petition filed by Omar Abdullah's sister Sara Pilot challenging his detention under the PSA.
"I have lost hope in the government. They are clearly like a bull in a China shop. There is no legal or moral constraint for them," says Iltija.
"I am placing all my faith and hope in the courts to do justice to their oath and the Constitution."
"If they dither, then I don't know what we are going to do. Many habeas corpus petitions have been filed."
"We are not a banana republic that you can detain people according to your whims and fancies. It's time for my mother and every other detainee to come home."
A 25-member delegation of European diplomats invited by the government spent two days in Kashmir on February 12-13. To see the ground situation they took a shikara ride on Dal Lake, met business folk and visited the Indian Army's Chinar HQ in Kashmir.
"In North Korea, there is a village known as the Peace village used by the government for propaganda. Kashmir has unfortunately become India's propaganda village," says Iltija.
"It's as if these delegations are being taken to a zoo. In a zoo -- some animals are domesticated and you can interact with them and pet them, while most animals are behind a cage."
"It is being used to convey a sense of normalcy which doesn't exist. Kashmir is not a zoo -- that when the government wishes it brings selected diplomats for a curated, sanitised, picnic."
A week before United States President Donald Trump's visit to India, she feels the restrictions and detentions in Kashmir will remain unchanged.
"People who have been released have been detained in their homes. You have moved them from one prison to another. I personally know people who were released last week and were briefed by the police that even if a picture comes on television/ or in the newspapers we will detain you again," she says.
"They have used the might of the Indian State to enforce a clampdown and ensure there is sense of fear among people if they speak out. There is a fear of reprisals. Look at the way they are treating journalists."
The Kashmir Press Club recently issued a statement that Kashmiri journalists had been subjected to physical attacks, threats and summons by security agencies to intimidate them.
Six months after Jammu and Kashmir's special status was revoked and the province stripped of statehood, a blanket of gloom shrouds the valley, she says.
The future of all mainstream parties in Kashmir is very bleak, feels Iltija who wants to work with Kashmiri women someday.
"In the Mahabharat," she says, "the chakravyuh was the military strategy -- a maze -- to trap the opponent. The BJP made a chakravyuh and don't know how to get out of it."