However, not an inch of movement has taken place on the implementation of the 'Agenda of Alliance', the manifesto of the PDP-BJP coalition government.
Unless the BJP plays ball, the PDP will be in serious trouble, warns Mohammad Sayeed Malik, the veteran commentator on Kashmir affairs.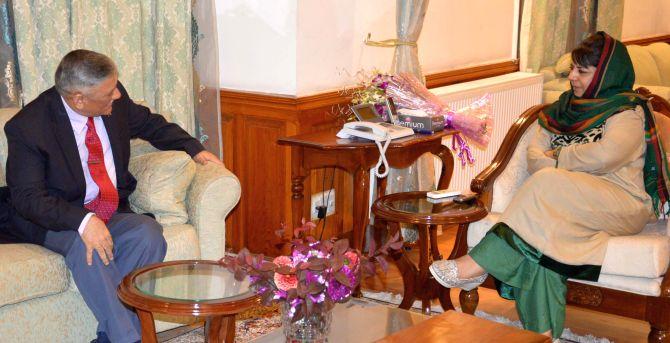 IMAGE: Jammu and Kashmir Chief Minister Mehbooba Mufti with army chief General Bipin Rawat in Srinagar after terrorists killed Amarnath Yatra pilgrims, July 2017. Photograph: Umar Ganie
Two years after Mufti Mohammad Sayeed's demise on January 7, 2016, his daughter and successor, Chief Minister Mehbooba Mufti is steadily consolidating her grip over the affairs of the People's Democratic Party and its ideologically incompatible coalition with the Bharatiya Janata Party.
There are now definite signs and indications that Mehbooba has gained sufficient self-confidence and experience -- overcoming her initial reservation and apprehensions over the past about two years -- to take independent decisions in both spheres.
To that extent she vindicates her father's choice, though she has a long way to go to establish her ability as a confident, decisive administrator and capable organiser -- a hallmark of Mufti Sayeed's leadership.
I know for a fact that the decision to induct her younger brother Mufti Tassaduq Hussain into the coalition ministry one year after his formal entry into politics in the wake of their father's demise, was her own.
No doubt she took her time, weighed its pros and cons, but at the end it was her own choice, 'on its merit'.
This was followed with a few significant changes in the PDP's organisational set-up ahead of panchayat elections and midway through the state assembly's six-year tenure ending in 2020.
Assertion of her authority is more pronounced than before. Significantly, her mass contact programme occupies a good part of her routine.
That, again, was a typical trait of her father who rose from the ranks through hard work and remained in constant touch with grassroot workers.
Yet it is also a fact that at certain crucial moments she gives the impression that she still misses her father's protective umbrella.
More so, in the decision making process. Mufti's administrative and organisational acumen was remarkable. He left an indelible mark in both, the political and administrative spheres.
Facing challenges and swimming against the current was Mufti Sayeed's USP. Enormity of challenge hardly, if ever, daunted him.
Launching the PDP against the deeply entrenched National Conference and opting for a coalition with the BJP are two cases in the point.
He vindicated himself in thorny state politics in 2002 after a pretty long arduous innings, when he became chief minister with Congress support, deposing the Abdullahs and ending their political domination.
That his PDP was no flash in the pan and that it had come to stay in state politics was convincingly demonstrated in the next two rounds of elections in 2009 and 2015.
This is the daunting legacy that Mehbooba has inherited.
From being seen as a reluctant entrant, in the immediate aftermath of Mufti's demise on January 7, 2016, to her brother's inclusion in the ministry, she has come a long way.
My reading is that she feels that Tassaduq with his clean public image and sense of purpose would be an asset to her as they advance to face the next assembly election.
Mehbooba's convincing electoral victory in the Anantnag assembly constituency after her father's demise came as political legitimisation of her succession.
Even so, she appears to be allergic to attracting the repulsive 'dynasty' taunt. To mitigate that odium Mehbooba asked her maternal uncle Farooq Andrabi to quit before Tassaduq's induction into the government.
Much would, however, depend on how eventually Tassaduq performs. Kashmir is notoriously known as a graveyard of reputations.
In Kashmir's slippery politics, credibility and relevance are both tricky factors.
It took Mufti Sayeed more than three decades to gain both. It was a hard struggle, at times quite daunting. But his endurance and untiring spirit enabled him to brave all odds and eventually establish the relevance of his vision and leadership.
Nobody is more conscious of this than Mehbooba who closely watched her father's trajectory and later got sucked right into it.
It would be too much to expect Mufti's successors to go for as high stakes as he liked to do if and when confronted by any such choice.
His partnership with the BJP was one such case. Good, bad or indifferent, this part of Mufti's legacy entails an uphill task for his successor.
The manifesto of the PDP-BJP coalition -- the 'Agenda of Alliance' -- was conceived by Mufti in response to the aspirations of his followers and supporters (in the valley) who gave the largest chunk of assembly seats to his party, followed by the BJP (in the Jammu region).
Not an inch of movement has taken place on its implementation. With the next assembly polls coming closer, this issue is bound to impact upon the credibility of Mehbooba's leadership as well as the prospects of her party's future.
And credibility has traditionally been in short supply in Kashmir politics.
Unless the other side, the BJP, plays ball, the PDP will be in serious trouble and its poll prospects would be endangered.
How Mehbooba eventually tackles this critical issue and retains -- or loses -- her credibility will determine the future course of state politics and also affect her PDP.
Mufti Mohammad Sayeed's second death anniversary is an appropriate occasion for his successors to contemplate their prospects and challenges.