'The Union government has demolished and created a vacuum. It has put those who held the Tricolour and fought elections in detention.'
'When those who took oath in the name of the Indian Constitution are not acceptable, where do the other Kashmiris stand?'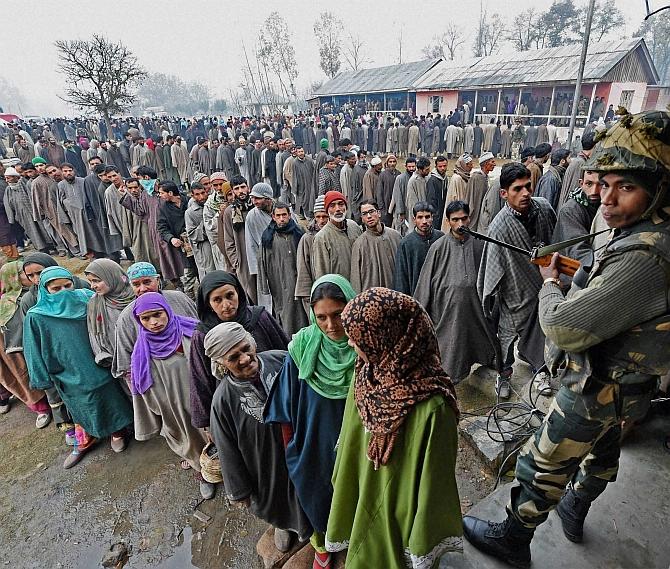 "There is a dangerous vacuum in state politics created by the exuberance of pushing the BJP's agenda that they will fill the mainstream. They can never do that because the Parivar's agenda and the Kashmiri Muslim agenda can never be the same," Mohammad Sayeed Malik, the veteran commentator on Kashmir, tells Rediff.com's Archana Masih in the first of a two-part interview.
What is the political future that lies ahead in Kashmir?
Uncertainty lies at the root of the Kashmir problem.
There has been uncertainty about Kashmir right from the time of its accession to India. The uncertainty dates back to 1947 when the Indian Independence Act came into effect.
In 1947, there was a changeover of power from Maharaja Hari Singh to the popularly elected leader Sheikh Abdullah.
The uncertainty has been compounded, not lessened by the period of time. It has been dogging it right from that time, and has aggravated with each passing decade and each passing event.
The latest move [abrogation of Article 370 and UT status] is the culmination, and has added to the anxiety and uncertainly of the people of Kashmir.
Kashmir is destined to suffer this uncertainty for a long time, and the country is destined to suffer its consequences.
If there is no normalcy in Kashmir it causes disruptions and loss of life. It is a heavy burden on the public exchequer. Emotionally too, if a part of the country is not at ease and unwell, it affects the whole body politic.
In fact, now Kashmir is 'the' issue. This time the uncertainty is more compounded, more complex, it is going to get prolonged with new complications.
Thursday's report in Indian Express said the government is 'constantly approaching' political detainees with a 'prepared document, a sort of a bond, which they wanted them to sign so that they could be released. They want an assurance they won't carry out any political activity, not speak against the government move, and in a way, stay indoors'.
If this is true what does the government want?
If this is true, it is a childish idea.
In Kashmir there were two streams of politics -- mainstream politics and separatist politics.
So far mainstream politics was seen as the defence which was not in uniform, but in civilian clothes. They were the Centre's civilian defence.
This defence without uniform was provided by the pro-India elements. Good, bad or indifferent -- they were the face, voice and shape of pro-India politics.
The central government has shown utter lack of confidence in them and dealt with them with contempt.
The whole world was told Article 370 was going to be removed for the betterment of Kashmiris. They say they are doing this for my sake, but I am gagged, blindfolded and tied up in a room that is locked from outside and guarded.
Even if it is good, it is very bitterly served. Forget the freedom of speech, even the ordinary liberty to move around has been taken away.
Today Kashmiris can't communicate with each other, I don't know the well-being of my neighbour.
Technically, they claim there is no curfew, that schools have reopened, but there are no students and schools are deserted.
No shops in towns, villages and cities are open.
I am not talking about the substance or the content of it [Article 370] but it means people have resented it, at least the manner in which it is done.
You are treated as an alien, a dangerous person, an enemy. You are suddenly shown your place, you are cut down to size and people are reacting in their own way.
Kashmiris under such circumstances have shown that they have limitless patience. They choose their timing.
A S Dulat said in his book that Kashmiris don't easily give up.
But at the moment there is total alienation.
I am not talking about the defence forces that have always been there, I am talking about politics.
Today in the name of nationalism, it is going to be very difficult to get people who have contested panchayat and assembly elections year after year, to contest local elections.
I don't foresee that happening. That has received a great setback. Unless that starts you cannot have any 'normalisation'.
Do you see a dismantling of the old leadership -- the Abdullahs and Muftis -- and emergence of a new leadership more amenable to Delhi?
There are two ways -- manufacturing leadership or evolving leadership. I won't say that the Abdullahs and Muftis were there for all time to come but whatever is being said about their presence on the scene is over-emphasised.
If the Abdullahs did not have opposition, the Muftis wouldn't have been there. If the Muftis did not have opposition, Sajjad Lone would not have been there.
So it is as normal as in other parts of the country.
The Abdullahs have not been in government for two terms. In the first attempt, Mufti's PDP and Congress were in power with Abdullah's NC in the Opposition.
The next time around, the Abdullahs and the Congress were in power, and Mufti was in the Opposition.
The third time, the BJP and Mufti were in power till the BJP pulled out.
After having full control in the 87-member assembly, the NC came down to 16 seats in the previous election.
It shows that people themselves throw you out. You should trust people's wisdom and leave it to the people. You don't have to arrest politicians and put them in jail.
When they did not perform, the Abdullahs were voted out, so was Mufti.
There was nothing sacrosanct about them that they cannot be defeated.
What is the leadership that is likely to emerge?
Can leaders be produced overnight? I have never seen that happening.
Building leaders is a natural process, it is process of evolution.
The leadership and ruling structure in Kashmir have always been different.
From 1947-1953, the popular leadership was led by Sheikh Abdullah.
Then Nehru thought that Kashmir needs to be shown its place and dismissed Kashmir's prime minister.
At that time, the Centre's jurisdiction in Kashmir was restricted to just three subjects. When the Kashmiri constitution was in full strength and autonomy was at is strongest, Nehru in one go could demolish that edifice totally.
From then on, Kashmiris got the message that now on Delhi would decide who will rule Kashmir. We may elect, but Delhi decides who will rule.
This has been happening since 1953 and continues till today.
How reminiscent is the situation compared to the political aftermath post the imprisonment of Sheikh Abdullah in 1953 by Nehru -- what parallels do you see between now and then?
At that time Sheikh Abdullah was the only leader. The Centre had to deal with him to deal with the situation in Kashmir.
The Kashmir situation, at that time, was in one piece, today it is scattered. There is the PDP, NC, People's Conference, Independents, and small groups -- barring that they agree about the accession, beyond that they do not see eye to eye.
After 1996, when militancy was at its peak, Farooq Abdullah was told to take over the government with whatever strength he had. It was a very difficult period because without a civilian government, you could not control the political part of the militancy.
Kashmir's political structure has now been suddenly demolished. Kashmir has been insulted and reduced to a Union territory.
We have the Kejriwal example before us. He is a CM, but his powers are limited by the Centre. We are going to have nobodys now.
Whenever elections are held next, the participation will be poor because alienation has gone deep and wide. There is a dangerous vacuum in Kashmir created by the exuberance of pushing the BJP's agenda that they will fill the mainstream.
They can never do that because the Parivar's agenda and the Kashmiri Muslim agenda can never be the same.
The Congress took so many years to get a toehold. When compared to the BJP, the Congress is seen as a lesser evil. I don't visualise the BJP getting a toehold -- they can say that we have so many members, but in practical life, this will not happen.
In Sheikh Abdullah's time there were people who had gone to jail for freedom, who had fought for the accession, who had fought against tribals in Pakistan, there was place in their mind for anti-Pakistan sentiment, but the new generation does not know or accept what elders must have experienced.
They are seeing something different. It is almost a month of the clampdown. One lakh or more Kashmiri students study outside, they need money every month. The need to communicate to say that 'Mein theek hoon' -- not being able to do this is inhuman.
They have demolished everything and created a vacuum and put those who held the tricolour and fought elections in detention.
When those who took oath in the name of the Indian Constitution, when even they are not acceptable, where do the other Kashmiris stand?