'Anybody and everybody who opposes this government for whatever reasons will be branded a terrorist and charged in such a manner that all human rights will be taken away.'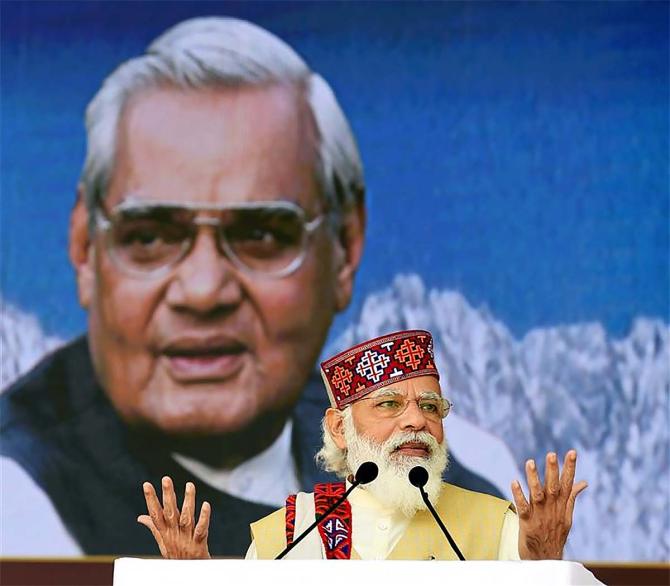 "India is heading towards fascism, of course. That is if we have already not reached there," Advocate Mihir Desai, vice-president, People's Union for Civil Liberties, tells Rediff.com's Prasanna D Zore.
Politicians across the political spectrum joined human rights activists across India to condemn the arrest of tribal activist Father Stanislaus Lourduswamy, 84, at an online press conference organised by the PUCL on October 21.
DMK MP Kanimozhi, NCP MP Supriya Sule, Jharkhand Chief Minister Heman Soren, CPI-M General Secretary Sitaram Yechury, CPI General Secretary Doraiswamy Raja, Congress MP Dr Shashi Tharoor denounced the arrest of the Jesuit priest and the misuse of laws like the UAPA and NSA by the Narendra Damodardas Modi government.
Father Swamy was arrested on October 8 in the Bhima Koregaon violence case and accused of being a member of the Communist Party of India (Maoist), an outfit banned by the Indian government.
The court denied him bail and the octagenarian is the oldest and 16th accused since 2018 to have been arrested in the Bhima Koregaon violence case that took place on January 1, 2018, near Pune.
Others arrested include Sudhir Dhawale, Mahesh Raut, Sudha Bharadwaj, Soma Sen, Surendra Gadling, Rona Jacob Wilson, Professor Varavara Rao, Gautam Navlakha, Arun Ferreira, Vernon Gonsalves, Sagar Tatyaram Gorkhe, Ramesh Gaichor, Jyoti Raghoba Jagtap, Anand Teltumbde and Professor Hanybabu Tarayil.
Why did the PUCL organise an online conference that was jointly addressed by human rights activists and politicians?
We wanted to put up a united front to oppose the way people are being arrested in this country today.
We also wanted to protest against UAPA (Unlawful Activities (Prevention) Act) that is being used to affect these arrests. UAPA needs to be repealed.
While (human rights) activists have been demanding the repeal of UAPA for a long time, we felt that it is important for even the political parties, to at least start talking about -- even if they don't agree to (demand repeal of UAPA) to begin with -- how this law is being misused by the present government.
But laws like TADA, POTA have been misused?
PUCL has been persistent in its demand for repeal of such laws that are being misused. We have always stood for repeal of TADA, POTA and now UAPA. Such repressive laws have no place in the law book.
The other reason why we brought activists and politicians on the same platform was to speak out against the systematic way in which this government is curbing dissent.
Anybody with a dissenting view against the establishment is either branded as anti-national, terrorist or Naxal.
The next thing you know is that dissenters have been charged for sedition, or under UAPA or the NSA (the National Security Act).
In a democracy it is important to protect the right of anybody to say what they want to say -- without crossing the legal boundaries, of course -- even if these views are against the establishment or the government of the day
This is the context in which this press meet was scheduled.
Another important trigger why we all came together was the arrest of 84-year-old man, Father Stan Swamy.
If all the laws that deal with terrorism are sought to be repealed by human rights activists, then under which laws would the law and order machinery tackle acts of terror and terrorists?
There is the Indian Penal Code.
But policemen complain that the provisions under the IPC are not stringent enough to deal with acts of terror.
Cops will always say this because there are so many of them who engage in (fake) encounters and torture. What these cops say is irrelevant.
The question is there was no TADA or POTA before 1984 (TADA was enacted after the assassination of then prime minister Indira Gandhi).
It was not as if you did not have other laws. There are enough laws. If somebody commits a murder, you can always register a case of murder under various sections.
If somebody wages a war against our country, you already have provisions to deal with such cases under the Indian Penal Code.
Isn't terrorism a different criminal activity altogether? Don't we need harsher, stringent, laws to tackle terrorism in India today?
The point is are you using (or misusing) these laws (like TADA, POTA, UAPA) to tackle terror acts with a firm hand, or for arresting political opponents, dissenters and putting them behind the bars without even allowing them to even get bail on health grounds.
Under UAPA, getting bail is almost impossible.
What you are doing now is levelling some allegations against people who don't subscribe to your agenda and ideology and put them behind the bars using draconian provisions under various laws.
The bigger fight is about expressing opposition to the way this government has been misusing various laws to suppress dissent from civil society as well as political dissent.
Why has Father Stan Swamy's arrest evoked such strong reactions from across the social and political spectrum?
Because of the body of work he has done for tribals and forest dwellers and Adivasis in the last 30-40 years. I have personally known him for long and he is such a genial fellow, a man of integrity.
A lot of people from the human rights community know him. He is very, very humble person; somebody who will not even squash a mosquito and you brand him a terrorist!
This is just the beginning and tomorrow anybody and everybody who will oppose this government for whatever reasons will be branded as a terrorist and charged in such a manner that all his human rights will be taken away.
We have to fight such tendencies with all our wisdom and strength.
Where do you think India is heading under Prime Minister Modi?
Towards fascism, of course. That is if we have already not reached there. I think we are in the middle of it and what happens in the future I don't know.
What are the legal remedies available for all those who have been arrested in the Bhima Koregaon case?
They have been going to court asking for bail and all that but it (getting bail) takes a long time. That is the kind of law it is where even getting bail is so difficult.
Why would you say that most of the charges against these activists are concocted or fabricated by the NIA?
Because the charges and allegations levelled against them are not convincing.
If you are charging somebody with terrorism, then do you really think people are careless enough to use their (personal) computer (for terrorist activities)?
And not a single person (who has been arrested by the NIA) has been found with arms; not a single person has been found with a bullet.
These arrested activists have been doing legal work for the oppressed; helping them to seek justice from an unjust State.
The government and the police have been playing such games for a long time. It is just not the present government.
All the activists who are in jail have been arrested on flimsy grounds.
How is the Modi government different from the UPA I and II when it comes to respecting the human rights of activists fighting for the rights of tribals, Dalits and farmers?
Again, the Congress is no epitome of virtue. They too have done very badly when it came to respecting the rights of activists.
But this government is blatantly destroying all democratic institutions whether it's the RBI, the NHRC or the Lokayukta or Parliament itself.
Look at any democratic institution and you will find that this government is out there manipulating them for furthering their agenda.
I think this (the Modi) government is qualitatively different. I'm not saying for a moment, that the Congress or UPA was an epitome of virtue or something like that. This government is doing it most blatantly and fearlessly.
Why is the Modi government fabricating charges against and arresting mostly activists fighting for rights of tribals and forest rights activists?
Because they have a huge corporate lobby to cater to and which in many ways controls the existence of this government.