'...to give him a signal that you cannot ignore Maharashtra (the Maha Vikas Aghadi government), you are too close to the Centre (the Narendra Damodardas Modi government).'
'I can see some kind of rivalry also in this, but it is better that the NIA goes deep into it.'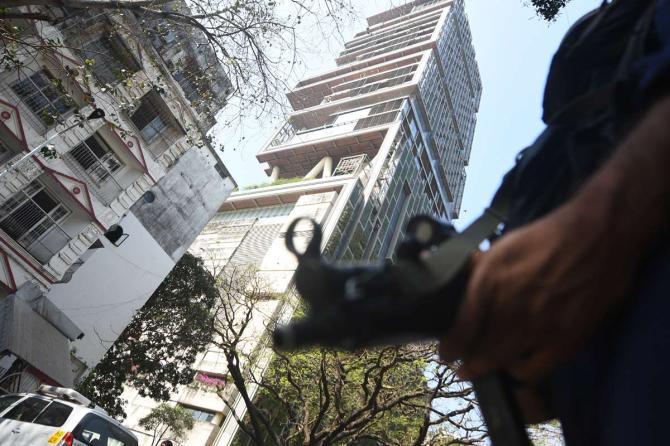 In the second part of an eloquent interview with Prasanna D Zore/Rediff.com, Dr Meeran Chadha Borwankar, the retired Indian Police Service officer who once headed the Mumbai police's crime branch, discusses the Antillia bomb scare case and Param Bir Singh's transfer as Mumbai police commissioner.
How does it affect the morale of the police force when one of their own gets arrested on alleged charges of abetting and participating in a crime like Sachin Waze has been arrested?
If they feel that there is some illegality (in which the officer is involved), or, some hanky-panky, which they are suspecting now (in the Sachin Waze case), then these issues will be talked about for a day or two and then forgotten.
But if the staff feels that an officer has been arrested without there being enough grounds or injustice has been done to him, then they carry it for long. Then it leaves a scar.
But I think in this particular case it may be curiosity, need to know what exactly has happened, and within two three days it will fade away.
However Param Bir Singh's letter will haunt the department for years till it is enquired into properly and impartially.
What made the encounter specialists so important to the policing system in the city and how did the phenomenon of glamourising them for their encounters, genuine or fake -- brought policing to such a pass in Mumbai?
The police need some officers who are good in paperwork and some officers who are good in action.
Some of these encounter specialists were really dynamic and daredevils.
In the late 1980s, Punjab terrorism had started coming to Mumbai and so we had to develop officers who would take on these terrorists, who would also take on organised crime syndicates run by Varadarajan (Mudaliar) to Dawood (Ibrahim) to Chhota Rajan, Ravi Pujari etc.
One cannot neutralise such threats to society and law and order only on paper. You have to have some officers who would barge into their dens and take them head-on.
This is how they (the encounter specialists) started and they were praised, admired, and each DCP (deputy commissioner of police) wanted them because they were good to control organised crime.
Soon they became so powerful that (eliminating) organised crime became secondary to them and they themselves started becoming extortionists, offering protection, settling civil disputes.
Builders started using them a lot; then political parties (began to use them) to settle their scores with opponents and making money.
Unfortunately, even police leaders have used them and the media glamourised and romantacised them.
So from a very professional decision of using action-oriented officers and legal measures to tackle organised crimes they graduated to becoming extortionists, protectionists, settlers of civil disputes and that's been the tragedy.
Could the emergence of these encounter specialists as extortionists have happened without involvement of politicians?
Why just politicians? Even our police leaders have used them.
Corrupt police and political leadership with vested interests started using them and thus were born a very deep nexus. It is only in cases like these (Waze's arrest) that these issues get highlighted.
Do you believe that Sachin Waze allegedly did what the NIA claims he did, all by his own, to reclaim lost glory as some newspaper reports quoting NIA sources suggest?
I think it is much bigger than that. It is not lost glory. Param Bir's letter has exposed much more and let's wait for more skeletons that may tumble out.
What motive, other than perhaps regaining lost glory, could Waze have to do what he allegedly did?
I don't believe this lone wolf or regaining lost glory story. Ultimately, the NIA will throw more light on this case.
There could be a bigger plan to teach an industrialist (Mukesh Dhirubhai Ambani) a lesson, and also to give him a signal that you cannot ignore Maharashtra (the Maha Vikas Aghadi government), you are too close to the Centre (the Narendra Damodardas Modi government).
I can see some kind of rivalry also in this, but it is better that the NIA goes deep into it.
Of late, police organisations are also taking sides: Like the Maharashtra police will side with the current political dispensation; the NIA (headed by Union Home Minister Amit Anilchandra Shah) may side with the Centre.
So in this particular case, I strongly feel there should be a court-monitored investigation.
Why are people so trusting of court-monitored investigations? Can't they also be manipulated to serve political ends?
There are less chances (of that happening). I've been thinking about it. Yes, even court-monitored investigations can go wrong, but it also depends on the magistrate or the judge who is monitoring it.
There are some magistrates, some judges, who are apolitical and very good at criminal law. Either they have previously practiced as criminal lawyers or have been handling criminal cases. So if (the investigation) is monitored by an independent-minded judge with a good criminal law background there are lesser chances of the investigating agencies misguiding her or him.
Is Waze being made a scapegoat in this case? Was Param Bir Singh's transfer as police commissioner justifiable?
At this stage I don't think the Maharashtra government had any option but to suspend. There is a Service rule that if you are arrested and in custody for more than 48 hours (as has happened in Waze's case), you get suspended. So that has been done as per the rule.
If it was clear that Waze was directly in touch with the commissioner, which seems to have been brought out by the NIA ,then his (Param Bir Singh's) remaining in the chair would have jeopardised this investigation. So, at this stage, I agree, both (decisions) are correct.
What I wonder is that from API (Waze was of assistant police inspector rank) to commissioner (an API reporting directly to the police commissioner), this jump is too huge to be justified.
However Param Bir's letter has brought out another very sensitive issue and does demand an impartial, prompt and deep enquiry.
What kind of political or policing conditions make it possible for exploiting loopholes that make this reporting gap possible?
That's a mystery. I have heard that the government is saying there is more reshuffling to be done. But this decision to suspend an API and then to transfer only the commissioner and not (the officers that fill in the hierarchy in between) is really a mystery to my mind.
Within a day or so, we'll be able to know more on this.