'Look at the aggressive way in which a campaign against Friday namaz is going on in North Indian cities.'
'Even the Union home minister is part of this vicious campaign.'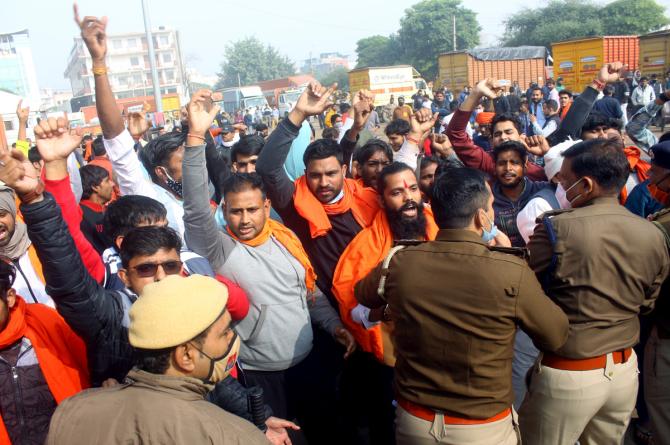 Elections in Uttar Pradesh, India's most politically significant state, are due early next year. And the under-construction Ram temple in Ayodhya is one of the biggest issues all political parties want to exploit.
While Chief Minister Yogi Adityanath never fails to boast in his speeches that it was his party that is 'building' a temple in Ayodhya while others are praising Mohammed Ali Jinnah (referring to Samajwadi Party chief Akhilesh Yadav's remark about the founder of Pakistan), other leaders like Delhi CM Arvind Kejriwal are promising free travel to Ayodhya to the elderly if they come to power.
Nilanjan Mukhopadhyay's new book, The Demolition and The Verdict-Ayodhya and The Project to Reconfigure India explains how Ayodhya came to occupy the centrestage in Indian politics and how the political discourse has changed with Hindutva coming into the mainstream.
"There is greater acceptance of Hindutva in India today. So, it is going to be a difficult process to take society back to that phase of (harmony and co-existence between) the two communities: Hindus and Muslims," he tells Rediff.com's Syed Firdaus Ashraf.
You end your book with an interesting line, 'A new mindset of Indians, framed in the course of the political movement for the temple, will be tough to alter in the years to come'. Do you think this will never change?
I think there is a fundamental shift in the thinking of a large number of Indians, which has happened in the course of the Ayodhya movement.
Look how all political leaders are making a beeline to go to Ayodhya for darshan.
The Delhi government (ruled by the Aam Aadmi Party) has started a special programme by taking people to pilgrimage.
During Diwali, Chief Minister Arvind Kejriwal got a model Ram temple built (in Delhi) with taxpayer's money and performed puja along with his cabinet that was telecast live on TV.
Bahujan Samaj Party supremo Mayawati sent her deputy Satish Chandra Mishra to Ayodhya.
Samajwadi Party chief Akhilesh Yadav built a 51-feet-tall Krishna statue in Etawah.
The fulcrum of Indian politics has shifted to a great extent in the direction of certain principles of Hindutva.
There is greater acceptance of Hindutva in India today. So, it is going to be a difficult process to take society back to that phase of (harmony and co-existence between) the two communities: Hindus and Muslims.
Rediscovery of bhai chara (brotherhood) in India is a very difficult goal at this particular time.
We have seen the sparks in the last one year in the course of the farmers' agitation. We have seen conjoined slogans being shouted from these platforms like 'Har Har Mahadev' and 'Allah O Akbar'.
I hope this once again becomes the thinking of society at large. Although I am very sceptical about it.
I have been a pessimist for the last 35 years, from the time the Ayodhya issue became a national issue.
I was always fairly clear in my mind (then) that this is going to be the single largest issue that will dominate Indian politics for years to come.
I only hope people live in harmony among themselves.
Muslims do not face that kind of institutional discrimination under the Modi government, whether it be getting a passport or an Aadhar card made. I could be wrong in my assessment but I don't see that happening to the higher strata of Muslim society. However, one does not know what is happening to the lower strata.
The higher strata of Muslims may not get lynched on suspicion of carrying buffalo meat but those from the lower strata would definitely be targeted or very closely watched while doing so.
If anything happens anywhere, Muslims become default suspects.
Also, you hear endless stories of Muslim tenants being unable to rent houses in high-profile societies.
We have to think, are we actually equal? No, we are not.
A friend of mine staying in Juhapura (a Muslim locality in Ahmedabad) told me that when his Hindu friends drop him at his home after a party, they always drop him outside the colony. They do not enter Juhapura colony.
We have created these borders in our own minds and hearts. We need to break these borders.
Does any political party have the will to break these borders in our minds and hearts? Do they even have the capacity to do so?
At the moment, I am very sorry to say that there is no political party which is willing to take on the rise and growth of communal sentiment and say that majoritarianism is something that must be put down.
Everybody is trying to adjust to the majoritarian way of life and create a minor space for Muslims by telling them 'Don't worry, we will take care of you'.
Even a leader like Mamata Banerjee reduced the number of Muslim candidates this year in West Bengal.
Muslims too are coming to terms with reduced space in the political arena. Will Hindus stop at this or will they say, 'Okay, we have got them to yield this much, so let them yield more'?
Are we going to push religious minorities, especially Muslims into inner barricaded city?
Look at the aggressive way in which a campaign against Friday namaz is going on in North Indian cities. Even the Union home minister is part of this vicious campaign.
If there is urban expansion, there is going to be demographic growth and that demographic growth will reflect the demographic reality of India.
So, if there is an expansion of 50 sq km in a city like Gurugram, which is newly urbanised, then it will have 'x' number of Muslims and 'y' number of Hindus. So, where will a certain number among those 'x' number of Muslims who would like to go for their Friday namaz? Because congregation for Friday namaz has certain value and has a certain system within Islam.
The Constitution says that we must respect the faith of each other and enable them to practice it. Just the way Hindus expect their faith to be respected, Muslims can also expect from Hindus that their faith should be respected and they must understand Friday namaz is a part of their religious congregational activity.
So, you build a number of mosques for them. It is possible for Hindus to build temple anywhere in this country, but it is very difficult for Muslims to build a new mosque in India.
What was the situation in the 1980s? What would have happened in Gurugram in the 1980s if Muslims had gathered to pray in the open?
It was always difficult, but those difficulties have become more and more acute.
There was always a sense of distance among a large section of Hindus, but yes, there was also a greater amount of acceptance.
That has reduced and there is a greater amount of suspicion today against Muslims.
You go to malls on Eid and you will find, in a city like Ahmedabad, that they do not allow Muslim boys to enter. This does not happen only in Ahmedabad, but I have seen this happening in front of me in Delhi too.
On Eid day, in New Delhi, the capital city of India, mall managers give instructions to their security personnel that a large number of Muslim children must not enter malls.
Don't you think this could be more of a class problem rather than a problem of religion, because Muslims mostly come from poorer sections of society?
Unfortunately, a majority of Muslims are poor. We have done nothing as a State to ensure their upliftment. They are poorer in numbers compared to their population statistics and we have official data for it.
The number of affluent Muslims in India is miniscule.
Education is a problem and there is social backwardness. A concerted effort has to be made which has not been made and mullahs have been given charge of the political leadership.
When will all this end?
It is very difficult to say when it will end and I hope we do not see things becoming worse.
I only hope we (Hindus) realise that we need to accommodate the aspirations of other communities too.
I hope a section of Hindus, that has become very anti-Muslim, will now moderate their stand (in future) and become more embracing of the Muslims and their spiritual, religious, socio-economic and educational necessities by ensuring that they also come at par with them in a few decades from now.
We have to end the alienation of Muslims. I feel the more you alienate Muslims, the more it will have problems for India's internal security.